5 Best Campgrounds In Georgia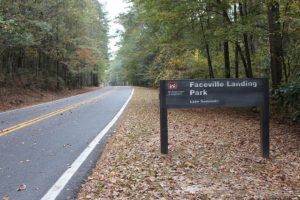 Camping in Georgia is a great thing to do, but you will find that it can be a challenge as well to find the best campground. Not to mention Georgia may not look like it is that large of a state, until you decide to drive through the state on your way to Florida or Alabama. What is really nice, though, is the state is not all built up like you will find around Atlanta when you are going through the state. Since this is the case, we decided sometimes people would like to go camping in Georgia, but where would they want to go? Well, that is what we are doing, helping you figure out where to go by narrowing down the list to what we feel are the 5 best campgrounds in Georgia.
5. Trackrock Campground and Cabins – Blairsville
Trackrock is a great place that is located in Northern Georgia, but it is located in the mountains of the state as well. This is going to make this state one of those that you are going to absolutely love because it has charming and lovely cabins available, but it also has everything you could imagine with nature. You will find the campground has everything from fields, to meadows, to even the forest that the mountains are famous for.
When you are going here you will need to have a good idea in mind on what you are looking for. The cabins have a tendency to book up rather quickly, so you would have to book those early. The campsites can have the same issue, but you will also find this is a campground that will allow you to tent camp as well, which is a great thing.
https://www.youtube.com/watch?v=uUoNvp9uCgA
4. Jekyll Island State Park – Jekyll Island
The campground at Jekyll Island State Park is one that you will enjoy because it is a state-run facility which makes it easier to communicate with people. At the same time, it will be easier for you to see this is a park that is going to have quite a bit going for it. I mean literally with the name I automatically think of Dr. Jekyll and Mr. Hyde. However, that could just be me and my way of thinking.
A great feature here is this is a campground that will have some spots that are meant for an RV, some that are meant for a tent. Then you will find the campground has some spots that are primitive which makes roughing it definitely easier than what you would have imagined. They also have a group site if you are going to the park with scouts. What else is nice is the easy walking distance of the location to Clam Creek or Driftwood Beach.
3. Black Rock Mountain State Park – Mountain City
When you are here you will notice how this park gets its name. All you have to do is look at the mountains that are around the park and the sheer cliffs and you are going to be amazed at what you are seeing and why the park gets its name. The best part is the park is quite large as it is going to cover over 1700 acres of land. The land is going to mainly be mountainous, but you will find this is going to be a great feature for you to enjoy as well.
When you decide to camp here you will find that you do have a variety of options available to you. Some of these will be something as simple as the cottages you want to stay in, but other options will be an even easier tent site. It is important to remember you are in the mountains so you may have bears and other animals in the woods so take this into consideration when you are picking the type of camping you are going to do.
2. Scenic Mountain RV Park and Campground – Milledgeville 
As you can tell this is mainly an RV park, but it is one that you are sure to enjoy. The place is in a beautiful area in Georgia, but it also has plenty for you to do at the location as well. The place has quite a bit to offer and it is easily one of the most beautiful parks you can find in Georgia to camp at. The downside is you will find that if you are camping in a tent you may be challenged to find a spot that they will allow you to use. So if you are trying to do this type of camping make sure you check in advance if you can.
1. Seminole State Park – Donalsonville
When you look at this park you will find that it is rather large and it is definitely one that will offer you anything that you would want to do. The place has plenty of attractions from fishing, hiking, to the lake that it is on. What else is great is you will have a variety of options on what you will be able to do and see.
The campground areas tend to offer you plenty of campsite options some of which are dedicated for tent type of camping gear, but others which are going to be seen for RVs. If you do not have any camping gear you will like the fact that this is a place that does have quite a few cottages for you to rent.
How Should You Pick Where To Go Camping In Georiga?
Well, the answer to this is really going to depend more on what you are looking for in a campground. If you are looking for a primitive area, then you will find some different areas will work best for you. If you want to have an RV park, then you will want to check out the specific RV parks since they are commonly found. However, if you want to have a good time and know the place will work best for your camping gear, then you may want to consider one of the places that we feel are part of the 5 best campgrounds in Georgia.
[ebayfeedsforwordpress feed="http://rest.ebay.com/epn/v1/find/item.rss?keyword=%28sleeping+bags%2Ccamping+gear%2Ctents%2Ccamp+cookware%2Ccamping%29&categoryId1=16034&sortOrder=BestMatch&programid=1&campaignid=5338305500&toolid=10039&listingType1=All&descriptionSearch=true&feedType=rss&lgeo=1″ items="5″]