EMDMAK Military Tactical Backpack Overview
42L Large Capacity
When I first laid eyes on the EMDMAK Military Tactical Backpack, I couldn't help but be impressed by the sheer size and spaciousness of this monstrous 42L backpack. As someone who loves to carry all the things (and by all the things, I mean all the things), I found that this backpack's capacity can handle everything from a small 3-day assault pack to an everyday carry for my outdoors excursions. Whether I'm hunting, hiking, camping, or just seeking refuge from my roommate's terrible taste in music, this backpack never fails to provide ample space for my belongings.
Multi-Compartment Design
Let's face it: organization isn't my strong suit. I'm the kind of person who has a designated "junk drawer" in every room of the house. That's where the EMDMAK Tactical Backpack blew me away with its multi-compartment design. It's got 2 main large compartments, 2 small ones upfront, a back compartment, and even mesh pockets to help keep things tidy. I'm not joking when I say it's like having a personal organization butler right there on my back. Plus, the Y-Strap on top is perfect for holding bulkier items like my sleeping pad or my unruly collection of hoodies.
Durable and Comfortable
Let me tell you, this backpack is made of some seriously tough stuff. Crafted from high-density double-stitched 900D Oxford & Nylon fabric, it's not only durable but also water-resistant. Rain or shine, this backpack has got my back—literally. The ventilated mesh back area and shoulder straps work wonders on my poor, posture-challenged self. Sporting an adjustable chest strap, I found that the backpack is remarkably comfortable, and it never felt like a burden even during heavy-duty tasks.
Military MOLLE System
Who doesn't love a little extra storage? The MOLLE webbing system on this backpack makes adding additional tactical pouches or gear an absolute breeze. Rows of MOLLE velcro in the front, along with straps on the sides, bottom, and shoulder straps, mean I can attach just about anything. I've got enough D-rings on the shoulder straps to hang a whole utility belt's worth of gadgets, and the bottom straps are perfect for securing a tent, sleeping pad, or whatever else I need for my outdoor adventures.
Free Gift Accessories
As if this backpack couldn't get any better, it comes with 6 free gift accessories—a Tactical MOLLE 500ml Water Bottle Pouch, a 1.18″ Paracord Lanyard Keychain (19.68″ total length), and 4 Multipurpose D-Rings Grimlock Locking. I absolutely adore free stuff, and these goodies just sweetened the deal. They even have stellar customer service, so if there's ever an issue with my backpack, I know they'll be there to help me out.
All in all, this EMDMAK Military Tactical Backpack has become my go-to for every outdoorsy excursion, and then some. It's rugged, spacious, comfortable, and versatile—truly the cream of the crop when it comes to tactical backpacks. I couldn't be happier with my purchase and would highly recommend it to anybody in need of a reliable, high-quality backpack.
Storage Space and Organization
As someone who loves to be prepared for anything, this EMDMAK Military Tactical Backpack's impressive 42L capacity had me over the moon! With an endless amount of gear to carry, I needed a backpack with compartments on compartments – and guess what? This bad boy delivers. Let's dive into the nitty-gritty and explore the copious amounts of storage space and organization this pack has to offer.
2 Main Large Compartments
I was able to fill these main compartments with everything from my laptop and wilderness survival guide to – you guessed it – enough snacks to feed a small army! The elastic strap in the large compartment does an excellent job holding everything tight and secure, avoiding the dreaded "backpack avalanche" when you're rummaging through it.
2 Small Front Compartments
Don't let their size fool you – these little guys pack a serious punch in the storage world. I mean, who doesn't need extra space for storing items like sunglasses, pocket knives, and hand sanitizer? Heaven forbid I have dirty hands in the great outdoors… plus, germs are downright pesky.
1 Back Compartment
This spacious back compartment was just the ticket for my precious hydration bladder, so I would never go thirsty on my epic adventures.
Mesh Pockets and Zipper Pockets
Ah, the pièce de résistance of organization – mesh and zipper pockets! I'm a bit of an organization freak, and these pockets allowed me to indulge my obsession. Every knickknack, tool, and gadget had a designated home in this backpack, thanks (in part) to these fantastic pockets.
Wearing Comfort and Durability
Listen, folks, a backpack is not truly a winner in my book until it passes the "will my back stage a revolt?" test. Thankfully, the EMDMAK Military Tactical Backpack does not disappoint. The ventilated mesh padded design of the back area and shoulder straps provided the ultimate in breathable comfort during those grueling hikes. And word on the street is, this backpack is built to last, with its high-density, double-stitched, 900D Oxford & Nylon fabric. Bring on the elements, baby!
Military MOLLE System and Free Gift Kits
I love attaching ALL the things, so the MOLLE webbing system on this pack suits me to a T. The front, sides, bottom, and shoulder straps have MOLLE attachment straps, granting you endless possibilities for extra pouches or more gear. But wait, there's more! This backpack also comes with 6pcs of free gift accessories, including a MOLLE 500ml water bottle pouch, a 1.18″ paracord lanyard keychain, and 4 multipurpose D-rings grimlock locking.
Bringing it all together
The EMDMAK Military Tactical Backpack has truly become my go-to for all my outdoor escapades and daily adventures. With loads of storage space, stellar organization, wearing comfort, durability, and a MOLLE system that leaves no gear behind, it's perfect for those who thrive on being prepared for anything life throws their way. So, fellow storage-and-organization-enthusiasts, what are you waiting for? Snag this gem of a backpack and level up your gear game!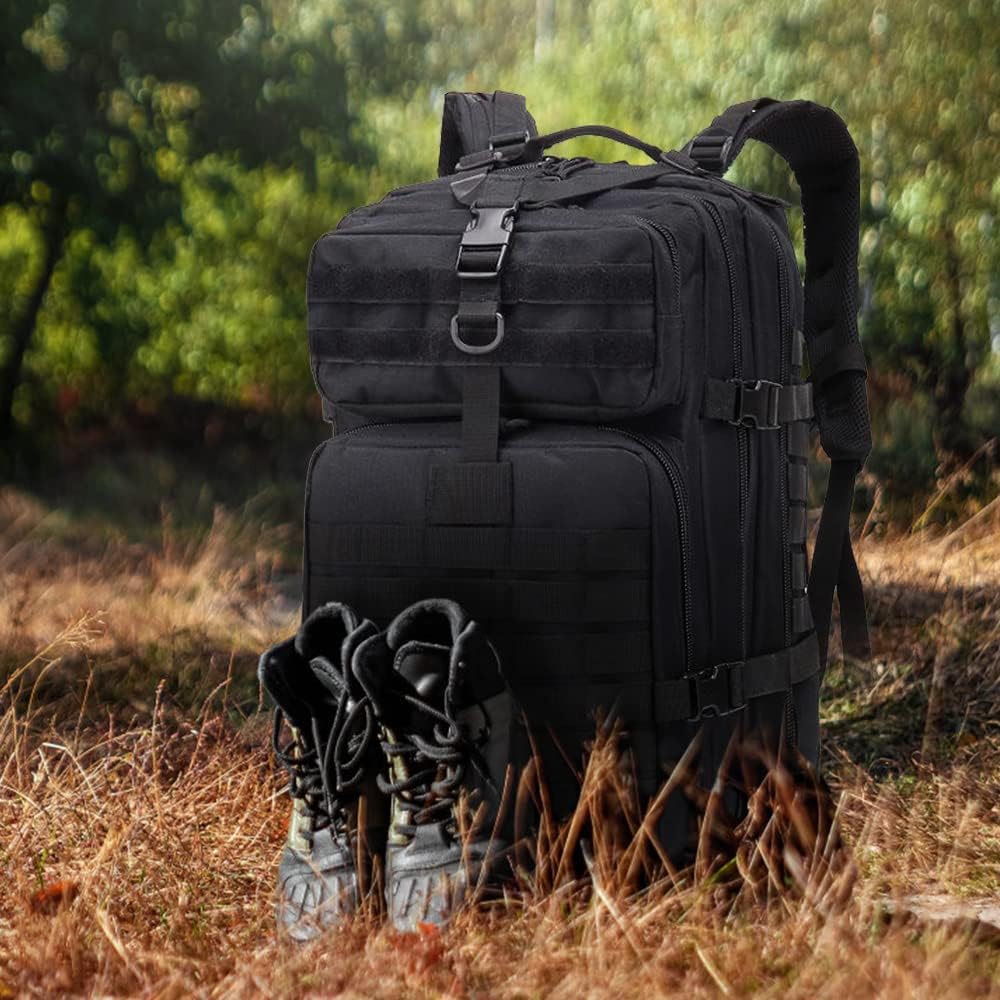 Comfort and Adjustability
When it comes to carrying a military backpack, comfort and adjustability are crucial factors. Trust me, you don't want to be hiking or carrying important tactical gears only to be hindered by a painful or irritating backpack. The EMDMAK Military Tactical Backpack is designed with your comfort in mind, ensuring that your adventures will be smooth-sailing. Hey, we've all got enough to worry about in life, right?
Ventilated Mesh Padded Back Area and Shoulder Straps
I must say, one of my favorite features of this backpack is its ventilated mesh padding for the back area and shoulder straps. Just imagine, you're out there in the wild, sweating bullets while carrying all your gear – the last thing you need is a backpack that suffocates you and leaves you feeling like a wet dog. The padded design of this backpack allows for excellent breathability, giving your shoulders and back the much-needed comfort during those long treks.
Adjustable Chest Strap
Now, as a person of experience (ahem), I've encountered my fair share of backpack struggles – you know, those situations where your backpack is either too tight or too loose, and you're left feeling like the world's clumsiest adventurer. The EMDMAK Military Tactical Backpack addresses this issue with its adjustable chest strap. With a backpack that can adapt to your body, you'll be comfortably carrying your gear like a seasoned pro. Not to mention, the added stability does wonders for those daredevil moments where life depends on your balance.
Compression Straps System
If there's one thing I've learned over the years, it's that organization is key – and the EMDMAK Military Tactical Backpack understands this, too. With its compression straps system, you'll be able to adjust and tighten your backpack to keep everything in place. This means no more digging through a chaotic backpack to find that one piece of gear that's hidden away like a treasure. Simply adjust as needed, keeping your valued possessions secure and your sanity in check.
So there you have it, folks. The EMDMAK Military Tactical Backpack takes comfort and adjustability to a whole new level with its padded back and shoulder straps, adjustable chest strap, and compression straps system. Say goodbye to annoying backpack discomforts and hello to a life of adventure made easy and breezy. As they say, if the backpack fits…wear it!
Additional Features and Accessories
When it comes to practicality and functionality, the EMDMAK Military Tactical Backpack doesn't disappoint. Apart from the already mentioned large capacity, versatile compartments, durable materials, and MOLLE system, this backpack packs a punch with some added features and accessories. Trust me, folks, you'll love these extra bonuses that come with this tactical backpack.
Y-Strap for Extra Items
Ever found yourself in a situation where there's just one more item you need to pack, but there's simply no more room in your backpack? Don't fret, my friends, because the EMDMAK Military Tactical Backpack is here to save the day! This bad boy comes with a Y-Strap on the top, allowing you to hold additional items, like a sleeping pad or sweatshirt. So if you're the type who always pushes the limits of their backpack capacity, this feature will be your saving grace!
6pcs Free Gifts Accessories
Now, I know what you're thinking – it can't get any better, right? But, oh, it does! As if all those amazing features weren't enough, the EMDMAK Military Tactical Backpack also comes with 6pcs Free Gifts Accessories. That's right, folks, you'll be getting:
A Tactical MOLLE 500ml Water Bottle Pouch, perfect for keeping your trusty water bottle close at hand.
A 1.18" Paracord Lanyard Keychain (total length 19.68") – another useful addition to the already feature-packed backpack.
Four Multipurpose D-Rings Grimlock Locking for attaching more gear, ensuring that you have everything you need within easy reach.
With these additional features and accessories, the EMDMAK Military Tactical Backpack goes above and beyond in making sure that you get the most bang for your buck. Whether you're a weekend warrior, a hiking enthusiast, or simply looking for the perfect daily backpack, you'll find that this backpack can cater to all your needs.
And remember – if you ever have any questions or need assistance with your EMDMAK backpack, their Customer Service won't leave you hanging. They're more than happy to help you out! So go ahead – give this backpack a try, and happy trails to you!
Click here to order your EMDMAK Military Pack
Customer Reviews
In this EMDMAK Military Tactical Backpack review, I'll be covering all the important aspects that users like me have experienced firsthand. So, if you're in the market for a new, reliable backpack with a generous storage capacity, keep reading to find out if this one's right for you!
Durability and Quality
From the moment I laid my hands on this backpack, it was evident that it was built to last. And after 15 months of daily use, my bag is still in great shape! This could be partly attributed to the high-density double-stitched 900D Oxford & Nylon fabric that lends it that water-resistant property. Now, I've read some reviews stating that their bags didn't hold up, but hey, that just means I got lucky! And before I forget, the zippers on this pack are absolute top-notch – no complaints there.
Comfort and Support
Now let's talk about comfort. I won't lie, I've lugged around some pretty heavy loads in this bag, and each time, it's been a breeze. How, you ask? Well, the back area and shoulder straps are padded with ventilated mesh, providing excellent breathability and comfort. The adjustable chest strap also makes sure you're not struggling under all that weight. Throw in a thick waist belt with two small pockets for good measure, and you've got yourself a backpack that can be carried around comfortably for hours on end!
Storage and Organization
If you're the kind of person who loves their stuff to be super organized, this backpack is right up your alley! With 42L of storage capacity, divided into 2 main large compartments, 2 small compartments in front, 1 back compartment, mesh pockets, and even an elastic strap to secure laptops, you'll never run out of room for your gear. The Y-strap on top can hold more items, making it versatile for just about any outdoor activity you can think of!
Travel-Friendly
Taking this backpack on my hikes and outdoor adventures has been a real game-changer. The military MOLLE system lets me attach additional pouches and gear with ease, while the in-built straps on the bottom hold my tent and sleeping pad securely. Talk about a space-saving solution for those who love to pack light! And did I mention the free gift kit? It's a real cherry on top with a water bottle pouch, a nifty paracord lanyard keychain, and 4 multipurpose D-rings!
So there you have it – my thorough review of the EMDMAK Military Tactical Backpack. With its ample storage capacity, durability, comfort, and sturdy design, I can confidently recommend it to avid hikers, campers, or anyone in need of a reliable backpack for daily use. Happy exploring!
Grab the EMDMAK Military Tactical Backpack on Amazon
Finally! A Backpack That Meets All Your Expedition and Urban Adventure Needs!
Alright folks, strap in (pun intended) as I share my thoughts on the EMDMAK Military Tactical Backpack, the monster pack that's got me singing its praises. I mean, this bad boy right here is the whole enchilada and I'm stoked to tell you why.
First off, its sheer size – 42L of carrying capacity to be exact! This beast of a bag measures 15.36″ x 19.69″ x 11.81″ and let me tell you, it's roomier than a first-class airplane seat. It's perfect for outdoor adventuring, weekend getaways, hunting trips, or even just slaying the concrete jungle as your new day-to-day pack. You name it; this versatile backpack is ready for action.
More Compartments Than a Kleptomaniac's Dream
No more searching for that elusive candy bar or phone charger. With 2 main compartments, 2 smaller front compartments, and a back compartment, organization has never been this smooth. I'm talking Swiss Army knife level of compartmentalization here! Plus, it's got this nifty elastic strap in the large compartment which offers as much tender care to your belongings as a beloved grandmother! Oh, and did I mention the bottom side pockets? So dang convenient!
Built For More Than Just Bear Hugs
EMDMAK has gone the extra mile with this pack, crafting it from high-density, double-stitched 900D Oxford & Nylon fabric. It's water-resistant and feels tougher than a muscular badger on a mission. But here's the kicker, they didn't sacrifice comfort while designing this backpack. The back area and shoulder straps have mesh padding, and the side and bottom load straps make sure your backpack feels like its giving you the warmest, most secure hug.
A Military MOLLE Marvel
Ever admired those Military MOLLE systems and thought, "Man, I wish I had that"? Well, wish no more, because the geniuses at EMDMAK must've heard ya! With MOLLE webbing all over – front, both sides, bottom, and even shoulder straps – this backpack is ready for your tactical pouches, survival gear, or even that lucky squirrel keychain you can't seem to let go of. And to make a sweet deal even sweeter, EMDMAK throws in six awesome accessories as free gifts (including a water bottle pouch and Multipurpose D-Rings Grimlock Locking).
Frequently Asked Questions
Is the backpack waterproof?
While the EMDMAK Military Tactical Backpack is water-resistant, it's not entirely waterproof. So, while a light drizzle won't bother your gear, a full-blown monsoon could spell trouble.
What is the weight of the backpack?
Empty, this mighty pack weighs approximately 3.6lbs, making it the perfect companion for long hikes without weighing you down like an unwanted potbelly.
Can it be used as a carry-on for flights?
The size of the EMDMAK Military Tactical Backpack should generally meet most airlines' carry-on size requirements. But don't be a risk-taker! It's best to double-check with your airline to ensure a smooth check-in process and no nasty surprises.
Is it suitable for daily use?
You bet your boots it is! This backpack's versatile design – suitable for everything from hunting trips to daily commutes – will have you wondering how you ever survived without it.
Does it come with a warranty?
While there's no specific warranty mentioned by the manufacturer, they do encourage buyers to reach out if there are any issues or concerns with their EMDMAK backpack. So, rest easy knowing you're not alone in the wilderness of the returns process.
In a nutshell, the EMDMAK Military Tactical Backpack is one rugged, adaptable, and downright cozy workhorse of a backpack. It's ready to serve you well through your outdoor adventures and urban undertakings. So gear up, look sharp, and say hello to your new reliable sidekick.
Purchase the EMDMAK Molle Bag Rucksack here