Overview of Ohio's Best Campgrounds
When it comes to experiencing the great outdoors, Ohio offers a plethora of fantastic spots for camping enthusiasts. No matter your preference, from rustic tent camping to the luxury of glamping, Ohio has a campground for you. In this guide, we'll explore Ohio's diverse terrain, the wide variety of campgrounds available, and discuss why these Buckeye State camping spots should be on your must-visit list.
The diverse terrain of Ohio
One factor that contributes to the richness of Ohio's campgrounds is the state's diverse and captivating landscape. From the rolling hills of the Hocking Hills, to the shores of Lake Erie; from the dense forests of Wayne National Forest, to the mesmerizing history and serenity of Ohio's state parks, our beautiful state has so much to offer for adventurers. Whether you prefer swimming, hiking, biking, or just relaxing by a campfire, Ohio's varied topography caters to multiple activities for all nature lovers.
Types of campgrounds available
Ohio boasts an array of campgrounds to suit every preference and budget. Here are some of the diverse options you'll find when scouting out the perfect camping spot:
State parks and forests: With over 70 state parks to choose from, Ohio offers an extensive range of options for campgrounds. State parks such as Hocking Hills, Mohican, and Maumee Bay not only provide scenic beauty but also include facilities and amenities like restrooms, showers, and activities like hiking, fishing, and boating.

National forests: Ohio is home to Wayne National Forest, which, with close to 250,000 acres of land, is the state's only national forest. Here, you'll find campgrounds that are a bit more rustic, with fewer amenities but a quieter, more serene experience.

Private campgrounds: There are countless private campgrounds throughout Ohio, offering everything from basic tent camping to full-on glamping experiences. You can find campgrounds with amenities like swimming pools, playgrounds, and Wi-Fi.

RV parks: For those traveling with their own accommodations on wheels, Ohio has numerous RV parks, some of which are located within state parks or private campgrounds. These range from basic sites with electric hookups to full-service sites with modern amenities.
Why Ohio campgrounds are a must-visit
Besides the beautiful landscapes and variety of campgrounds, Ohio offers a multitude of reasons why you should put it on your camping bucket list:
Affordability: Many of Ohio's state park campgrounds are quite affordable, making it a great option for a budget-friendly vacation.

Convenience: Thanks to Ohio's central location, it's easily accessible from various points of the East Coast, Midwest, and South, making it an ideal destination for a weekend getaway or part of a more extensive road trip.

Activities: With numerous state parks, forests, and nature preserves, Ohio offers countless opportunities for hiking, biking, boating, fishing, and wildlife viewing. Plus, the state's rich history and culture provide fascinating points of interest to explore during your trip.
So, the next time you're planning a camping trip, give Ohio a chance. We guarantee you won't be disappointed by the diverse terrain, the wide variety of campgrounds, and the endless activities to engage in. Who knows, you might just find your new favorite camping spot in the beautiful Buckeye State!
The Top Campgrounds in Ohio
Whether you're an experienced camper or just getting started, Ohio offers an array of beautiful campgrounds fit for every skill and preference. In this guide, we'll take you through some of our top picks for campgrounds in Ohio to make your plannings easier. Grab your gear, and let's dive in!
Hocking Hills State Park
Nestled in southeastern Ohio, Hocking Hills State Park is an absolute must-visit for nature enthusiasts. With waterfalls, recess caves, and stunning rock formations, this park provides a truly unique camping experience. Campsites range from primitive to electric, and there are also cabins available for a more comfortable stay. We highly recommend exploring the park's famous trails, such as Old Man's Cave and Ash Cave, during your visit.
Mohican State Park
Located in the heart of Ohio's beautiful forested region, Mohican State Park offers a diverse range of outdoor activities and picturesque landscapes. Visitors can camp near the Clear Fork River, with options for tent and RV camping, as well as cabin rentals. Activities like hiking, mountain biking, and canoeing are popular, and the park's hemlock-filled gorge is an excellent spot for birdwatching.
John Bryan State Park
If you're seeking a peaceful camping experience immersed in nature, look no further than John Bryan State Park. This park boasts beautiful forests, limestone gorges, and the impressive Clifton Gorge, which is a National Natural Landmark. The spacious campground offers both electric and non-electric sites, making it perfect for weekend escapes or extended stays.
Findley State Park
For a true taste of Ohio's natural beauty, head to Findley State Park. This campground features a serene lake, abundant fishing opportunities, and over 10 miles of hiking trails. With 272 electric sites and primitive options, you'll find the perfect spot to set up camp. Don't forget to rent a boat or explore nature programs during your stay.
East Harbor State Park
Calling all beach lovers! East Harbor State Park offers beach access and beautiful views of Lake Erie. With both electric and non-electric campsites, as well as cabins, this park caters to campers of all preferences. In addition to beach lounging, visitors can enjoy fishing, birdwatching, or rent a kayak for some fun on the lake.
Maumee Bay State Park
Situated along the shores of Lake Erie, Maumee Bay State Park features a unique blend of land and water-based recreation. The park's campground offers electric and full hook-up sites, and even convenient pet-friendly yurts. Visitors can lounge at the beach, enjoy fishing and boating, or hit the links at the on-site golf course.
Indian Lake State Park
Indian Lake State Park, located in west-central Ohio, offers a delightful camping experience along the glistening shores of Indian Lake. The park's well-maintained campground has various options, including electric sites, full hook-up sites, and cozy cabins. Activities in the park include boating, fishing, hiking, and birdwatching.
Delaware State Park
Experience the tranquil beauty of Delaware State Park, offering a sprawling campground with electric sites and beautiful views of Delaware Lake. Anglers will enjoy the excellent fishing opportunities, while hikers and bikers can take advantage of numerous scenic trails. The park also features a beach and several boat launch ramps, making it perfect for water lovers.
Paint Creek State Park
For those seeking secluded, wooded campgrounds, Paint Creek State Park is an ideal choice. The park's peaceful surroundings include a 1,190-acre lake and miles of beautiful hiking trails. Campers have a variety of options, such as full-hookup sites, electric sites, and equestrian-friendly spots. Activities like boating, fishing, and swimming are popular among visitors.
Grand Lake St. Marys State Park
Last but not least, Grand Lake St. Marys State Park offers visitors a fantastic waterfront camping experience. Situated on Ohio's largest inland lake, the park's campground caters to all types of campers, with electric sites, full hook-up sites, and tranquil cabins. Water sports enthusiasts can enjoy boating, fishing, and swimming, while land lovers can hike or bike around the beautiful park.
So, there you have it! A roundup of some of the top campgrounds throughout Ohio, each offering a unique experience filled with natural beauty and wildlife. No matter which park you choose, you're sure to create lasting memories and fall in love with the great outdoors that Ohio has to offer. Happy camping!
Activities and Attractions in Ohio Campgrounds
As we delve into the wonderful world of Ohio campgrounds, it's important not to overlook the activities and attractions that make these destinations truly special. So, what's in store for campers looking to explore the great outdoors in the Buckeye State? From outdoor adventures to water recreation, nature observation, and nearby family fun, let's check out what Ohio campgrounds have to offer!
Outdoor activities at Ohio campgrounds
For starters, let's talk hiking. With miles upon miles of scenic trails, Ohio campgrounds are just the place to venture out on foot, be it a leisurely stroll or a challenging trek. And if that's not enough, many campgrounds boast designated mountain biking trails for those who prefer to travel on two wheels. Don't forget to take time to appreciate the vibrant fall foliage!
What about other activities, you ask? Well, fear not! Campers can also partake in horseback riding, birdwatching, or even a round of disc golf at select locations. Many campgrounds have playgrounds and picnic areas, perfect for a family day out.
Water Recreation activities
No campground experience is complete without some good old-fashioned water fun! Ohio campgrounds feature a variety of aquatic activities. Whether you're into fishing, boating, or kayaking, there's something for everyone. Some campgrounds even have designated swimming beaches for those hot summer days when a cool dip is just what the doctor ordered.
Feel like trying something new? Some campgrounds offer stand-up paddleboarding as well! So, don't forget to pack your swimsuit and sunscreen, because it's going to be a splashing good time!
Nature and wildlife observation
Animal lovers, rejoice! Ohio campgrounds are havens for a plethora of wildlife species. From deer and foxes to star-nosed moles and salamanders, you never know what you might stumble upon during your stay. Keep an eye out for migratory birds, too, as Ohio serves as a popular stopover site due to its location along the Mississippi Flyway.
For those interested in flora, the state's campgrounds offer scenic woodland environments and diverse ecosystems. In addition to towering trees like oaks and hickories, you'll find an abundance of wildflowers and other vegetation. We recommend bringing a camera and making a game out of identifying as many species as you can!
Nearby attractions for family fun
After you've had your fill of hiking, swimming, and spotting wildlife, why not venture out and explore the local area? Many Ohio campgrounds are located near popular attractions that the whole family can enjoy. From amusement parks and water parks to zoos, museums, and historic sites, it's easy to find entertainment for all ages within a short drive.
Among these attractions, favorites include Cedar Point, Kings Island, the Columbus Zoo and Aquarium, and the Rock and Roll Hall of Fame. Be sure to consult your campground hosts for insider tips—not only will they have suggestions, but they might also have information on discounts and special events!
So, there you have it, folks—a rundown of the exciting activities and attractions that await campers in Ohio. We're sure that the information here will get you eager to pack your bags, fire up the RV, and settle in for some fun, relaxation, and adventure in the great outdoors. Happy camping!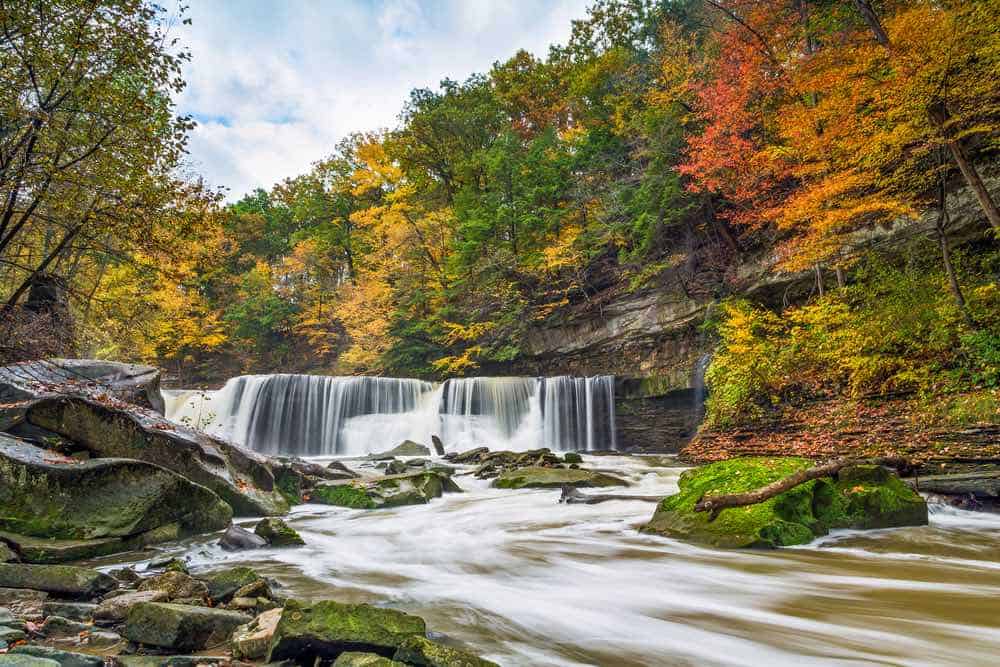 Preparing for Your Ohio Camping Trip
Camping in Ohio offers you the opportunity to explore and enjoy the beauty of the Buckeye State. Whether you're headed to the shores of Lake Erie, the Hocking Hills, or somewhere in between, it's essential to properly prepare for your adventure. In this section, we'll walk you through packing, campground rules, choosing the right campground, and handling fees and reservations.
Packing Checklist for Ohio Camping
When camping in Ohio, there are a few key items you won't want to forget. To help keep you organized, we've created this essential packing checklist:
Tent, poles, and stakes
Sleeping bag and pillow
Sleeping pad or air mattress
Camp chairs or portable seating
Cooler with ice or ice packs
Cookware and utensils, including a pot, pan, and cutting board
Camping stove or portable grill
Food and snacks
Water bottles or hydration system
Headlamp or flashlight (with extra batteries)
Multi-tool or knife
Clothing appropriate for Ohio's weather and climate
Hiking boots or sturdy shoes
Maps and guidebooks
Camera or smartphone for capturing memories
Hammock or other relaxation items
Bug spray and sunscreen
First-aid kit
Of course, you'll want to customize your packing list based on your specific needs and preferences, but this is a great starting point!
Knowing the Campground Rules and Regulations
To ensure that everyone has a safe and enjoyable camping experience, it's important to familiarize yourself with rules and regulations specific to each campground. Common regulations, though, often include:
Observe quiet hours, typically from 10 pm to 7 am
Keep pets on a leash and clean up after them
Respect wildlife and practice Leave No Trace principles
No possess or use fireworks and firearms
Properly store and dispose of food waste to avoid attracting animals
Use designated fire rings or grills for campfires and cooking
Obtain a camping permit (if required)
Before you visit, it's a good idea to do some research or contact the campground for a complete list of their rules and regulations.
Choosing the Right Campground
Ohio offers a wide variety of campgrounds to suit everyone's camping preferences. When selecting your ideal campground, consider factors such as:
Location: Do you want to be near a specific attraction or destination, like a state park or lake?
Activities: What outdoor activities are most important to you, and which campground offers the best access to them?
Amenities: Are you looking for a rustic, backcountry experience, or are you more interested in a campground with full hook-ups, showers, and other amenities?
Site Size: Do you need a large or small site to accommodate your tent or RV?
Take the time to research and compare various campgrounds to find the perfect fit for your needs and expectations.
Camping Fees and Reservation Process
Each campground will have its unique fee structure and reservation process. In general, you can expect to pay anywhere from $10 to $40 per night for a campsite in Ohio. Most campgrounds charge additional fees for amenities such as electricity, sewer hook-ups, or showers.
Many campgrounds in Ohio allow reservations to be made online or by phone. Popular camping destinations tend to book up quickly during peak travel seasons, so it's wise to reserve your preferred dates as early as possible.
In addition to campsite fees, you may also need to purchase a daily or annual vehicle pass to access certain parks or recreation areas. Check with the specific campground or park to determine the necessary fees and permits.
With this information in hand, you're well on your way to a fantastic Ohio camping experience. Gather your gear, select your campground, and hit the road for an unforgettable adventure exploring the Buckeye State!
Camping in Ohio's Four Seasons
Ohio is an incredible camping destination throughout the year, with each season offering unique experiences and plenty of opportunities to explore the great outdoors. In this section, we will dive into the highlights and considerations for camping in each season in Ohio, as well as provide our top safety tips for your adventures.
Spring camping in Ohio
Spring in Ohio is a gorgeous time of year, with the landscape blooming to life and the temperatures starting to warm up. It's a fabulous time to visit our favorite campgrounds, as the weather is comfortable for hiking and sightseeing, and many parks have fewer crowds, allowing for a more peaceful and enjoyable experience.
However, it's essential to be prepared for some rain, as April and May can be particularly wet months. Make sure to pack waterproof gear, invest in a high-quality tent with proper ventilation, and keep an eye on the weather forecast. Additionally, be cautious of rapidly changing conditions – spring storms can arrive quickly and unexpectedly.
Summer camping in Ohio
Summertime is the most popular season for camping in Ohio, and it's easy to see why. With long, warm days and plenty of activities to choose from, there's never a dull moment on your summer camping adventure. From water sports on the lake to biking through lush forests, you'll be spoilt for choice during your summer getaway in Ohio.
Keep in mind that the peak season also means that some campgrounds can be crowded, especially on weekends and holidays. To steer clear of the masses, consider booking a mid-week trip or venturing to the campgrounds located in lesser-known state parks and forests. Remember, hot and humid days can take a toll on our bodies, so ensure you always have plenty of water and sunscreen, and stay mindful of dehydration and heat exhaustion.
Fall camping in Ohio
If you haven't experienced the beauty of Ohio's fall foliage, you're in for a treat. Autumn offers a spectacular display of colors, with the leaves of trees turning rich shades of red, orange, and gold. It's the perfect time to go for scenic hikes, take fabulous photos, and relax around a crackling campfire.
Fall weather in Ohio can be unpredictable, with temperatures ranging from mild to chilly. Be sure to pack layered clothing to stay comfortable, as well as a quality sleeping bag and extra blankets for those cooler nights. Do note that some campgrounds and facilities may have reduced hours or even close for the season, so make sure to check in advance before planning your trip.
Winter camping in Ohio
While winter camping in Ohio might not be everyone's cup of tea, for those who are up for the challenge, it can be a magical experience. With snow-covered landscapes, crisp air, and a true sense of solitude, it's the perfect opportunity to embrace the tranquil beauty of Ohio's wilderness.
It's crucial to be prepared for the cold, snowy conditions by investing in high-quality winter gear and ensuring that your sleeping bag and tent are designed for colder temperatures. Always check the local weather forecast and road conditions before heading out, and avoid camping during severe winter storms.
Weather considerations and safety tips
No matter which season you choose to camp in Ohio, staying safe should always be your top priority. Here are our essential safety tips throughout the year:
Keep an eye on the weather forecast and be prepared for rapidly changing conditions.
Invest in high-quality gear that suits the season you're camping in.
Familiarize yourself with the local wildlife and plants, and be cautious of any potential hazards.
Pack a well-stocked first-aid kit and be prepared to handle minor medical emergencies.
When hiking, always let someone know your itinerary and expected return time.
Brush up on fire safety procedures and always follow any regulations or restrictions imposed by the park or forest where you're camping.
By being prepared, staying aware, and respecting nature, you can ensure that your camping adventures in Ohio are both enjoyable and safe. So go ahead and experience the beauty of the Buckeye State through all four seasons – it'll be a trip you won't soon forget.
Ohio Camping Tips for Families
Camping in Ohio is a cherished pastime for many families, and with the state's diverse landscape of lush forests, rolling hills, and beautiful lakes, it's no wonder why. In this section, we'll provide you with some helpful tips for planning a fantastic family camping trip, as well as taking you through some of the best family-friendly campgrounds that Ohio has to offer.
Activities for families at Ohio campgrounds
There's no shortage of fun and excitement for families when it comes to camping in Ohio. Here are some of the activities you won't want to miss out on during your camping trip:
Hiking and nature trails: Many of Ohio's campgrounds have access to beautiful hiking and nature trails, making it easy to explore the great outdoors as a family. From leisurely strolls to challenging hikes, there's something for everyone to enjoy.
Fishing: Ohio's numerous lakes and rivers teem with fish, providing a great opportunity for families to bond by the water. Be sure to check the regulations for the area you'll be camping in and obtain the necessary licenses before casting out.
Canoeing and kayaking: For those who love to be out on the water, many campgrounds in Ohio offer canoe or kayak rentals. This fun activity is a fantastic way to explore the local waterways and soak in the natural beauty of Ohio.
Wildlife watching: Ohio is home to countless species of birds, as well as an array of wildlife like deer, raccoons, and squirrels. Bring a pair of binoculars, venture out on a nature trail, and see how many species you can spot!
Campfire entertainment: Roasting marshmallows and telling stories around the campfire are time-honored traditions. Don't forget to pack s'mores supplies and brush up on your favorite ghost stories to share with the family.
Safety tips for camping with children
Ensuring everyone has a safe and enjoyable camping experience is a top priority, especially when young ones are involved. Here are some safety tips to keep in mind when camping in Ohio with children:
Stay on the trails: It's important to stick to designated trails while hiking or exploring nature in order to protect both the environment and your family's safety.
Always tell someone where you're going: Whenever you're away from the campsite, make sure someone knows where you are and when you plan to return.
Pack a well-stocked first-aid kit: Injuries can happen, so it's crucial to be prepared with a first-aid kit that includes band-aids, antiseptic wipes, tweezers, and pain relievers.
Dress appropriately for the weather: Ohio's weather can be unpredictable, so it's important to pack layers, rain gear, and appropriate footwear to keep everyone comfortable and safe during your outdoor adventures.
Keep food and items with strong scents packed away: Properly storing food and scented items can help prevent attracting unwanted wildlife to your campsite.
Best family-friendly campgrounds in Ohio
Now that we've covered some tips and activities for families, let's dive into some of the best family-friendly campgrounds in Ohio. These campgrounds offer a variety of amenities, activities, and beautiful surroundings to make your family camping trip an unforgettable experience.
East Harbor State Park: Located along the shores of Lake Erie, East Harbor State Park offers sandy beaches, beautiful hiking trails, and ample opportunities for boating and fishing. The campground features full-hookup sites, restrooms with flush toilets, and shower facilities.

Hocking Hills State Park: Known for its stunning natural formations, such as Old Man's Cave and Ash Cave, Hocking Hills State Park is an outdoor lover's paradise. The campground offers a wide variety of sites, including electric hookups, and amenities like a swimming pool, playgrounds, and an on-site grocery store.

Maumee Bay State Park: Nestled along the shores of Lake Erie, Maumee Bay State Park provides visitors with endless fun and relaxation. The campground offers electric hookups, restrooms, and showers, and the park features a golf course, walking trails, and a nature center.

Mohican State Park: If your family is into adventure, Mohican State Park is the place to be. With opportunities for canoeing, mountain biking, and even ziplining, there's no shortage of excitement. The campground offers electric hookups, heated shower facilities, and a camp store.

Indian Lake State Park: As one of Ohio's premier boating destinations, Indian Lake State Park offers ample opportunity for families to enjoy the water. In addition to its great location, the campground provides electric hookups, restrooms with flush toilets, and shower facilities.
Ohio truly has a wealth of beautiful and family-friendly campgrounds to explore. With these tips and recommendations, you'll be well on your way to creating unforgettable memories with your family as you embark on an Ohio camping adventure. Now it's time to pack up the tent, load up the kids, and hit the road – happy camping!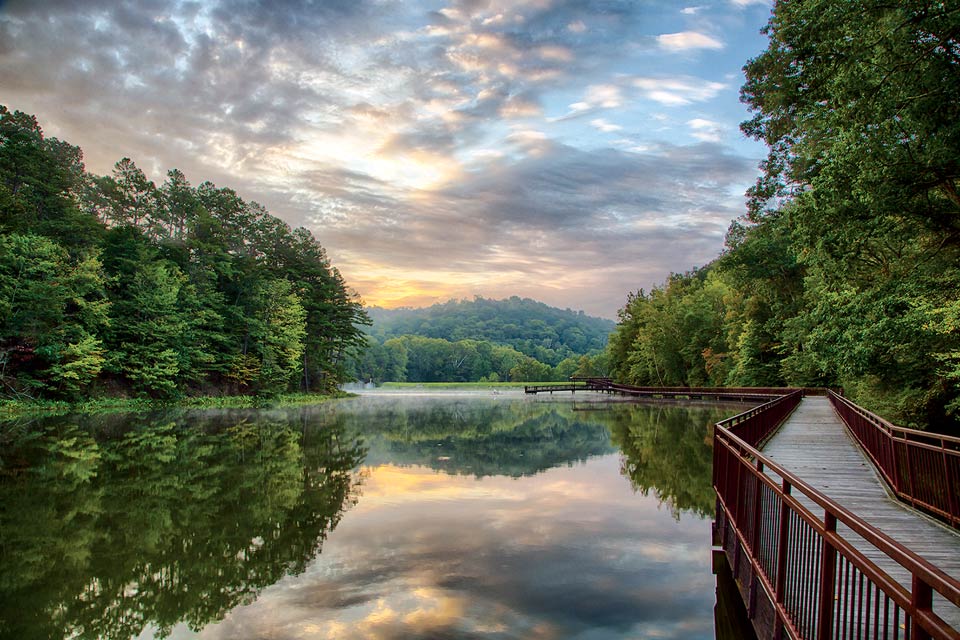 Experience RV and Glamping in Ohio Campgrounds
Camping enthusiasts know that sometimes you just need a little more comfort and luxury than your typical tent on the ground. Especially for campers who want to bring along their home on wheels (RVs, of course!), it's important to find campgrounds with amenities and facilities to support large vehicles and high levels of comfort. In Ohio, we're spoiled for choice when it comes to RV campgrounds and glamping options. Let's dive right in and explore the best that Ohio has to offer!
Best RV campgrounds in Ohio
Alum Creek State Park: Located close to Columbus, Alum Creek State Park offers ample recreation opportunities like boating, fishing, and hiking. You'll find 286 electric sites catering specifically to RVs, along with shower houses, flush toilets, and even a camp store if you've run out of marshmallows!

East Harbor State Park: Nestled on the shores of Lake Erie's Sandusky Bay, East Harbor State Park features 571 campsites (many with electric hookups) and endless opportunities for water sports lovers. Enjoy swimming, fishing, and boating, and visit the nearby Marblehead Lighthouse.

Mohican-Memorial State Forest: This woodland paradise in central Ohio offers 120 RV-friendly sites, complete with electric hookups, picnic tables, and fire rings. You'll have a blast hiking, biking, canoeing, and exploring the forest's many beautiful trails and attractions.
Amenities and facilities for RV campers
When seeking out RV campgrounds, it's important to keep an eye out for certain amenities and facilities that make all the difference in ensuring a comfortable and convenient stay. Here are some key features to look for:
Electric and water hookups for your RV
Dump stations for waste disposal
Bathroom facilities, including flush toilets and shower houses
Well-maintained and spacious campsites with fire rings and picnic tables
Nearby recreational facilities and attractions
Camp stores for essentials and last-minute needs
Ohio glamping options and locations
If you're in the mood for some luxury camping, Ohio's got you covered! Glamping – or 'glamorous camping' – combines the best of both worlds, offering upscale, comfortable accommodations while still being nestled deep in nature. Here are a few glamping options worth exploring in Ohio:
Nomad Ridge at The Wilds: Experience a taste of Africa in Ohio with a stay at this beautiful, Safari-style lodging located on a wildlife conservation park. You'll sleep in luxurious yurts, enjoy fine dining on-site, and get to partake in exciting wildlife encounters.

The Mohicans Treehouses: Located in the heart of Mohican-Memorial State Forest, The Mohicans offers six unique, stunning treehouses for an unforgettable glamping experience. Enjoy beautiful accommodations in the trees, complete with fire pits, decks, and incredible views.

Secluded Sanctuaries: For a more low-key and intimate glamping experience, check out Secluded Sanctuaries. Located in Logan, Ohio, these stylish, upscale camping cabins offer beautifully designed interiors, all necessary amenities, and easy access to nearby outdoor recreation.
As you can see, Ohio has no shortage of options for RV and glamping enthusiasts. From well-appointed campgrounds to luxurious yet remote accommodations, we have something for everyone to make the most of their camping experience. Now, let's get out there and explore the great outdoors in style!
Frequently Asked Questions
Are pets allowed in Ohio campgrounds?
We're happy to report that in most cases, pets are welcome in Ohio campgrounds! Many state parks and private campgrounds allow pets, but it's always a good idea to double-check and review their specific rules and regulations. Some campgrounds may require pets to be on leashes at all times, and certain areas of the park may be off-limits to our furry friends.
Are there ADA-compliant campgrounds in Ohio?
Absolutely! Many of Ohio's state parks and campgrounds have sites and facilities that are ADA-compliant. Accessible campsites often include paved parking areas, accessible picnic tables, and restrooms with wider doorways and ramps. When making a reservation, be sure to mention any specific accessibility needs or requirements, so the campground staff can help you find the best site to accommodate your needs. Keep in mind that not every facility or trail in the park may be fully accessible, but there are plenty of options available for campers with disabilities.
How far in advance should I reserve a campsite?
Reserving a campsite in Ohio can be a bit of a tricky game – you know, kind of like a "hurry up and wait" situation. As a general rule, we recommend booking your site as early as possible, especially during peak camping season (typically May through October). Many state parks in Ohio allow reservations up to six months in advance, while private campgrounds may have different booking windows.
Given that popular campgrounds fill up quickly on weekends, holidays, and during special events, it's best to get a jump start on your planning. But hey, don't stress if you're the spontaneous type! Many campgrounds also have a limited number of non-reservable, first-come-first-served sites available. Just remember, those can be a bit of a gamble.
What are some tips for first-time campers?
Glad you asked! Camping is a fantastic way to escape the daily grind and enjoy the great outdoors. Here are some tips to help make your first camping adventure smooth sailing:
Choose a campground that suits your needs and comfort level. Ohio has a wide range of campgrounds, from rustic spots with no amenities to more developed sites with electric hookups and restrooms. Start by figuring out what level of "roughing it" you can handle.

Make a list and check it twice. Write down everything you'll need, from camping gear to food, and double-check it before you leave. A little preparation goes a long way.

Get to know the campground rules and regulations. Be a good neighbor by keeping noise levels down, respecting quiet hours, and adhering to any restrictions on campfires or other activities.

Practice Leave No Trace principles. Always clean up your campsite and dispose of waste properly to help protect the environment and wildlife. After all, mother nature is our host, we should be her gracious guests.

Finally, have fun and embrace the adventure! Camping is a chance to explore nature, bond with fellow campers, and create lasting memories.
Do Ohio state parks provide Wi-Fi access?
While we'd love to tell you that you can Snapchat your outdoor adventures in real time, Wi-Fi access is generally limited, or non-existent, in Ohio state parks and campgrounds. Some park lodges or visitor centers may offer limited Wi-Fi access for guests, but it's best to plan on disconnecting from the digital world during your camping trip. After all, there's nothing like the great outdoors to help us unplug and recharge our own batteries! So sit back, relax, and enjoy the sights and sounds of Ohio's beautiful campgrounds.