Ohio's 10 Must-Visit Campgrounds
Exploring the Buckeye State
Ah, Ohio! The Buckeye State has a rich history, beautiful landscapes, and loads of hidden gems that make it a fantastic choice for a camping trip. Whether you're the adventurous type looking for hair-raising hikes and water sports, or you simply want to escape the hustle and bustle and appreciate the great outdoors, Ohio's campgrounds have something for everyone.
Why choose Ohio for camping
You might be wondering why you should choose Ohio for your next camping adventure. Well, for starters, the state boasts a diverse offering of campgrounds, from scenic state parks to cozy private sites. Plus, you'll never be too far from a vibrant city like Cleveland, Cincinnati, or Columbus, which means you can easily enjoy both city attractions and serene nature on a single trip.
So, without further ado, let's dive into our top 10 list of must-visit campgrounds in Ohio and give you the inside scoop on what makes each one of these spots so special!
Hocking Hills State Park: Nestled in the heart of Ohio's breathtaking wilderness, Hocking Hills State Park offers campers an unforgettable experience. This stunning park features waterfalls, gorges, caves, and lush forests just waiting to be explored. If you're into hiking, be sure to tackle the trails leading to Ash Cave, Old Man's Cave, or Cedar Falls.

Cedar Creek Campground: A short drive from Cincinnati, Cedar Creek Campground is a privately owned gem featuring well-maintained campsites and a beautiful creek. Pack your fishing gear and try your luck at catching catfish and bass, or kick back and enjoy the peace and quiet.

South Bass Island State Park: Situated on the picturesque South Bass Island in Lake Erie, this campground is a must for water enthusiasts. Besides offering panoramic lake views, the park features opportunities for fishing, boating, swimming, and even scuba diving. Hop on a ferry to nearby Put-in-Bay for an enjoyable day trip filled with shops, restaurants, and live entertainment.

Kelleys Island State Park: Also located in Lake Erie, Kelleys Island State Park offers a secluded and serene camping experience. Explore the island's unique glacial grooves, hike the scenic trails, or simply soak up the sun on the sandy beach.

Mohican State Park: Known for its majestic views and legendary hiking trails, Mohican State Park is a camping paradise. Thrill-seekers will love the park's zip-lining and canoeing adventures, while those seeking relaxation will appreciate the park's serene beauty.

Maumee Bay State Park: Located along the Lake Erie shoreline, Maumee Bay State Park offers a taste of beach life in Ohio. Whether you prefer sunbathing on the beach, fishing, or hitting the trails, you'll find plenty to do at this popular campground.

Findley State Park: This tranquil park features tall trees, abundant wildlife, and a quiet atmosphere, making it an ideal destination for a peaceful getaway. Enjoy hiking, biking, or canoeing, and be sure to visit the nearby historic village of Wellington.

Punderson State Park: If you're seeking a mix of luxury and nature, look no further than Punderson State Park. Dotted with charming cabins and a beautiful manor, this park also features a picturesque, glacier-created lake perfect for a day of swimming or fishing. The nearby golf course and disc golf course provide additional entertainment options.

Indian Lake State Park: Indian Lake, also known as the "Million Dollar Playground," is a popular summer hotspot that offers campers the chance to enjoy boating, fishing, and swimming. In addition to the water activities, the park features scenic hiking trails and a remarkable view of Ohio's beautiful countryside.

Caesar Creek State Park: Last but certainly not least, Caesar Creek State Park is home to over 43 miles of trails, a large lake, and a fascinating fossil beach (don't forget to grab a permit for fossil collecting!). From horseback riding and mountain biking to boating and fishing, this park has something for everyone.
We hope our list of Ohio's must-visit campgrounds has inspired you to grab your camping gear and embark on an unforgettable outdoor adventure. So go ahead; pack your bags, round up your friends and family, and get ready to create some amazing memories exploring the Buckeye State!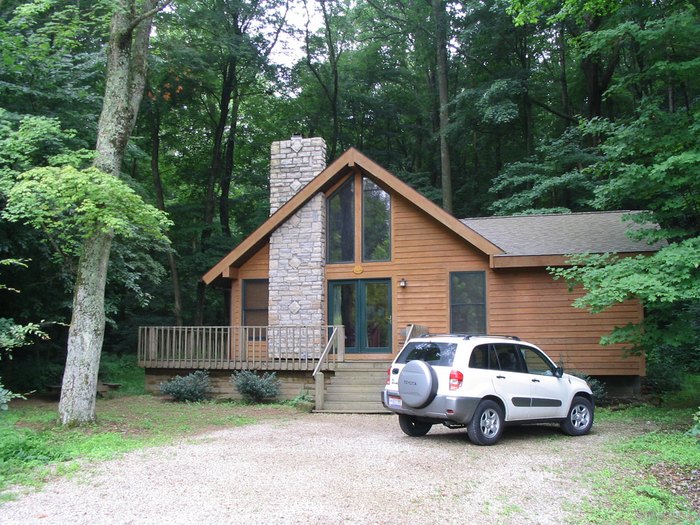 1. Hocking Hills State Park
Nestled in southeastern Ohio, Hocking Hills State Park boasts some of the most picturesque landscapes in the state. We can't get enough of this area's captivating beauty, which features spectacular waterfalls, dense forests, and awe-inspiring rock formations. It's no wonder Hocking Hills State Park is a must-visit camping destination!
Attractions and activities at Hocking Hills
There's certainly no shortage of activities for us to immerse ourselves in while visiting Hocking Hills State Park. Whether we're avid hikers, amateur photographers, or just looking to unwind amid nature, this park has got us covered.
Let's lace up our hiking boots and hit the trails! With over 25 miles of hiking trails throughout the park, we can choose from a variety of paths that cater to all skill levels. Made up of six distinct areas, the most popular sites include Old Man's Cave, Cedar Falls, and Ash Cave. No matter which route we take, expect a feast for the eyes with breathtaking cliffs, deep gorges, and rushing waterfalls.
For those of us who prefer a more adrenaline-fueled adventure, don't worry; Hocking Hills has got our backs! We can take to the skies and zip-line through the tree canopy with Hocking Hills Canopy Tours, or explore the park's massive caves via guided rappelling and climbing excursions.
If we're looking to slow things down a bit, we can try our hand at fishing for catfish, bass, and bluegill in Rose Lake, or simply enjoy a peaceful picnic amidst the park's serene surroundings.
Camping facilities and amenities
Now that we've got an idea of all the fantastic activities awaiting us at Hocking Hills State Park, let's dive into the camping accommodations. The park offers more than 150 electric campsites and 13 non-electric sites for our tent or RV camping needs, so there's plenty of options to choose from.
Rest assured folks, we won't be roughing it too much here. Many of the campsites come equipped with a picnic table, a fire ring, and nearby restrooms with flush toilets and hot showers. There's even a camp store in case we forgot to pack any essentials or simply want a snack or souvenir to remember our visit.
In addition to traditional camping options, Hocking Hills State Park also offers cozy cabins that can accommodate up to six people. Each cabin features a full kitchenette, a screened porch, a private bathroom, and a wood-burning stove—perfect for a comfy getaway in any season!
Now that we've shared just a snippet of what the stunning Hocking Hills State Park has to offer, what are we waiting for? Let's pack our bags and head to one of Ohio's most enchanting natural wonders for an unforgettable camping experience!
2. East Harbor State Park
Lake Erie waterfront camping
Imagine waking up to the soothing sound of water lapping against the shore, the golden sun rising over the horizon while you sip your coffee in your tent. That's exactly what you'll experience at East Harbor State Park, one of Ohio's premier waterfront campgrounds. Nestled on the shores of Lake Erie, the park offers a variety of campsites, from primitive to full hook-up, allowing you to choose the level of ruggedness or luxury best suited for your camping adventure. And let's not forget the stunning views of the lake and its surrounding beauty, sure to be the cherry on the top of your camping experience!
Recreational activities and facilities
With over 1,800 acres of land and water at your disposal, there's no shortage of activities to entertain you and your family during your stay at East Harbor State Park. For water enthusiasts, grab your kayak or canoe and explore the marshes teeming with wildlife or maybe even try your hand at fishing – you might just reel in some walleye or yellow perch for dinner! There's even a 1,500-foot sand beach where you can soak up the sun and relax while the kids build sandcastles or splash about in the shallows.
If hitting the trails is your cup of tea, then fear not! With over 11 miles of hiking trails winding through various habitats like forests, meadows, and wetlands, you're sure to spot some interesting wildlife and birds along the way. Feel free to pack your bicycles too, as there are 3 miles of paved multi-use trails perfect for a leisurely bike ride with the family.
When the sun starts setting after a full day of activities, gather around the campfire with your loved ones and toast marshmallows for s' mores, sharing stories and laughter under the twinkling stars. The memories made at East Harbor State Park are bound to last a lifetime, making it a must-visit destination on your Ohio camping bucket list!
3. Mohican State Park
Nestled in the heart of Ohio, Mohican State Park offers a perfect combination of lush forests, clear waterways, and striking natural landscapes. This 1,110-acre paradise is a must-visit destination for avid campers and nature enthusiasts alike. In this section, we'll dive into the natural wonders of Mohican and discuss the various adventures and activities that you can enjoy during your stay.
Natural wonders of Mohican
When it comes to natural beauty, Mohican State Park truly delivers. From the moment you step foot into the park, you'll be surrounded by picturesque views of lush greenery, rolling hills, and serene waterways.
One of the park's most famous natural attractions is the Clear Fork Gorge, a stunning 300-foot-deep sandstone gorge that offers breathtaking views. Adding to its charm, the diverse landscape houses the beautiful Clear Fork and Black Fork rivers, perfect for canoeing or kayaking.
But the beauty of Mohican doesn't stop there. You'll also find delightful streams, hidden caves, and even an enchanting hemlock forest, which is a rare gem in Ohio. In short, it's a nature lover's dream come true!
Adventures and activities offered
At Mohican State Park, there's no shortage of activities to keep you busy and entertained. Whether you're looking for adventure or relaxation, you'll find it here. Let's dive into some of the most popular activities the park has to offer.
If hiking is your cup of tea, the park has more than 13 miles of scenic trails for you to explore. Ranging from easy to challenging, each trail offers a unique experience and a chance to witness the park's incredible flora and fauna up close.
For those who prefer to be on the water, the park's rivers are perfect for canoeing, kayaking, or even tubing. Several local outfitters offer rentals and trips, making it an ideal option for families and beginners.
Looking to cast a line? The Clear Fork River is teeming with various fish species, including brown trout, smallmouth bass, and white crappie. Angling enthusiasts will not be disappointed.
If you're camping with children, you can't miss the park's nature center. Offering various educational programs, exhibits, and events, the nature center provides the perfect opportunity to learn about Mohican's ecological wonders and diverse wildlife.
Of course, we can't forget about the park's top-notch campground. With more than 100 electric sites, spacious tent campsites, and fully-equipped cabins, you'll have no problem finding the perfect spot for your home away from home.
In conclusion, Mohican State Park is a must-visit destination for anyone looking to explore Ohio's great outdoors. With its mesmerizing natural wonders and abundance of activities, you'll leave with memories that'll last a lifetime. So pack your bags, grab the marshmallows, and get ready to experience the magic of Mohican!
4. Great Seal State Park
Nestled in the beautiful hills of Ohio, Great Seal State Park offers a unique blend of rich history and diverse recreation opportunities for campers and outdoor enthusiasts alike. In the following sections, we'll explore the historical background of this fascinating park and delve into the camping experience it offers to visitors.
Historical background of Great Seal Park
Back in the early 1800s, the area now known as Great Seal State Park played a crucial role in Ohio's statehood. It was here that the state's founding fathers gathered to choose the symbols and motto to be included in the Great Seal of Ohio. The park's name not only honors this historic event but also pays tribute to the majestic hills, valleys, and forests that grace Ohio's landscape and define its natural beauty.
The park's 1,862 acres boast a significant amount of history, from ancient Adena and Hopewell Native American earthworks to the remnants of pioneer settlements that once thrived here. So it goes without saying that history buffs and curious souls will find plenty to keep their imaginations piqued while exploring Great Seal State Park.
Camping experience in the park
When it comes to camping, Great Seal State Park offers a diverse range of options for visitors to choose from. Whether you're a seasoned camper with a love for roughing it or someone seeking a more comfortable and convenient camping experience, this park has got you covered.
For those who prefer a more rugged adventure, Great Seal State Park has 15 primitive campsites tucked away in the park's picturesque woodlands. The sites are spacious, accommodating both tents and small pop-up campers. While there are no electric hookups or modern restrooms at these sites, the park does provide potable water, picnic tables, fire rings, and a centralized vault latrine.
Now, if you're the kind of camper who prefers a few more creature comforts, worry not! The park also offers a cozy, two-bedroom camper cabin that can comfortably sleep up to six people. The cabin is equipped with modern amenities, including electricity, heating and air conditioning, and a small kitchenette with a refrigerator and microwave. There's even a screened porch with a picnic table and a charcoal grill, so you can enjoy your meals amidst the calming sounds of nature.
And let's not forget about the recreational opportunities available in the park. With over 20 miles of scenic hiking trails, dedicated mountain biking paths, and challenging courses for horseback riding, there's no shortage of ways to explore and appreciate the park's natural beauty. Moreover, wildlife enthusiasts can catch glimpses of white-tailed deer, wild turkey, and various bird species that call the park home.
In conclusion, if you're looking for a truly memorable camping experience in Ohio that offers a unique blend of history and recreation, we highly recommend giving Great Seal State Park a visit. So grab your camping gear, gather your friends or family, and prepare to be captivated by the magic and allure of this truly remarkable destination.
5. John Bryan State Park
Scenic Beauty of John Bryan
Nestled in the stunning region of the Miami Valley, John Bryan State Park is an absolute gem among Ohio's campgrounds. This picturesque park boasts a magnificent limestone gorge that was carved by the serene waters of the Little Miami River. We can't help but marvel at the awe-inspiring beauty of this natural wonder. Furthermore, the park is home to a diverse range of plant life and an enchanting forest that makes it undoubtedly one of the must-visit campgrounds in Ohio.
Recreational Opportunities and Facilities
There's something for everyone at John Bryan State Park! For those seeking adventure, you can hit the trails and explore miles of enchanting hiking paths that will lead you through the heart of the forest, with amazing views of the limestone gorge. These trails cater to all levels of hikers, so whether you're a seasoned trekker or a first-timer, you'll be sure to find a path that suits your fancy.
For our fellow mountain bikers, the park offers an excellent 9-mile trail designed explicitly for off-road cycling enthusiasts. You'll feel the adrenaline coursing through your veins as you navigate the exhilarating twists and turns of the trail. Trust us, you'll have an absolute blast!
Itchin' to grab a paddle? Look no further! Head over to the Little Miami River for an unforgettable paddling experience. Whether you prefer to kayak or canoe, the calm waters of the river will provide an enjoyable ride. Plus, keep an eye out for regional wildlife sightings! You might just make a few new (furry) friends.
As the day winds down, there's no better way to enjoy a gorgeous Ohio sunset than around the campfire with your loved ones. John Bryan State Park offers 100 non-electric campsites, each equipped with a picnic table and fire ring. How 'bout roasting some marshmallows and unwinding from a day filled with adventure? Sounds like heaven to us!
In conclusion, if you're seeking a true nature escape with a unique blend of scenic beauty, thrilling activities, and a peaceful camping experience, look no further than John Bryan State Park. With so many opportunities for fun and adventure, it truly earns its spot as one of the 10 must-visit campgrounds in Ohio. So, what are you waiting for? Pack your bags and head on out for an unforgettable escape into the wilderness!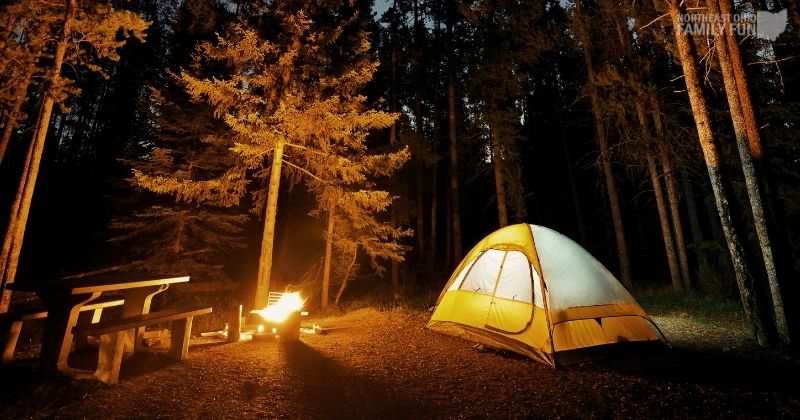 6. Findlay State Park
Nestled in the heart of Ohio, Findlay State Park boasts an incredible variety of experiences and attractions for all types of campers. From peaceful lakeside lounging to adrenaline-pumping mountain bike trails, there's truly something for everyone at this picturesque destination. So, what are you waiting for? Let's dive into the wonders awaiting you at Findlay State Park!
Discover Findlay's unique ecosystems
Once we set foot in Findlay State Park, we'll be greeted by a diverse landscape that highlights the beauty and complexity of Ohio's natural habitats. Wander through dense thickets of deciduous forest, whose trees provide a shady canopy for a plethora of flora and fauna. Keep your eyes peeled for the many species of resident birds, including both common and more elusive varieties.
Feeling more like a leisurely stroll? Our noses will lead us to the fragrant shores of Findlay Reservoir. Packed with thriving aquatic plant life, this serene haven attracts waterfowl from far and wide. Whether we're snapping pictures or simply enjoying the tranquil vibes, the reservoir is truly a breath of fresh air.
Vacationing and camping amenities
Findlay State Park's numerous camping options allow us to tailor our adventure to our own unique preferences. Tent campers can choose from a wide variety of sites, ranging from secluded locales to those with easy access to the park's amenities. If we prefer to bring the creature comforts on our trip, we're in luck—RV sites with electric hookups are available, too.
Speaking of amenities, there's no shortage of them at this stunning park. Clean and well-maintained restroom facilities are dotted throughout the park, making it easy for us to freshen up after our daily explorations. And if we need to pick up supplies or would like to indulge in a sweet treat on a hot day, the park's camp store has got us covered.
For those that love to explore, a myriad of trails and activities await. Findlay State Park not only offers a beautiful lake for boating and fishing but also features fun-filled mountain biking trails that snake through the park's lush landscape. When we're not feeling particularly adventurous, we can relax by the lake, soaking in the warm sun, and enjoying the picturesque views that surround us.
In a nutshell, Findlay State Park is an Ohioan gem that truly has it all: from its unique ecosystems bursting with life, to its top-notch amenities that help us recharge and rejuvenate, to its diverse range of outdoor activities waiting to be discovered. Make sure to place this must-visit destination high on your list of camping spots in Ohio!
7. Kelleys Island State Park
A peaceful island retreat
Nestled away on the largest American island in Lake Erie, Kelleys Island State Park is a serene escape from the hustle and bustle of the mainland. Tranquil and picturesque, it's hard not to fall in love with this place as soon as you step foot off the ferry. Surrounded by water, the 677-acre park boasts a stunning beach, numerous hiking trails, and an abundance of wildlife. Don't miss gazing up at the sky on a clear night – the stargazing here is simply breathtaking.
Exploring and camping on Kelleys Island
If it hasn't already, this island getaway will quickly capture your heart with all there is to explore. From strolling around the island's historic village and checking out the inscriptions on the glacial grooves to hiking through the lush forest and coastline trails, Kelleys Island offers a wealth of activities for the whole family.
For campers, Kelleys Island State Park has a variety of options to suit your needs, from spacious sites for your trusty RV or tent to camping cabins for those seeking a touch of home comfort. Camp facilities include modern restrooms with hot showers, as well as picnic tables and fire rings at each site. Can't leave Fido at home? No worries – the campground is pet-friendly, so the whole family can come along!
And for those who can't resist a refreshing dip in the water on a warm summer's day, the 100-foot swimming beach on the island is ideal for taking a swim, lounging in the sun, or building a magnificent sandcastle with the kiddos. Additional park amenities include a multi-purpose court, a children's playground, and picnic areas with grills and shelters.
With ample activities, gorgeous views, and a peaceful atmosphere, Kelleys Island State Park makes for an unforgettable camping experience. So next time you're planning an Ohio adventure, be sure to put this must-visit campground on your list!
8. Alum Creek State Park
Nestled in the heart of Ohio's most beautiful landscapes lies Alum Creek State Park, another must-visit destination campsite for your next outdoor adventure.
Water and land-based recreation
What sets Alum Creek State Park apart from many other campgrounds is the variety of recreational activities it offers. Surrounded by water, the park boasts a vast 3,387-acre reservoir that provides ample opportunities for boating, fishing, and swimming. The pristine sandy beach is a great spot to catch some sun, relax with a good book, or create the ultimate sandcastle.
Water-based fun doesn't end at the beach, as the park also features several marinas and boat docks for renting or launching your watercraft. For something a bit more serene, Alum Creek State Park has many picturesque spots suitable for picnicking, perfect for making memories with the family.
If you prefer exploring the great outdoors on solid ground, lace up your hiking boots and hit the trails. With over 46 miles of trails, there are options for all skill levels. These trails can be used for hiking, mountain biking, or even horseback riding. And let's not forget about the 9.5-mile horse trail that winds through the park's natural areas.
Campgrounds and facilities available
At Alum Creek State Park, campers can choose from 286 spacious and well-equipped campsites. Many of these sites come with electric hookups, so you don't have to sacrifice modern day conveniences entirely. There are also select campsites designed just for tents, providing a cozier camping experience.
Throughout the park, you will find several restrooms, shower houses, and even laundry facilities for a comfortable stay. And who says you have to rough it when it comes to food? Whether you want to fire up a family feast on the charcoal grills provided or satisfy your hunger with some campfire cooking, Alum Creek has got you covered.
Additionally, the park offers amenities to keep everyone entertained during their stay. From the well-equipped playground and basketball courts to an outdoor amphitheater and scheduled camp programs, there's never a dull moment.
In summary, Alum Creek State Park is a haven for adventure-seekers and nature-lovers alike. So pack up your gear, gather the family, and head over to this gem for an unforgettable camping experience.
9. Punderson State Park
Nestled in the heart of Geauga County, Punderson State Park is a hidden gem that offers a perfect getaway for those looking to reconnect with nature. The crown jewel of this park is the majestic Punderson Manor, which provides a stunning backdrop for some incredible outdoor adventures. In this section, we'll dive into the splendors of Punderson State Park and uncover the recreational activities and camping opportunities that make this park a must-visit in Ohio.
Majestic Punderson Manor
Punderson Manor, a beautiful English Tudor-style mansion, is a testament to the rich history of this region. Constructed in the 1920s, the manor has since been transformed into a charming lodge that welcomes visitors from all over the world. With individually decorated rooms, first-rate amenities, and an air of elegance, Punderson Manor offers a one-of-a-kind lodging experience.
But it's not just the manor that makes this park so enchanting. Punderson State Park is also home to lush forests, serene wetlands, and a sprawling 150-acre glacial lake. The park's diverse landscape creates a haven for wildlife, making it a fantastic spot for nature lovers and birdwatchers alike.
Recreational Activities and Camping Opportunities
Punderson State Park is a haven for outdoor enthusiasts. With numerous hiking trails that wind through the park's diverse habitats, hikers can enjoy everything from peaceful strolls to more challenging treks. For those looking to explore the park's aquatic beauty, Punderson Lake offers canoeing, kayaking, and paddle-boarding opportunities, as well as two sandy beaches for sunbathing and swimming.
Fishing enthusiasts will be thrilled to know that Punderson Lake is brimming with a variety of fish species, including largemouth bass, bluegill, and crappie. The park's well-stocked waters make it an angler's paradise, with ample shoreline access and two fishing piers.
For golfers, Punderson State Park features a stunning 18-hole championship golf course, complete with rolling hills, diverse wildlife, and breathtaking lake views. Regardless of your skill level, this one-of-a-kind course is sure to provide an unforgettable golfing experience.
When it comes to camping, Punderson State Park offers 196 cozy campsites, many of which feature electric hookups. This pet-friendly campground also provides modern amenities such as restrooms, showers, laundry facilities, and a camp store. Plus, with a playground and basketball court onsite, kids will have a blast during their stay.
In addition to traditional campsites, the park features 26 family cottages for those seeking a more comfortable and private lodging option. These furnished cottages come equipped with air conditioning, heating, kitchens, and outdoor grills, allowing groups and families to enjoy the great outdoors in style.
So, if you're on the hunt for an unforgettable camping experience in Ohio, make sure to add Punderson State Park to your list. With its captivating landscapes, unique manor, and diverse recreational activities, this park offers something for everyone. Don't miss out on this amazing Ohio destination, and start planning your next memorable adventure.
10. Salt Fork State Park
Largest state park in Ohio
Last but certainly not least, we can't forget to mention Salt Fork State Park. This massive park offers a sprawling 17,229 acres, making it the largest state park in Ohio. You know what they say – go big or go home, right? But seriously, folks, we fell head-over-heels for Salt Fork the moment we set foot in this natural wonderland.
Located in Guernsey County, Salt Fork State Park is an absolute paradise for campers, offering a whopping 212 campsites that cater to all types of nomads. Whether you're rolling up in an RV, pitching a tent, or seeking the comforts of a cabin, this park's got you covered. Oh, and if you've got a furry friend who can't bear to be left behind, don't worry – there are pet-friendly spots too!
Diverse outdoor experiences and camping
You want activities? Salt Fork State Park has 'em in spades! Adventurers itching to hit the trails will be pleased as punch – there are 14 scenic hiking trails to choose from, perfect for folks who prefer a leisurely stroll or a heart-pumping trek. And for you lake lovers, get ready for a grand old time: Salt Fork Lake boasts 2,952 acres of water and 74 miles of shoreline just begging to be fished, swam, and kayaked.
But hold your horses – outdoor explorers, prepare to be delighted by a myriad of activities that abound in the park. Bring out your inner William Tell and try your hand at archery, or release your pent-up stress with a round of disc golf. Eager to catch a glimpse of wildlife? Hop on a park-organized Nature Boat Tour and get ready to ooh and aah over deer, beavers, and even the occasional bald eagle.
Honestly, words can't do Salt Fork State Park justice. There's just something magical about the place, with its rolling hills, dense forests, and shimmering lakes. And if we're being real, sometimes you just have to let Mother Nature speak for herself. Trust us, this is one Ohio destination that's well worth writing home about.
Camping Tips for an Unforgettable Ohio Trip
Camping in Ohio is a fantastic way to enjoy the great outdoors, from the shores of Lake Erie to the beautiful Appalachian region. Before embarking on your adventure, we've got some crucial tips to ensure an amazing experience at one of these 10 must-visit campgrounds in Ohio.
Reservations and permits
To set up camp at one of Ohio's beautiful campgrounds, it's always better if we don't leave things to chance. During peak season, these camping areas can fill up fast. So, save yourself the heartache of arriving to find all spots are taken by reserving your campsite ahead of time. Many campgrounds have online booking systems, while others might require a phone call to secure your spot. Don't forget to double-check if you're required to acquire any permits or passes and if there are any fees associated with them. The more organized we are, the smoother our camping trip will be!
Packing essentials
You know what they say…fail to prepare, prepare to fail. When it comes to camping, it's crucial to think about everything you might need. First off, basics like a tent, sleeping bags, and camping chairs should be at the top of our list. Cooking equipment and a cooler stocked with food and drinks are also key. Don't forget that some Ohio campgrounds may not have potable water on site, so packing water in reusable containers is a wise idea.
Since weather can be unpredictable, pack clothing for any possible scenario. Bring along swimsuits and shorts for the potentially warm Ohioan days, but also throw in some rain gear and warm layers for those chilly nights. Trust us; you'll be grateful when Mother Nature decides to change her mind.
As a final thought, let's be good campers and always pack a trash bag to keep our campsite clean. Remember, we want to leave the great outdoors just as beautiful as we found it.
Safety measures
Taking a few precautions to ensure our camping trip is both fun and safe is absolutely essential. Before heading out, check the local weather forecast, so you have an idea of what to expect. If severe weather threatens your trip, don't be afraid to throw in the towel and reschedule. It's definitely better to be safe than sorry!
Once you arrive at your campground, make sure to set up camp in designated areas and away from any potential hazards. Building fires in designated fire rings or grills will help prevent wildfires and keep everyone safe. Additionally, being mindful of wildlife and practicing proper food storage to avoid attracting wild animals is a must. Let's not bite off more than we can chew, right?
Finally, having a simple first aid kit is essential for any camping trip. Accidents can happen, and it's best to be prepared for any eventuality, whether it's a scraped knee or a more serious issue.
Armed with our top tips for reservations, packing, and safety, we are more than ready for an unforgettable Ohio camping trip. So dust off that camping gear, gather up your adventure buddies, and let's hit the road for an amazing time at one of these must-visit campgrounds in Ohio!
Best Time to Camp in Ohio
Seasonal Weather Changes
Ah, the great outdoors! We can all agree that campfires, s'mores, and stargazing are just a few reasons why camping in Ohio is a must. But before we pack the tent, let's break down the seasonal weather changes that'll affect our outdoor adventures.
Springtime in Ohio tends to be a bit unpredictable. We could experience temperamental weather, with sunny days quickly turning into thunderstorms. However, it doesn't mean we should count it out completely. Just keep an eye on that weather forecast and pack layers and rain gear – it's better to be safe than sorry! And after all, as they say, April showers bring May flowers, making those campgrounds even prettier.
Summertime is the prime camping season in Ohio. The sun's shining bright, and it's getting hot in here! (Well, out there actually, since we're talking about camping). Ohio embraces its long, warm days and comfortable nights in June, July, and August, perfect for countless outdoor activities like hiking, biking, and canoeing. Just don't forget the bug spray!
As the leaves start to change color during the fall, camping in Ohio becomes a breathtaking experience. September and October offer cooler temperatures, making it the perfect time to cozy up around that campfire at night. This season provides fewer bugs and less humidity, too – a total win-win.
Unfortunately, wintertime can be harsh with freezing temperatures, snowfall, and icy conditions. Sure, cozying up in a cabin may be a hoot, but pitching a tent? That's a hard pass for most of us.
Off-peak vs. Peak Season
Now, the question we all ask: when are camping grounds less crowded? The off-peak season! Commonly, the off-peak season generally falls during spring and fall months, while summer is considered the peak season.
Off-peak camping in Ohio allows us to avoid big crowds and sometimes even lower prices on some campgrounds. However, it's important to note that some facilities and activities might be limited or unavailable during this time, so do your research beforehand! But hey, on the bright side, we might snag that perfect campsite nobody else is eyeing.
On the other hand, during peak camping season, there's likely to be a surge in crowd sizes and reservations filling up quickly. Though the atmosphere might be lively, you can expect longer lines for any nearby attractions and camp activities. If you're planning on joining the party in peak season, make sure to reserve your campsite well in advance!
So there you have it, folks! With everything from changing weather to adjusting crowd sizes, picking the best time to camp in Ohio really comes down to what suits our personal preferences. Whether it's for the love of sunshine or solitude, the Buckeye State has a season for everyone to enjoy. Happy camping!
FAQs about Camping in Ohio
Are pets allowed in Ohio campgrounds?
Absolutely! Most Ohio campgrounds are pet-friendly and allow our four-legged friends to join us on our camping adventures. However, it's important to check the specific rules and guidelines for each campground before taking your pets with you. Remember, it's always a good idea to keep your pets on a leash, clean up after them, and keep them within designated pet areas for the safety and comfort of all campers.
Can I camp in Ohio State Parks without a reservation?
You sure can, but there's a catch. While many Ohio State Parks do offer first-come, first-serve campgrounds, making a reservation is always encouraged—especially during the busy summer months. Typically, it's easier to find an available camping spot from Monday through Thursday, as weekends tend to fill up quickly. Just keep in mind that if you're rolling the dice on a last-minute trip without a reservation, you might have to be flexible on your campground choice.
What is the length of stay allowed at Ohio campgrounds?
In general, Ohio campgrounds allow for a maximum stay of 14 consecutive days within any 30-day period. However, some campgrounds may have unique rules and policies, so it's always a good idea to double-check before planning an extended outdoor getaway. After 14 days, campers are usually required to pack up and leave for at least 48 hours before returning. Let's face it, though – after two weeks of camping, we're all pretty ripe for a hot shower!
Are campfires allowed in Ohio campgrounds?
You bet! Campfires are a staple of any camping trip and are allowed at most Ohio campgrounds, including Ohio State Parks. However, it's crucial to practice proper fire safety and follow campground guidelines when it comes to building and maintaining a fire. Use designated fire rings or grills, never leave your campfire unattended, and always put it out completely before turning in for the night or leaving your campsite. No one wants to be "that guy" who starts a wildfire.
Are alcohol and tobacco products allowed in Ohio State Parks?
When it comes to alcohol, the answer is a bit tricky. Alcohol possession and consumption are generally prohibited in Ohio State Parks, but select parks do allow adult beverages in designated areas or with a permit. Certain parks might have beer or wine available at camp stores, picnic areas, and golf courses. It's essential to brush up on the rules and regulations of each state park before cracking open that cold one.
As for tobacco products, smoking is allowed in Ohio State Parks with some restrictions. You're permitted to smoke within your own campsite or in designated smoking areas. However, make sure to be respectful of your fellow campers and adhere to any posted signs regarding smoking policies. And remember, just because you're outdoors doesn't mean littering is okay – always dispose of cigarette butts properly!