Understanding the Needs of Disabled Campers
When planning a camping trip, it's essential to keep in mind the needs of each individual camper, particularly those with disabilities. There are specific challenges that disabled campers might face, and having the right equipment is crucial to ensuring a fun, safe, and enjoyable trip for everybody. In this section, we'll delve into the importance of accessibility in camping, common challenges faced by disabled campers, and the significance of proper planning and research.
The Importance of Accessibility in Camping
Camping is an outdoor activity loved by many, but for disabled individuals, it can be a different experience altogether. It's essential to prioritize accessibility when planning a camping trip, whether it's choosing a campsite with paved paths and accessible buildings or ensuring that camping gear is easy to use and suitable for various mobility levels.
Accessible camping experiences allow disabled individuals with a sense of independence, freedom, and adventure they may not experience in their everyday lives. Additionally, camping can help to improve physical and mental health, as well as provide a break from the daily stresses of life. By focusing on accessibility, we can ensure that camping is an enjoyable and inclusive activity for everyone involved.
Common Challenges Faced by Disabled Campers
Disabled campers face a range of potential challenges when embarking on a camping trip. Some of these challenges include:
Accessing and navigating uneven terrain or paths
Setting up tents and using camping gear
Finding suitable and accessible facilities, such as toilets, showers, and communal areas
Ensuring adequate mobility assistance, such as wheelchairs, crutches, or other aids
Managing specific medical needs during the trip, including medication or special equipment
Understanding these challenges is crucial in planning a trip that caters to the unique needs of disabled campers, ultimately leading to a more enjoyable and fulfilling experience for all involved.
The Significance of Proper Planning and Research
Thorough planning and research play a vital role in ensuring a successful camping trip for disabled individuals. This process should begin well in advance of the journey, as it helps to identify potential hurdles and develop solutions.
While planning, consider the following factors:
Involve disabled campers in the planning process, ensuring their input and preferences are taken into account
Choose a campsite that caters to the needs of disabled individuals, including accessible facilities and accommodations
Research the availability of adaptive equipment, such as wheelchair-friendly tents or portable ramps
Make a list of necessary supplies and equipment, ensuring they are easy to use and suitable for the specific needs of disabled campers
Plan for contingencies, such as bad weather or medical emergencies
In conclusion, understanding the unique needs and challenges faced by disabled campers is key for planning the perfect camping trip. By focusing on accessibility, addressing potential obstacles, and putting in the proper planning and research, we can help ensure that camping is an activity that everyone can enjoy.
Types of Camping Equipment for the Disabled
Camping is a fantastic way to relax, immerse oneself in nature, and bond with friends and family. However, for people with disabilities, camping can present various challenges and deprivations. That's where specialized equipment comes in. With the right gear tailored to address particular needs, everyone, including those with disabilities, can enjoy an incredible and comfortable camping experience. In this post, we'll explore assistive devices and tools, adaptive camping gear, and inclusive and accessible camping equipment designed to make camping enjoyable for all.
Assistive Devices and Tools
Assistive devices are essential in helping individuals with disabilities enjoy independence and self-sufficiency in their daily lives, and camping is no different. When venturing into the great outdoors, consider these helpful tools:
Portable ramps: Quick and easy to install, these ramps enable wheelchair users to access tent entrances and other raised areas seamlessly. There's no need to worry about obstacles when navigating your campsite.
Power wheelchairs or scooters: A reliable set of wheels is critical when traversing uneven terrain often found in camping locations. Power wheelchairs or scooters can provide additional stability and support while exploring the surroundings.
Walking aids: For those who need help with mobility and balance, walking aids such as canes, trekking poles, and walkers can offer valuable assistance. These tools can also help reduce fatigue on longer hikes.
Specialized braces and supports: Braces for ankles, knees, wrists, and other body parts can offer added support and stability when navigating the outdoors, allowing for a more comfortable and enjoyable experience.
Adaptive Camping Gear
Adaptive camping gear focuses on meeting the individual needs of campers with disabilities, making their experiences comfortable, safe, and enjoyable. Here are some must-haves to bring along on your next camping adventure:
Accessible tents: Tents with extra-wide doors, ample interior space, and low-profile designs make entering, exiting, and moving around easy and hassle-free for wheelchair users or those with limited mobility.
Adaptive sleeping bags: Sleeping bags with additional zippers, wider openings, and increased insulation cater to campers with different physical requirements, ensuring a good night's rest in the great outdoors.
Hands-free flashlights: Headlamps or clip-on lights allow campers to maintain their balance and mobility while providing ample lighting in low-visibility situations.
Easy-grip utensils and cookware: Designed to accommodate individuals who may have challenging grasping objects, easy-grip utensils, and cookware make meal preparation and serving a breeze.
Inclusive and Accessible Camping Equipment
In addition to tools and gear explicitly designed for people with disabilities, many other camping items can improve accessibility and inclusivity:
Portable and adjustable camp chairs: These chairs offer customized support and seating options, ensuring the maximum comfort for everyone around the campfire.
Inflatable mattresses: Sleeping on uneven, hard ground can be uncomfortable for all campers, regardless of their physical condition. An inflatable mattress provides personalized support and cushioning for a restful night.
Compact and lightweight gear: Reducing the amount of heavy equipment that needs to be carried or transported can make camping more accessible for everyone.
Accessible picnic tables and benches: For communal meals and socializing, picnic tables, and benches with ample space for wheelchairs and scooters can ensure everyone is included.
Don't let physical limitations hold you back from having an amazing camping experience. With the right types of equipment finely tuned to your individual needs, everyone can happily explore and appreciate the great outdoors. So go ahead, start planning your next adventure, and don't forget to bring along all the fantastic gear designed just for you!
Important Mobility Equipment for Disabled Campers
Whether we're seasoned outdoor enthusiasts or just starting to explore the joys of camping, it's essential that we have the right equipment to ensure a comfortable and enjoyable experience. In this section, we'll focus on some of the top mobility equipment designed specifically for individuals with disabilities, making it possible for everyone to enjoy the great outdoors.
Wheelchairs specifically designed for outdoor use
When it comes to camping, not all wheelchairs are created equal. Standard wheelchairs may not provide the necessary flexibility and durability needed to navigate uneven terrain. That's where wheelchairs designed for outdoor use come in! These wheelchairs often feature larger, sturdier wheels and more robust frames to help tackle obstacles you may encounter while camping. Some popular options include all-terrain wheelchairs and beach wheelchairs, which are specially designed for use on sand. Investing in a wheelchair designed for outdoor use will go a long way in ensuring that our camping adventures are as smooth and enjoyable as possible.
All-terrain mobility scooters
For those of us who prefer a bit more independence while camping, all-terrain mobility scooters can be a game-changer. These scooters are perfect for individuals who can still walk short distances but may struggle with navigating uneven ground or traversing longer distances. All-terrain mobility scooters feature larger tires and more powerful motors, allowing them to safely and comfortably navigate a variety of terrain types. Many models also offer convenient storage options, which come in handy when packing your camping gear.
Walking aids and gait trainers
Even with the right wheelchair or mobility scooter, there may still be instances where we need some extra support while walking. That's where walking aids and gait trainers come in. From forearm crutches to gait trainers designed specifically for those with limited mobility, there are numerous options to help us maintain our balance and stride while exploring the great outdoors. When choosing the right walking aid or gait trainer for camping, be sure to consider factors such as stability, comfort, and durability, to find the right fit for your needs.
Choosing the right ramps and lifts for camping
Last but certainly not least, it's important to consider how we'll be getting our wheelchairs or mobility scooters from one place to another during our camping trip. Portable ramps and lifts can make all the difference, allowing us to easily load and unload our mobility equipment. When selecting a ramp or lift for camping, be sure to consider factors such as weight capacity, length, and portability. Some ramps are even designed to fold up easily, making them perfect for camping trips where space-saving is a priority.
In conclusion, investing in the right mobility equipment for our disabled camping experience is essential for ensuring a comfortable, safe, and enjoyable outdoor adventure. By considering factors such as terrain, distance, and our unique needs, we can select the right wheelchair, mobility scooter, walking aid, and ramp or lift to make the most out of our time in nature. Happy camping!
Adapting Sleeping Systems for Comfort
Sleeping comfortably while camping can be a challenge for everyone, but it's especially important when considering the unique needs of campers with disabilities. In this section, we'll explore some of the top equipment and considerations to ensure you and your loved ones have an enjoyable and restful disabled camping experience.
Choosing the perfect accessible tent
When it comes to choosing a tent that caters to the needs of disabled individuals, there are a few key features to keep an eye out for. The ideal accessible tent should be spacious, easy to set up, and equipped with founds of accessible entry.
We recommend looking for tents with extra-wide doors and low-entry thresholds to allow for ease of access, particularly for those using wheelchairs. Additionally, tents with higher peak height can provide better maneuverability for individuals with limited mobility. Some popular options include the Coleman Cabin Tent with Instant Setup and the Eureka! Copper Canyon LX Camping Tent.
Finally, consider investing in a tent that features a vestibule, providing extra space for storing mobility aids, such as wheelchairs, crutches, or walkers.
Adaptive sleeping bags and pads
Traditional sleeping bags might not offer the necessary comfort and support for campers with disabilities. There are, however, plenty of adaptive options on the market catered to those with different needs.
For individuals with limited mobility or coordination issues, sleeping bags with all-around zippers, like the Teton Sports Celsius XXL Sleeping Bag, can offer easy entry and exit without requiring much effort.
On the other hand, campers who need extra padding or support can look into self-inflating sleeping pads, like the Therm-a-Rest Prolite Plus. Self-inflating pads provide an additional layer of comfort, making sleeping on the ground more bearable.
Don't hesitate to explore other alternatives, such as camping cots or air mattresses, if sleeping pads and bags aren't the right solution for your specific circumstances.
Sleeping solutions for specific disabilities
Different types of disabilities may require additional support or adaptive equipment to ensure a good night's sleep while camping. Here are a few options tailored to particular needs:
For individuals with spinal cord injuries or conditions that require them to sleep in a specific position, customizable air mattresses like the ROHO series can offer personalized support and pressure relief.
For campers who experience muscle spasms at night, a specialized sleeping bag liner, such as the Epilepsy Anti-Suffocation Sleep Safe Pillowcase, can help prevent choking and ensure sufficient oxygen intake.
Campers with sensory processing issues might benefit from using a weighted blanket or a sensory sleeping bag, like the SensaCalm Therapeutic Adult Sleeping Bag, providing a sense of security and calm throughout the night.
It's crucial to research and invest in the right equipment to accommodate various disabilities to create a comfortable and inclusive camping experience. Everybody deserves the chance to enjoy the great outdoors, and having the proper gear can make all the difference. So pack your bags, and let's get ready for a fantastic disabled camping adventure!
Cooking and Eating Equipment
A big part of camping is the joy of cooking and eating outdoors. As we gather around a campfire and share a meal, it becomes a memorable experience that we cherish. That's why we want to make sure that everyone, regardless of their abilities, can fully participate in and enjoy this essential aspect of camping. In this section, we'll discuss some great equipment options designed to make cooking and eating outdoors accessible for everyone.
Accessible Camp Stoves and Cooking Surfaces
First things first, we need a way to cook our food. With traditional campfires and grills, it can be challenging for people with limited mobility to reach or safely manage cooking surfaces. Enter accessible camp stoves and cooking surfaces!
There are several specialized stoves available, like the CanCooker, which allows for easy one-pot cooking with a simple, low-to-the-ground design. The Bison Rolling Grill is another solution that provides a wheelchair-friendly cooking surface, combining a sturdy tabletop and an adjustable grill grate, making it easy for everyone to access the cooking area.
Furthermore, consider opting for propane stoves with easy-to-reach knobs and long-reach tools (such as grill brushes and tongs) to ensure a safe and accessible cooking experience.
Adaptive Utensils and Dishes
Once the food is ready, it's time to dig in! Ensuring everyone has the proper utensils and dishes is essential. Look for adaptive eating utensils designed specifically for people with mobility or dexterity restrictions, such as grip-enhancing forks and spoons, angled knives, and plate guards that prevent spills.
There are also options like Staybowlizer that keeps bowls steady, or GripWare High-Sided Dishes designed to make it easier for individuals with limited dexterity to scoop up their food. Don't be afraid to get creative and see what works best for your specific needs.
Inclusive Coolers and Storage Solutions
Keeping our food and drinks cold is a priority when camping, and inclusive coolers make it easier for everyone to access their grub. Consider purchasing coolers designed with ease in mind, like those with wide openings, easy-to-use latches, or wheels and handles, so they're simple to move around the campsite.
Additionally, opt for storage solutions that are easy-to-reach yet securely protected from wildlife, like BearVault food containers. These containers feature a wide opening and a secure, easy-to-open lid, so everyone can safely and easily access their food.
By incorporating accessible camp stoves, adaptive utensils, and inclusive coolers and storage solutions, we can ensure everyone has a fantastic and memorable camping experience. So let's pack up our gear and gather around the campfire, sharing laughs, stories, and a tasty meal with friends and family.
Accessible Personal Care Items for Campers
As we venture out into the great outdoors, it's crucial to address all our needs to have the best camping experience possible, regardless of our abilities. Personal care is often overlooked, but it can significantly impact our comfort while exploring nature. In this section, we will discuss accessible personal care items that can make our camping trips more enjoyable for campers with disabilities.
Portable and accessible showers
Let's face it, nobody enjoys days of sticky sweat, stinky socks, and dirt smeared on their faces. A good, refreshing shower can make all the difference and lift our spirits. For campers with disabilities, finding an accessible shower in the wild might not be the most straightforward task. Thankfully, there are various types of portable showers specifically designed with accessibility in mind.
One popular option is the wheelchair-accessible pop-up tent shower, which offers a spacious area for comfortably bathing in a wheelchair. They typically come with solar-heated water bags to ensure a warm shower even without a power source. Alternatively, if you're concerned about conserving water, you can try the pump-action portable shower, which allows you to control the water flow and stop it as needed.
Adaptive toileting equipment
Answering the call of nature is an unavoidable part of camping, and it's essential to find a solution that works for everyone. Disabled campers might have a hard time using a traditional portable toilet due to various accessibility issues. Thankfully, several adaptive toileting alternatives can make sure everyone feels included.
One popular option is a foldable commode chair, which provides comfort and support for those with limited mobility. Some models are even compatible with portable toilets to offer more adaptive features. On the other hand, if you're more comfortable with portable urinals, there are options explicitly designed for people with reduced hand dexterity or muscle control. They often come with ergonomic handles and secure lids to avoid unpleasant accidents. Always remember to pack disposable bags for easy and hygienic waste disposal.
Inclusive personal care items and toiletries
When it comes to toiletries, it's essential to ensure our products work well for our individual needs. There are multiple inclusive personal care items available that can improve our camping experience. Adaptive equipment, such as long-handled sponges and loofahs, can make bathing easier for those who might have difficulties reaching certain areas of their body. Sturdy, non-slip grips on toothbrushes, razors, and hairbrushes reduce the risk of losing control of these items, ensuring safety and accuracy during use.
As you pack up for your next camping adventure, don't forget to consider all aspects of your personal care routine. With the right accessible showers, adaptive toileting equipment, and inclusive toiletries, everyone can feel confident and comfortable while enjoying the great outdoors. So, let's get out there and have an unforgettable time immersed in nature, leaving no camper behind.
Entertainment and Activities
When it comes to camping, arguably the best part is spending quality time with loved ones while enjoying the great outdoors. Making sure everyone, including our disabled friends and family members, can participate in fun activities during the camping trip is essential in creating long-lasting, joyful memories. In this section, we'll cover some adaptive equipment and tools to ensure an inclusive and enjoyable camping experience for everyone involved.
Adaptive camping games and sports equipment
There's no shortage of camping games for everyone to enjoy together, regardless of ability level. One way to make traditional camping games more inclusive is by using adaptive sports equipment. For example:
Boccia, a Paralympic sport, is similar to bocce ball but played using soft leather balls, making it safer and more accessible for mobility-impaired individuals or those with limited dexterity. You can even find sets specifically designed for wheelchair users, complete with ramps for easy ball release.

When it comes to the popular game of cornhole, there are many options for adaptive boards and beanbags. Consider purchasing boards with larger target holes or attaching a lightweight net to catch the beanbags, easing the difficulty of the game. Some sets even come with sound-making beanbags for visually impaired players.
So, let's all gather around and have a blast with these accessible and entertaining equipment pieces. It's all fun and games until… well, it's all fun and games!
Inclusive fishing and boating gear
Fishing and boating are popular activities for many campers, and we believe everyone should have the opportunity to get out on the water or reel in the catch of the day. Many adaptive fishing and boating gear options can accommodate various accessibility needs:
For our fishing enthusiasts, check out electric and power-assist reels to make casting and reeling a breeze. Rod holders that attach to a wheelchair are also a fantastic option for those with limited mobility.

Canoe and kayak paddles with adapted handgrips, as well as switches and mounts to attach them to wheelchairs or other mobility aids, allow for a comfortable and enjoyable rowing experience for all.
So, go on and grab that fancy adaptive fishing gear and let's make some waves on the water, shall we?
Assistive devices for hiking and exploring nature
One of the best aspects of camping is the opportunity to explore and connect with nature. Ensuring that everyone can venture out and appreciate the great outdoors shouldn't be an afterthought. Here are some versatile tools and assistive devices for mobility-impaired individuals who want to hit the trails:
If maneuvering a manual wheelchair through uneven terrain sounds like an uphill battle, all-terrain wheelchairs and adaptive strollers offer the ideal solution. These can handle various surfaces and allow users to explore the great outdoors with ease.

For those who use a cane or crutches but want to engage in more adventurous activities, all-terrain tips, and attachments are available to enhance stability on the trail.
The great outdoors is waiting for us to get out and discover, and with these assistive devices, everyone can join in and appreciate the spectacular beauty of nature.
In short, don't let anything hold you back from experiencing the joy that camping offers. By investing in adaptive equipment, we can ensure a memorable and enjoyable time for every camper. Happy camping, folks!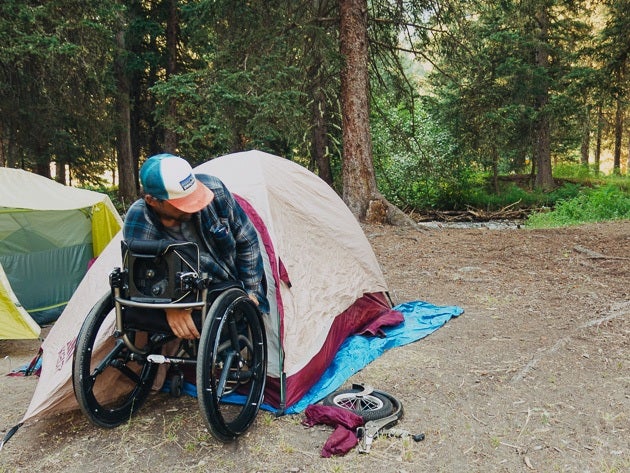 Safety and Emergency Preparedness for Disabled Campers
When it comes to camping, ensuring safety and being prepared for any emergency is a top priority, especially when it involves disabled campers! After all, we want to have a great time outdoors without feeling stressed or overwhelmed by potential risks. So, let's take a look at some essential equipment that can make a disabled camping experience both safe and enjoyable.
First Aid kits tailored for specific disabilities
We all know the importance of a well-stocked first aid kit for any outdoor adventure. However, it is crucial to have a kit equipped with supplies tailored to the specific needs of disabled campers. For instance, if someone in your group relies on a wheelchair, make sure to include extra wheelchair patches and tools for wheelchair maintenance. Additionally, it's worth considering any medication or medical aids specific to each individual's disability, such as inhalers for asthmatic campers or insulin and glucose monitoring supplies for those with diabetes.
Emergency communication devices
Nowadays, we're lucky to have access to a wide range of communication gadgets, making it easier than ever to stay connected with loved ones and emergency services while camping. From satellite phones and two-way radios to Personal Locator Beacons (PLBs) and solar-powered chargers for your smartphone, there's an option for every budget and need.
Having a reliable method of communication is essential, particularly for disabled campers who might encounter unforeseen challenges during their trip. When choosing your device, keep in mind each individual's needs and possible limitations. For example, if someone in your group has hearing impairments, choose a device that supports text messaging, or if a group member has limited hand mobility, opt for a voice-activated operator system.
Safety equipment for various types of disabilities
Encountering unexpected obstacles or emergencies may be inevitable, but we can minimize the impact by carrying the appropriate safety equipment. Here are some suggestions for different types of disabilities:
For wheelchair users: Pack items such as portable ramps, wheelchair gloves for better grip, and waterproof blanket covers to keep dry during wet weather.

For visually impaired campers: Choose high-contrast items like brightly colored tents, tactile trail markers, and extra-long hiking sticks designed for visually impaired hikers.

For campers with hearing impairments: Carry a vibrating alarm clock or LED lanterns that have built-in visual alarms for notifying others when you need assistance.

For those with mobility impairments: Bring along foldable walking canes, lightweight plastic stools, or portable seating aids for resting.
Ultimately, it's essential to customize your camping setup with safety equipment tailored to your group's specific needs. By doing so, you'll feel more confident venturing outdoors, knowing that you've got everything under control in case of an emergency. With the right preparation and equipment, disabled camping experiences can be safe, enjoyable, and full of unforgettable memories. So go on, pack your bags, and get ready for your next great outdoor adventure!
Specialized Camping Clothing and Apparel
Camping is a fantastic way to enjoy the great outdoors and experience nature's beauty. For individuals with disabilities, it's important to have the right camping gear and clothing to ensure a comfortable and enjoyable trip. In this section, we'll discuss adaptive clothing, specialized footwear, and inclusive accessories to make the camping experience more accessible and enjoyable for everyone.
Adaptive clothing for different weather conditions
Weather can be unpredictable, especially when camping. Having adaptive clothing that fits various weather conditions is essential for a comfortable camping experience. Here are some recommendations:
Waterproof jackets and pants: Look for adaptive clothing designed with easy access zippers, velcro closures, and adjustable cuffs to accommodate wheelchairs, braces, or prosthetics. These features allow individuals with disabilities to easily put on or remove their outerwear, providing protection from rain and wind without sacrificing comfort.

Layered clothing: Layering is key to staying warm and dry during changing weather conditions. Look for adaptive clothing designed with easy-open snaps or zippers, allowing individuals with limited mobility to quickly and easily adjust their layers as needed. Examples of versatile layered clothing include cardigans, zip-up hoodies, and vests.

Adaptive hats: Sun protection is important during outdoor activities, especially for individuals with disabilities who may have sensitive skin or need additional protection from the sun. Look for hats with wide brims, adjustable straps or velcro closures, and breathable materials to ensure comfort and protection.
Specialized footwear for outdoor activities
The right footwear can make a world of difference when navigating challenging terrain and ensuring foot comfort during a camping adventure. Consider the following options for specialized footwear:
Orthopedic shoes: These shoes are designed with extra cushioning, support, and stability features to accommodate various foot conditions and disabilities. They're especially helpful for those with arthritis, diabetes, or other mobility issues that may impact their gait or balance.

Shoe inserts: Custom-fitted shoe inserts are an excellent addition to your camping footwear, providing extra support and cushioning to ensure comfort during long walks and hikes.

All-terrain sandals: Some individuals with disabilities find it easier to wear open-toed footwear that can be easily adjusted for a comfortable fit. All-terrain sandals with sturdy soles, adjustable straps, and water-resistant materials are a great versatile option for outdoor activities.
Inclusive accessories for added comfort and protection
Finally, ensure the utmost comfort during your camping trip by incorporating these inclusive accessories:
Sunscreen and bug repellent: It's essential to protect your skin from the sun's harmful rays and pesky insects. Opt for water-resistant, broad-spectrum sunscreen with at least SPF 30, and choose bug repellent that is specifically formulated for individuals with sensitive skin.

Adaptive gloves: Find gloves that cater to individual needs, such as easy-to-fasten styles, touchscreen-compatible fingers, or gloves with extra padding and support for various hand conditions.

Cooling towels: Particularly helpful for individuals with temperature regulation issues, these towels provide instant relief by retaining water and maintaining a cool temperature for extended periods.
For an enjoyable disabled camping experience, investing in specialized camping clothing and apparel is key. By choosing adaptive clothing, specialized footwear, and inclusive accessories, everyone can have a comfortable and memorable camping adventure!
Accessing Campgrounds and Other Outdoor Facilities
Camping is an enjoyable and relaxing activity that allows us to appreciate nature, spend time with our loved ones, and unwind from the daily hustles of life. As much as we love camping, we understand that it can be challenging for individuals with disabilities. That's why we've compiled a list of tips and considerations for finding accessible campgrounds and making the most of your outdoor experience.
Tips for finding accessible campgrounds
Research, research, research: Use search engines, campground directories, and blogs to find available information regarding accessibility in campgrounds. Websites like Reserve America, Accessible Nature, and Access Camping provide detailed information about campgrounds with accessible features, including photos, reviews, and booking options.

Call ahead: Once you have identified a campground you'd like to visit, give them a call. This is the best way to find out the specific accommodations they offer for disabled campers, and if they have the resources available to suit your needs.

Look for specific facilities: When searching for accessible campgrounds, keep an eye out for features such as paved pathways, accessible restrooms, and shower facilities, picnic areas with wheelchair-accessible tables, and level campsites.

Campsites designed for disability access: Many campgrounds have designated accessible campsites specifically designed for disabled campers, outfitted with features like hard-surfaced pads for tents or RVs, lower fire rings and grills, and extended picnic tables.

National Parks and other public lands: The National Park Service, U.S. Forest Service, Bureau of Land Management, and other agencies often provide specially designated accessible camping facilities. Make sure to check their websites and call to ask about the specific facilities available.
Understanding the ADA requirements for camping
The Americans with Disabilities Act (ADA) provides guidelines for accessible design in parks and camping facilities, including campsites, restrooms, and picnic areas. When researching campgrounds, knowing the ADA requirements can help you understand what to expect in terms of accessibility.
Some of the basic ADA guidelines for accessible camping facilities include:
Campsites: Accessible campsites should have an accessible route from the parking area to the site, and have level, firm surfaces for tents or RVs.
Restrooms and showers: Accessible restrooms and shower facilities should be available and have grab bars, accessible sinks, and adequate space for wheelchair maneuverability.
Picnic areas and fire rings: Accessible picnic areas should have extended picnic tables and hard-surfaced paths.
Parking: Designated accessible parking spaces should be available close to the camping facilities, on level, firm surfaces.
Camping etiquette and considerations for disabled campers
When camping with a disability or with a disabled loved one, it's essential to keep in mind some basic etiquette and considerations:
Know your rights: Familiarize yourself with the ADA regulations and other laws that protect your rights as a disabled camper. This way, you can educate others when needed, and you'll know what to expect during your camping trip.
Communicate your needs: Make sure to communicate your specific needs clearly to the campground staff when making your reservations. They will be more than willing to help, but they can only do so if they are aware of your requirements.
Be considerate of others: Since camping is a popular outdoor activity, campgrounds can become crowded, especially during peak season. Remember that everyone is trying to enjoy their time, so it's essential to be respectful and considerate of other campers.
Leave no trace: Make sure to practice proper camping etiquette by cleaning up after yourself, respecting wildlife, and leaving your campsite in pristine condition.
In conclusion, with a little bit of research and preparation, camping can be an enjoyable and accessible experience for everyone. Being aware of the ADA guidelines, knowing the right facilities to look for, and practicing proper camping etiquette can significantly improve your experience. Happy camping!
Frequently Asked Questions
What important features should I look for in a disabled-friendly tent?
When selecting a tent for a disabled camper, there are a few key features to look for:
Size and space: Make sure the tent is large enough for the camper and their mobility aids, allowing room for easy maneuvering and a comfortable stay.
Easy setup: Choose a tent that's simple to set up, ideally one with color-coded poles or a pop-up system. You'll also want to ensure that all zippers and openings are easy to operate.
Accessible entrance: Look for a tent with a wide, low-threshold entrance and possibly a ramp to facilitate wheelchair access.
Room dividers and pockets: These features can make it easier to keep the tent organized and accessible.
Ventilation and weatherproofing: Ensure the tent has proper ventilation and is suitable for the expected weather conditions on your camping trip.
How can I find accessible campgrounds near me?
Finding an accessible campground is a breeze if you know where to look! Here are some helpful resources:
National and state park websites: Check out the accessibility information provided for campgrounds on their official websites.
Online databases: Websites like Accessible Nature (www.accessiblenature.info) and WheelchairTraveling (www.wheelchairtraveling.com) provide lists of accessible campgrounds, sorted by state or country.
Disability organizations: Reach out to local or national disability organizations for their recommendations.
Online forums and social media groups: Join groups or forums for disabled campers to seek advice and recommendations from fellow campers.
What are some essential camping items for someone with limited mobility?
Here is a list of essential camping items to consider for campers with limited mobility:
Portable ramps: These make it easier to navigate uneven terrain and access tents, campsite facilities, and vehicles.
Camp chair with proper support: Choose a comfortable chair that provides the needed support and stability.
Reacher/grabber tool: This can be a lifesaver when it comes to picking up items from the ground or reaching high places.
Portable toilet: If campsite restrooms are not accessible, a portable toilet can provide a convenient alternative.
LED headlamp or flashlight with a strap: Having hands-free lighting is beneficial, especially when using mobility aids.
Non-slip mat: Place a non-slip mat inside the tent to prevent slipping and provide extra stability.
How can I make my campsite more accessible for disabled campers?
To create an accessible campsite, follow these simple steps:
Clear the area: Remove rocks, sticks, and other debris to create a flat and even surface for tents and mobility aids.
Choose an accessible picnic table: If possible, select a picnic table with an extended end for wheelchair users.
Set up your tent near pathways and facilities: Opt for a campsite close to restrooms, water sources, and other amenities to minimize travel distance.
Add lighting: Illuminate pathways and key areas with solar-powered or battery-operated lights, making it easier for campers with limited mobility to navigate in the dark.
Keep walkways open: Ensure there's enough space for wheelchairs and other mobility aids to move comfortably around the site.
What types of wheelchairs or mobility aids are best for camping?
The right mobility aid will depend on your specific needs and preferences. Here are some options to consider:
All-terrain wheelchairs: These rugged wheelchairs are designed for off-road use, with large inflatable tires and sturdy frames to easily navigate uneven terrain.
Beach wheelchairs: Similar to all-terrain wheelchairs, beach wheelchairs are equipped with balloon tires that can float, making it easier to traverse sand and other soft surfaces.
Adaptive hiking poles: For those who use crutches or canes, adaptive hiking poles offer increased stability and support on uneven or rough terrain.
Freewheel attachment: A freewheel attachment can be added to a manual wheelchair, lifting the front casters and making it easier to roll over obstacles or rough ground.
Remember, when selecting the right mobility aid for camping, consider factors such as the terrain of the campground, your level of mobility, and your personal preferences.