Discover The 5 Best Campgrounds In South Carolina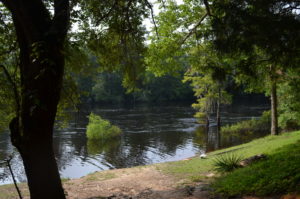 South Carolina is a state that you may not have really considered for your camping trip before. However, I have to admit this is a state that has a lot of beauty and charm going for it. Not to mention the Palmetto state is one that has a climate you are going to enjoy immensely. The main thing that you need to do, though, is making sure you know about the 5 best campgrounds in South Carolina to go and camp in. Once you know about some of these campgrounds you will see that South Carolina is one of those states you will come to visit time and time again, but instead of staying in the hotels along the coast, head inland and find the campgrounds that are going to provide you with an amazing outdoor adventure.
How I Worked On The List
The list is one that I really enjoyed putting together, but it was also a list that was a little bit harder to put together because South Carolina is one of those states that tends to get overlooked for some reason. This makes it very difficult to have the proper knowledge about the state and what all it is going to offer for you to enjoy. So I looked at what the campgrounds have to offer, what restrictions they have on pets and where the campgrounds are located at. All of these combined are the factors that I used to rank the campgrounds in South Carolina.
1. Angel's Landing Campground
Angel's Landing is a great place to go if you want to have almost everything included at the same exact time. The location of the campground is in Pineville, which is a beautiful place to visit in its own right. However, what really sets this campground out is the fact that it can take almost any size of an RV. This will make it easier for you to have a great trip and know your camper will fit in the spots you are going to be using.
If you do have a boat, then this is definitely the campground for you as it does have a marina you can visit as well. The cost of television is also included in the camping cost as well. You may enjoy the fact that this is a location that does have some long-term campers, but they are very friendly and if the staff cannot answer your questions sometimes the long-term campers are able to.
2. Devils Fork State Park
Devils Fork is a campground that is run by the state, which means it will be properly maintained and since it is owned by the state the price is going to be typically lower than what you would expect to pay in some of the other parks. Not to mention, these parks have a tendency to allow for all types of camping from RV's to the tents that you may want to use.
The great part is the fact this is a clean campground, which is part of the state standard. However, you will find the place offers plenty of nature trails for you to hike on and this is going to make a difference in how well your trip to this campground is going to go. Not to mention it will allow you to really get away from the headaches a crowded campground can produce at times.
3. Hickory Knob State Resort Park
If you enjoy golf and camping or if you just want to be staying in an amazing state resort park, which does allow some camping at times. You will want to hit up Hickory Knob. This is a location that has an amazing beautiful golf course on the grounds but also is going to be situated on the 71,000 acres Strom Thurmond Reservoir and what is even better this is right on the reservoir.
Now, the downside is the resort park, which is all-inclusive does not tend to allow people to camp at it directly. However, the beautiful location that does is literally on the doorstep of the location and that is the Hamilton Branch State Park. At Hamilton Branch State Park, it is going to be easy for you to access the lake as most of the campsites are lakefront.
4. Apache Family Campground & Pier
Well, what can I say outside of this campground is one that you are going to love because of its location. The location is right at the same area as Myrtle Beach, yes, that Myrtle Beach the very popular vacation destination. However, instead of paying hundreds of dollars a night for a hotel room on the beach you can have a great way to stay and that is by using a camper that will save you quite a bit of money.
What is really great about this location is it is family owned and has been for over 40 years now. However, at the same time what really proves its mettle as a campground is so many people come back to bring their kids or grandkids to the campground they loved. Not to mention this is one place that has more amenities than what you can shake a stick at and it is sure to make it easier for your entire family to have a great vacation, even if they are camping near one of the largest attractions in the United States.
5. Ocean Lakes Campground
Ocean Lakes is another place you are going to fall in love with. This is a place that has managed to get located on Myrtle Beach as well. This is going to allow you to enjoy the camping, but what is even better about this location is the beautiful beach location it has available. This place literally has everything you could wish for from the beachfront campsites to the awesome pools and amenities that are around the location.
When you are looking at the amenities here you will find they are numerous as well. However, the best one is the location because you are going to be able to just walk from your camper to the beach and know you can start to enjoy the waters of the Atlantic Ocean in just a matter of minutes.
How To Select The Best Campground In South Carolina
Okay, I know that this is a challenge because we have talked about what we feel are the 5 best campgrounds in South Carolina. So we have to ask, what factors should you use to make your decision easier? Well, I have to say the things that you are going to want to weigh in your decision for me is the location of the park because you do not want to be away from the main things you want to see in South Carolina. However, at the same time, you should consider the amenities the campground offers as well, remember not all campgrounds are the same.  The final factor that I would think about is how much the camping trip will cost me because I do not want to spend a fortune for the South Carolina campgrounds I am staying in. No matter what, you will have a great camping trip.