7 Best Campgrounds In Michigan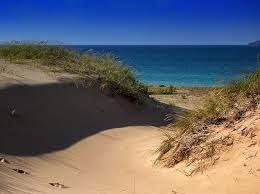 Michigan is easily one of the best states for you to enjoy the great outdoors in, unless you are an Ohio State fan that is, but what you need to realize when you are camping in Michigan you will need to narrow down the list of campgrounds you are going to want to check out further. I know that as I was originally from Michigan the state has a lot of value to offer and it definitely is a place that you are going to really fall in love with once you go camping here. What is even harder is I know about the greatness that Michigan has in regards to the campgrounds and this made it a tremendous challenge for me to find the campgrounds that you would want to check out. I will tell you for this list I mainly based it off of the beauty of the campgrounds more than anything else, so you will know that no matter where you pick to go camping it will be a place that is stunning in the beauty it has.



7. Wilderness State Park – Carp Lake
If you are looking for a great campground to explore in Northern Michigan then you cannot go wrong with Wilderness State Park. This is a place that has over ten thousand acres for you to explore and it is very secluded as it only have a couple of towns that are even remotely close to the park. The campground is nice as well and when you are here you will notice that it is a great place for you to go out and enjoy the amazing lake and be able to see the lake from quite a few different areas.
6. Beaver Island Hideaway 
This campground is one that you will want to bring your tent with you as the campground is one that is on an island. This makes it a great place for you to go out and see. The campground has quite a bit for you to do and you will find the campground is one that does have a music festival that you are going to really love because of all that happens at the time. What else is great is the fact that you are able to enjoy the scenery around the island and since it is a smaller island if you go out hiking you do not have to worry about getting lost at all.
5. Tahquamenon Falls State Park – Paradise
This is a park that is the second largest campground and state park in Michigan. It is easy to see why since the park as a whole is going to come in at close to 50,000 acres for you to enjoy. This is a park that is going to follow along the Tahquamenon River and this is going to make it easier for you to enjoy the park, but what else is great is the fact the park has a great is the alls that are going to be part of what you will just want to sit and look at for hours on end in amazement. Then you can finish following the river to the point that it meets up with Whitefish Bay.
4. Porcupine Mountains State Park – Ontonagon
When you check out Porcupine Mountains State Park you will see that you are in a place that is amazing and comes in at over 60,000 acres. What is really cool about this park is the abounding amount of timber that is in the region and knowing the timber is virgin timber makes it even better. The campgrounds you will find here are going to have something for everyone from the modern camping, to the rustic, to even having the ability to rent a cabin or a yurt. Once you see the scenic vistas you can look out over everything from or the chance to rent a kayak to enjoy a water view and it is very easy to see this is one of the best parks to go camping in.
3. Warren Dunes State Park – Sawyer
Now, Michigan is rightfully associated quite often with Lake Michigan and the Upper Peninsula. So far most of the parks that I have talked about are from the northern part of the state. In this case, though, I am going to talk abotu Warren Dunes State Park. This is a park that has some great views of Lake Michigan and it is on the shores of the lake as well. What else is great about this park is the fact that it does have some amazine dunes you can enjoy and know that it will make it easier for you to enjoy the dunes that have made this part of Michigan famous. Nonetheless, nothing can really top the views that you get from the campground.
2. Sleeping Bear Dunes National Lakeshore – Empire
When you look at Sleeping Bear Dunes National Lakeshore you will find that it actually has several different locations that you can look at. In this instance, we are talking about the one that is near Empire. The others are just as nice, but if I used all of the different campgrounds that are specific to this region you would have an entire list that was nothing more than the campgrounds of Sleeping Bear Dunes! Now, what makes this campground one that you will like over the others is the fact that the National Lakeshore headquarters is located in Empire. So this allows you to not only have the freedom you want of exploring these sites, but also makes it easier for you to learn about them as well.
https://www.youtube.com/watch?v=UrvuydoI-eE
1. Manistee National Forest – Manistee
When you look at this place you will find that it has a ton of campgrounds as well. The best part is this is a forest that has plenty for you to see and do and in some spots you can even get permits to go camping on the land. So you will want to consider that if you are looking for a true way to go out and rough it in the campground. So this is definitely something that you are going to love because it allows you to have a great trip in Michigan and know that you will be able to pick from several different types of campgrounds, but also know the campgrounds themselves are going to be the top of the line that you could only wish you would be able to find in other states.
https://www.youtube.com/watch?v=H_YwsVTnV0U
How To Pick The Michigan Campground To Camp In
When you are trying to narrow down the campground to camp in, you need to realize that we have come out with our list of what we feel are the most beautiful campgrounds you can stay in while trying to find a place in Michigan. Overall, I have to say that any campground you pick in Michigan will be providing you with a great vacation and camping trip, but my list of the 7 best campgrounds in Michigan I think will help you narrow down your list if you are really looking for a great place to go camping.