Camping Activities For Preschoolers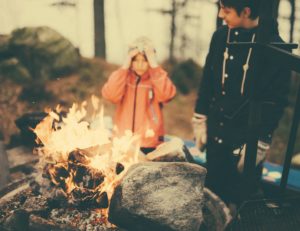 When you go camping, you will often be going with adults or other people who are a little bit older than a preschooler. However, sometimes parents will want to bring their preschooler camping with them to help start the love of nature that all kids should have. Since this is the case, the parents may need to know more about the camping activities for preschoolers which they can do and how this is going to make it easier for everyone to have a great trip they will actually love and want to go back on time and time again.
Make Smores 
This is easily one of my favorite past times when I am camping and that is the chance to sit by the campfire and make some Smores. This is going to be a great option and it is one that your kids are going to love as well. Depending on the maturity level of your preschooler you will have to help them out in making these. However, the dish you are going to get from the marshmallows, chocolate, and Graham Crackers all melting into one squishy sandwich is going to be amazing. I will issue a word of caution when you give to your preschooler make sure you give them smaller pieces and you have plenty of wipes available because you will need them! I know that you will find some easy ways to make the Smores as well as you can see in some of the products that we have listed below, but for me I still love the trusted roasting of the marshmallow to the point it is scorched and then making the Smores.



Safely Enjoy The Campfire
A great benefit of camping is the chance to enjoy the campfire. The campfire will give you plenty of time to sit down and just reflect on the day and hang out with each other. However, you will need to make sure you keep an eye on your toddler to make sure they do not get to close to the fire and that they are wearing the proper clothing. Yes, you may think that the clothing will not matter, but you need to remember that sleepers for kids is supposed to be flame resistant and you should have the same on your preschoolers if they are around a campfire.
Go On Nature Hikes
This is going to be a great thing to do with your little ones and helps them to start to learn a love of nature. The hikes will generally be on trails that are well maintained and cut properly and in some cases even paved. However, they are trails that you will really like because it makes it easier for you to have an easy time walking on them and for the most part the trails are rated on the hiking difficulty which makes it easier for you to know if you can handle the trail as not only a parent but as a preschooler as well. So this is a great feature you will enjoy when you are going on a nature hike. If you are worried about having some problems on the trail make sure you bring a hiking stick as it will really help you out in getting the easier time in hiking.



If A Lake Is Accessible The Beach And Fishing
Nothing is better than spending some time by a lake catching some fish or if the lake has a beach going to the beach. However, what you will find is the lakes can be hard to find at times if you are not familiar with the area. Since this is the case, you will want to find out if the campground has a lake or in some cases a pool. If they have either one of these you need to find out what you can do in them. Obviously, a pool would be meant for swimming in, but you will find that a lake could really be versatile and allow you to swim, fish, or do other recreational activities. All of these will be amazing for the kids and help them enjoy the camping trip they are taking even more than what they imagined.
Teach The Kids About Nature
What a better place to teach your kids about nature than being outdoors? Well, that is what you can do when you are camping, you can take the time to teach your kids about nature. Then they will be able to enjoy the beauty of the area and know what each thing means. What else is great is this will help the kids start to get a better appreciation for what is going on around them. Then the kids will even want to bring their friends along so they can teach them about why it is so important to preserve some of the things that can easily start to vanish over time if people are not careful.
What Makes Camping With A Preschooler Fun
When you are camping you will find that it is a great time and makes it easier for you to bond as a family. However, the thing that you need to realize is camping with a preschooler can be a challenge because they tend to want stimulation almost all the time. With that being the case, you will want to make sure you know about some of the camping activities for preschoolers. Once you know about these things, it will be very easy for you to have a great camping trip.
[ebayfeedsforwordpress feed="http://rest.ebay.com/epn/v1/find/item.rss?keyword=kids+camping&sortOrder=BestMatch&programid=1&campaignid=5338306004&toolid=10039&listingType1=All&feedType=rss&lgeo=1″ items="5″]