Coleman Back Home Hexagon Screen House Review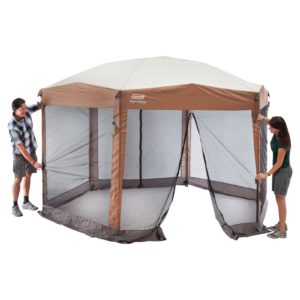 When you are camping you know that staying in the tent is something that you may have to do at night, but during the day you may want to stay outside of the tent and that is what makes the Coleman Back Home Hexagon Screen House a great option. However, if you look at the price of the screen houses you may be scared to see these. The key thing is knowing about what these are able to offer to you and if these are going to really help you out or not. If they can, then you know you have made a wise investment and that is why you are going to want to check out the reviews, like we are providing here to guarantee you are picking out the right camping shelter or screen house to buy.
Features Of The Coleman Back Home Hexagon Screen House 
This is a screen house that is going to come in at a total size of 10×12.
When you look at the screen house here you will find it is like a lot of the canopies you can use with the one-piece steel frame.
With the screens set up properly it will be easier for you to keep the screen house enclosed and keep the bugs out when you are eating or if you just want to enjoy the outside without being bugged by the bugs.
The 2 T style doors will make it easier for you to get in from the front or the back of the tent, which is something that does set this off from some of the other screen houses that are on the market.
[review_bar id='8346′]
Does The Coleman Screen House Protect From Suns Rays?
When you are camping you know the sun is going to be an issue at times and this is very true if you are in Florida or Texas where you will have a hot sun beating down on you all the time. Since this is the case, you will like the fact this is one of the shelters that has some of the protection you will want to have for the suns rays. This will definitely help with the protection of the sun and keep you cooler and even help you avoid getting sunburned from the rays poking through the screen house.
Is This Screen House Easy To Move Around?
I have to say this really depends on how you are going to be moving the screen house around. If you are going to be using the house you may find that you have to move it over a little bit to get the tent set up right. This is definitely something that you can find to be easy to do if you have it collapsed down as the canopy will have a case that is going to have wheels for you to move it around with. If you have to move it with it up, it is possible, but I will tell you that it is not the easiest thing to do and often will require you use at least four people, one for each post.
[links_block id='8344′]
How Easy Is The Coleman Back Home Hexagon Screen House To Setup?
When you look at this canopy you will find the setup is actually a lot easier than what you imagined. You can typically get the entire thing up in about three minutes or so. However, I will tell you that if you have more people it will go a little bit faster and it will help to reduce down any chances of getting any tears in your canopy portion of this item. So I would have to say for me I would always want two people to get this up, but four is even better. The next thing you need to remember is to make sure you get the canopy on the frame before you start to open it up.
Is Height An Issue In This House?
While you may find a lot of these tent canopies are going to be a little bit of a challenge for taller people, that is not the case here. This is actually one of the taller models that we have looked at and this is going to really make it easier for taller people to use this canopy. The downside is this does make it a little bit taller for wind to catch so you need to make sure you have plenty of weights to help keep the canopy secured in place.
Who Would Really Like This Piece Of Camping Gear?
This is a great piece of gear you would like to have if you are going camping in a tent or even in an RV and just want to have a place to sit outside with the bugs getting at you. This is going to be something that will be nice for you to enjoy because of the fact the screen will prevent the bugs from getting at you, but at the same time, you will like the fact this is very easy for you to set up. So this will definitely make it easier for you to have a great time because you are protected and with the roof over your head it is going to be easier for you to be protected as well.
Our Final Thoughts On The Coleman Back Home Hexagon Screen House
I have to say this is definitely a shelter that is a nicer one than some of the other models that we have seen in the past and with the screen siding will be a nice change of pace compared to getting bitten by bugs under a canopy all the time. With that being said, you will really love the fact this is a great screen house that you are going to enjoy and I have to say I really do recommend the Coleman Back Home Hexagon Screen House which has a sturdy frame and really will help you stay out of the weather and I have to say I do recommend this if you want to have a shelter to use outside of your tent.
[links_block id='8344′]
Additional Pictures