Congaree National Park
South Carolina is a very beautiful state and it generally has a nice climate to enjoy as well, which makes the promotion of outdoor play very easy to do. However, what you will find is not all of the areas of South Carolina will be conducive to this type of play for one reason or another, let alone camping. Since this is the cases, you should know about one of the amazing national parks that you can find in South Carolina and it is located near Hopkins, South Carolina. The park that you can find here is none other than Congaree National Park that is one of the best attractions near Hopkins. In this article, I plan on exploring the park for what it offers, but also more about the camping availability and other features that you can enjoy at Congaree National Park.



Where Is Congaree National Park
Well, I have to say that one of the most important things is knowing where the national park is located. The park does cover over 26,000 acres of land, but it is going to be a place that you are going to really enjoy because it does have the amount of land. The downside is the park does have multiple access points for you to use. The main address for the park if you are trying to find out additional information, though, is going to be 100 National Park Road, Hopkins, SC 29061. You will see that we do have a map below from Google that can help you find your way around.
What Does Congaree National Park Offer Feature Wise 
As we mentioned before this is a park that does cover over 26,000 acres and actually tips the scales at 26,276 acres of land that is in the park itself. What else is really amazing about this place is the fact that it does have 15,000 acres that are situated in a nature preserve. Now, what really sets this park out from the other locations that you can visit in South Carolina and even at some points the world is the fact this is a place that has the last large tract of old growth bottomland hardwood forest.
While you are going to be able to enjoy almost every inch of this it is very important for you to realize this is a protected area and it will be something that you are going to need to be concerned about as you do not want to damage the land in the park. So I have to say, if you are looking for a place that does allow you to explore a one of a kind type of location you will not be disappointed here.
When you are in the national park, you will notice that you do have a lot of normal surroundings for nature that you are going to enjoy. You may think this would seem a little odd to say, but you will find that when you are exploring the area, you do have a chance to catch a lot of attractions in the park for animals. When you are visiting the park you do have a chance of seeing a multitude of wild animals from deer, raccoons, opossum, and even a bobcat. Typically you will only see the tracks of these animals, which will make it very fun for the kids to go out and try to figure out which animals are which.
Some people will even call this region a swamp, but it actually is not a true swamp by definition. Instead, this is a bottomland area that has frequent floods, which can make it feel lie a swamp. If the area is flooded please use caution because you may not be aware what is under your feet when you are walking and that is going to be something that could be a problem as you could get your feet caught in the roots or even worse end up getting caught in a soft ground.
A less commonly known feature of the park is the fact that it used to be a very popular destination for bird watchers. This has allowed people to get the viewing pleasure of migratory birds that have stopovers in the park, but it also has made it easier for people to see the birds that are able to be seen normally in the region as the protection has made the birds a lot more acceptable to coming out and being seen by people.
What Can I Do In The Congaree National Park
I can already hear you all yelling at me that it is great that you have all this natural beauty in the park, but how or what can I do to enjoy it?! I know that is what I would be thinking after reading so many words and not getting the answers I would want to have. So, now I am going to talk about what you can actually do in Congaree National Park, outside of sitting around and watching some birds that are moving around the park.
Hiking In Congaree National Park
One thing that you will notice is one of the main attractions is taking a hike along one of the many trails in the park. You will find the park is actually home to over 20 miles of trails and each of these are going to provide you with a unique experience that you may not have been able to enjoy before. Since that is the case, we are going to highlight the trails that are in Congaree.
Boardwalk Loop Trail
The Boardwalk Loop Trail is one that is going to do exactly like it suggest and that is loop around. The trailhead is actually very easy for you to find as well because you just have to locate the Harry Hampton Visitory Center. The trail is one of those that will feature a lot of the trees and old growth that has made this place unique, but it is a trail that is only 2.4 miles long. When you are traveling along the trail that is wheel chair accessible you will notice that you have  lot of trees to check out from the bald cypress to a tupelo tree.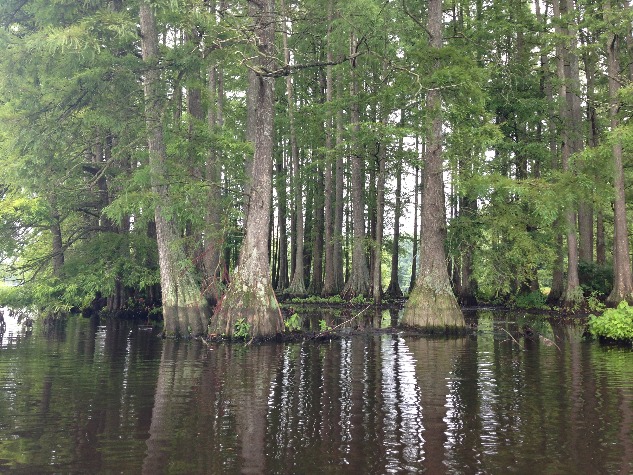 Bluff Trail
With this trail it is going to take you around the Boardwalk trail as it runs a little bit to the North of the Boardwalk trail. This trail is one that is going to be a loop style trail as well. So this is going to make it easier for you to enjoy the trail and know that you are going to be able to see something different as you are hiking it. The trail here is 1.7 miles long and it has lobolly and pine trees, which is going to be a fast growing tree, but you will notice they do have prescribed burns in the area to help keep the chance of wildfires down.



Sims Trail
If you want to explore the older hunt club area, you will find that the Sims trail is the trail you need to be on. This trail is one that follows the gravel path, but it also is a trail that will cross the Boardwalk trail in different spots, but it will also be running off of the Bluff trail towards the North part of the trail. The trail, which is 3.2 miles long, does intersect with Weston Lake Loop trail near the clearing and you can see the old hunting lodge here.
Weston Lake Loop Trail
Hiking down Weston Lake Loop you will be able to find the best views of Cedar Creek. This is a beautiful creek and one that is going to provide you with great views of otters and water fowl playing in the creek. What else you will notice as you hike down the trail you will have a chance to see a dried river bed you will see cypress and several other trees moving back in. Overall, you will notice the trail is going to come in at 4.4 mile in total length.
Oakridge Trail
The Oakridge Trail is a great trail that is a little bit on the longer side that is 7 miles long. However, the trail is one that is going to lead you through a lot of the old growth forest that you are sure to love. Not to mention, when you are looking at the trail you will see it is following a ridge that will guide you around the area, but overlooks some gullies that allow you to view some deer and wild turkey.
River Trail 
As the name states this is a trail that is going to take you to the Congaree River. The trail is a little bit on the longer side as it is 10.4 miles in length. You may notice this trail can flood as well as the Congaree River does overflow its banks several times a year. Now, the trail definitely helps to get the best support as well because it promotes the biodiversity of the area.
Kingsnake Trail
Do not let the name of the Kingsnake trail make you shy away from this trail. The trail is one that is rather enjoyable and will definitely provide you with a great trail to hike down if you want to see some great wildlife as the birds are numerous on the trail. What else is nice about the Kingsnake trail in Congaree National Park is the fact that when the sloughs are full of water you get a great view and surprise almost around every corner. Walking down this trail can tae some time as it is 11.7 miles long and that can bea brisk walk for some people, but for others it is a long hike.
Bates Ferry Trail
Not many people are around to recall the history of the ferries that were in the region. However, that is exactly what you are going to be able to figure out when you are on this trail as it is going to follow some of the ferry trails that were present in the area. The trail does run only 2.2 miles, but it is a trail that is going to take you down to the Congaree River, but it is going to be slipper on the river banks.
Longleaf Trail
The Longleaf Trail is a spur trail and it is one that you will find shooting off of the Bluff Trail. The trail is a little bit on the short side as it is going to run you over to the Longleaf campground, which is one of the primitive campgrounds in the Congaree.
Fork Swamp Trail
When you look at this trail you will notice that it is new as it was just opened up in 2017. So you will be able to explore a trail that is still fairly new and one that is actually going to allow you to see an area that has been hidden from some previous visitors. Something else that you will notice about this trail is the fact that it does run along a very narrow section of the Old Bates River, but also the section that has a large oxbow lake a hurricane helped to create long before it was a park in 1852.
Campgrounds
Being in a beautiful place like Congaree, you will notice that you are going to want to check out some of the campgrounds in the region. It is important to note that you have to book in advance for any camping and get your permit through recreation.gov. However, you will notice this campground allows for two types of camping and has two campgrounds for you to pick from.
Backcountry Camping
The backcountry camping will be the type that you can do when you are hiking and you can find reviews of most of the supplies you would need on our website here at todayscampinggear.com. However, this type of camping is free and does require a permit, but you need to make sure you are properly prepared for this type of camping.



Longleaf Campground
Longleaf Campground is the one that we mentioned the trail running off of as a spur to the campground from the Bluff trail. The campground is very small and quaint as it has 10 individual sites and 3 group sites. The individual sites allows you to have up to 8 people and 3 tentss on them. The group sites will let you have 9 or more people up to 24 people and 10 tents total. This campground does cost some money as it cost 10 dollars for the individual sites and 20 bucks for the group sites. You will find this campground does have two vault toilets and water at the visitor center.
Bluff Campground
Located only a mile down from Longleaf Campground you will find Bluff Campground. This campground is even more primitive than what you find at Longleaf and it does not have any toilets nor does it have running water. With the Bluff Campground it is limited to 6 individual sites. The price since this campground does not have as much in the way of amenities are going to come in at a price of 5 dollars a night.
Water Activities
The Congaree River is in the middoe of this national park and it has plenty of other attractions for you to enjoy as well. So you should know that you have a couple of main activities that you can use when you are in the park that are going to revolve around the water. Once you know about these activities it will be very easy for you to see this is a great place for you to check out for the water as well as all the other beauty that is present.
Canoeing and Kayaking
When you look at this attraction it is one that you are going to find as being a great one for you to enjoy. You will want to keep an eye on the river level as they can make an impact on what you can do, but alo how long you can go into the water for. Depending on the time when you are on the river you can find some guided tours that are available.



Fishing
In different areas of the park you will notice you have plenty of areas to go fishing in. The fishing will make it easier for you to enjoy the park, but if you are amping in the primitive areas you can even use fishing to catch a meal. Overall, the fishing is going to provide you with some great adventures and the chance to catch some fish you may have never seen before.
Why Congaree National Park
South Carolina is a beautiful state and one that you can enjoy for multiple reasons. However, if you are looking for a great place to stay that is not going to have all the crowds of the big city hotels you will want to consider Congaree National Park. This park is one you will love because it has so much to offer and it is one of the national parks that lets you use all types of camping gear in the primitive areas or just use all the hiking gear we have talked about before.