Eureka Tent Floor Saver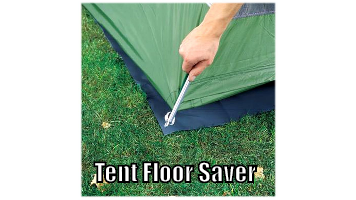 Tent camping is very exciting and I have to admit it is a great way to get deeper in the woods than what you would expect, but it is hard on the floor of your tent at times. This is why we decided to look at some of the tent floor savers that you can buy and put under the tent. If you are not a tent camper, then this may not be a piece of equipment you need to add into your gear, but it could help provide a space for your gear storage. With that being said, we are going to review the Eureka tent floor saver and let you know more about how this s a great addition to your camping gear. Please note that we are talking about the 11'x11′ size saver, but you will find they do have different size options available.



Features Of The Eureka Tent Floor Saver
This is a heavy duty polyethylene product that is going to be a total of 6 mm thick. This is thicker than what you can find in some of the items, but it is not overly thick that it will make it bulky and difficult to move around.
The saver here is going to have several different sizes that you can use and know it will work for what ou need to have, depending on the size of the tent you are using this for.
Helps to keep the bottom of the tent clean and ready to be packed away at any point in time, but also helps to guarantee the tent is going to look great and not have any types of damage to it.
Does This Work On Gravel Or Just Regular Ground?
Okay, now we have seen several mixed reports on what this floor saver will be able to work on. Some people claim the material is not that good and it will tear on the gravel or even stiff grass, but other people claim it will work on all types of materials. So you need to consider the different types of ground and all that we can say is use it by trail and error. Some people will not have any issues and others will have some problems. It all depends on how you handle the floor saver.
What Size Tent Floor Saver Should I Buy?
Well, this is a good question and it is definitely one you are going to want to consider because you will want to make sure you have the right sized saver or you could have some problems with it not working right. Since this is the case, you should find a floor saver that is as close to the size of your tent as possible. For example, if your tent is a 10×10 you will want to go a little bit bigger so you have space to stake down the floor saver and keep it held in position.
How Is The Tent Floor Saver Held To The Ground?
The floor saver is going to be held to the ground the same way you would hold your tent down. Now on the downside, we cannot find any mention if these are included with the cover or not. So you may have to purchase the extra tie downs to get the floor secured in place. However, it is important that you have this secured down properly or it could wash out from the different parts of the tent when you need to have it secured down the most.
What I Like With The Saver
I love the fact that this is very easy to use. While you just have to get it set up and then staked down, you will find that it is easy to use. What else is great is the ease of use also applies to the storage as well. So you will really like the fact this is very easy for you to store. This is because the material is thinner and lightweight.
What else I like about this is the fact that you can use it to protect the floor of the tent. I know this may seem odd, but if you are in a wet area you will notice that it is easy for the water to seep through the floor of the tent, even if it is treated. With these savers, they tend to provide a vapor type of barrier between the ground and the tent floor, which is generally going to help to keep the floor of the tent dry.
What I Dislike With The Floor Saver
Well, this is actually easy for me to find as a lot of people have complained about the quality of the saver. This leads me to believe that it is not just a single person not using it properly. Instead, I find this leads to a potential quality issue. FlaPaddler on the BassPro website even said that "easily punctured by stiff grass". So this really would have me question the saver as being able to used on more than several camping trips at a time.
Who Would Really Benefit From This Tent Floor Saver
This is an item that would work great for the casual camper or one who goes camping a lot in wet areas. Now, it will work for any tent camper, but I will tell you that I would hold some reservations about using them for anything other than keeping the tent floor dry or if you have an RV using it for firewood as this material is thinner than what you would expect to see. However, if you are using a tent then this will definitely be a great addition to your camping gear and help you protect your tent floor from getting soaked.
My Final Thoughts On This Piece Of Camping Gear
I have to say this is going to work to a point in helping to keep your tent floor dry. However, the material is a little bit on the thin side compared to what I would like to see at only 6mm thick. The other issue is these can start to wear and tear just like the tent floor. The downside is the holes in these are usually small enough that you do not see them right away and do not really find them until you start to get some damage going on. Overall, I would say this is a decent floor saver that you can use, but you will want to make sure you have replacements in mind as well as it can tear up at times, the more you camp the faster it tears. So I would say this is a good buy if you need a tent floor saver. I do hold some reservation if the Eureka tent floor saver will last you for a long period of time.
[links_block id='8368′]