Spacious Design
I don't know about you, but whenever I'm camping with my family, I think to myself, "If only we had a little more space in here." Well, folks, I have found the solution. The Pacific Pass 6 Person Family Dome Tent is the answer to our prayers for more room.
Center height and base size
This tent boasts a center height of 74.8 inches and a base size of 118.1 x 118.1 inches, meaning even people taller than Tom Cruise can stand up with ease. No more hunching over like Quasimodo––and let me tell you, that's a game-changer for those middle-of-the-night bathroom trips.
Room for 6 people
Now, when Pacific Pass says this is a family tent, they mean it. With space for up to six people, you can comfortably fit the whole Brady Bunch gang (minus Alice, of course). One reviewer mentioned how they managed to fit their "nugget couch" pieces inside, which is a testament to its roominess.
Ideal for family camping
This spacious abode is perfect for entertaining those unexpected campsite guests (I'm looking at you, Uncle Bobby), offering a shared safe haven from the elements of Mother Nature. Whether you're car camping or venturing into the wilderness, the Pacific Pass tent will keep you and your loved ones cozy and secure for a memorable family adventure.
Now, enough about space––let's dive into some of the nitty-gritty details of this outdoor palace.
Stable & Safe
What's better than a cozy, spacious tent? A cozy, spacious tent that keeps you and your stuff dry! The Pacific Pass tent is made with durable fabric and a 1200 MM waterproof rating, ensuring water doesn't infiltrate your home away from home.
Convenient Design
No more fumbling around in the dark for your flashlight or spare socks, because this tent comes equipped with two mesh storage bags and a net bag on the top for easy organization. Plus, there's a hook for your lantern and an E-Port to charge your phone or other electronics.
Easy Set-Up & Carry
This tent is so easy to set up, it only takes 2-3 people about 5 minutes, leaving plenty of time to make s'mores or play a round of cards. And when it's time to leave (tear), the included carry bag makes it a breeze to pack up and transport.
Now, it wouldn't be a fair and balanced review without addressing some drawbacks. Keep in mind, folks, nothing in this world is perfect, but I have faith this tent comes close.
Some reviewers have noted that they found tiny holes in the tent near the seam edges. While this isn't ideal, it's nothing a little patch job can't fix. It's also been reported that no tent is designed to withstand hurricane-force winds, so use caution during inclement weather.
All things considered, the Pacific Pass 6 Person Family Dome Tent is a great option at an attractive price point. It's perfect for family trips, accommodating pets, and just enjoying the great outdoors, so long as the weather is kind to you. Happy camping!
Stable and Safe
Water Resistance
Whoever said "when it rains, it pours" must have been a camper because, let's face it, we've all been there. Luckily, the Pacific Pass 6 Person Family Dome Tent has got our backs! I didn't think I'd become one of those "singing in the rain" folks, but this tent's 1200 MM waterproof rating definitely had me feeling like Gene Kelly! I'm no meteorologist, but I know a good water repellent tent when I see one, and this baby is top-notch. One reviewer even mentioned Scotchguarding the rain fly and ended up staying bone-dry in heavy rainfall – talk about a match made in camping heaven!
1200 MM Waterproof
At first, I thought 1200 MM was just another fancy marketing term, but this waterproof rating means serious business. It withstood everything Mother Nature threw at it, from light drizzles to torrential downpours! Now, I'm not saying it would survive a hurricane or a water balloon fight with Aquaman, but for typical camping adventures, this tent's got you covered. Pun intended.
Durable Fabric
Let's face it, a tent's primary purpose is to be our temporary fortress against the great outdoors, so durability is non-negotiable. And let me tell you, the Pacific Pass 6 Person Family Dome Tent doesn't disappoint. Made of sturdy materials, it's ready to withstand the test of time, weather, and rambunctious kids. Well, maybe not bear attacks, as one reviewer mentioned, but hey, nothing's perfect. I treated my tent's nooks and crannies with the care they deserved, and it held up like a champ through all my escapades.
But wait, hear me out – the floor may seem a bit thin. But this is par for the course with tents in this price range. I found that simply throwing a tarp underneath easily solved this minor gripe. In fact, the only real complaint I have is that I wish the tent could somehow aid in preventing any awkward "pitching a tent" puns during setup. But I suppose we can't have it all.
All in all, the Pacific Pass 6 Person Family Dome Tent is a winner when it comes to stability and safety. With its fantastic water resistance, high waterproof rating, and durable fabric, it's the perfect companion for your next outdoor adventure. Just remember to dodge those bear encounters – or at least have an escape plan ready!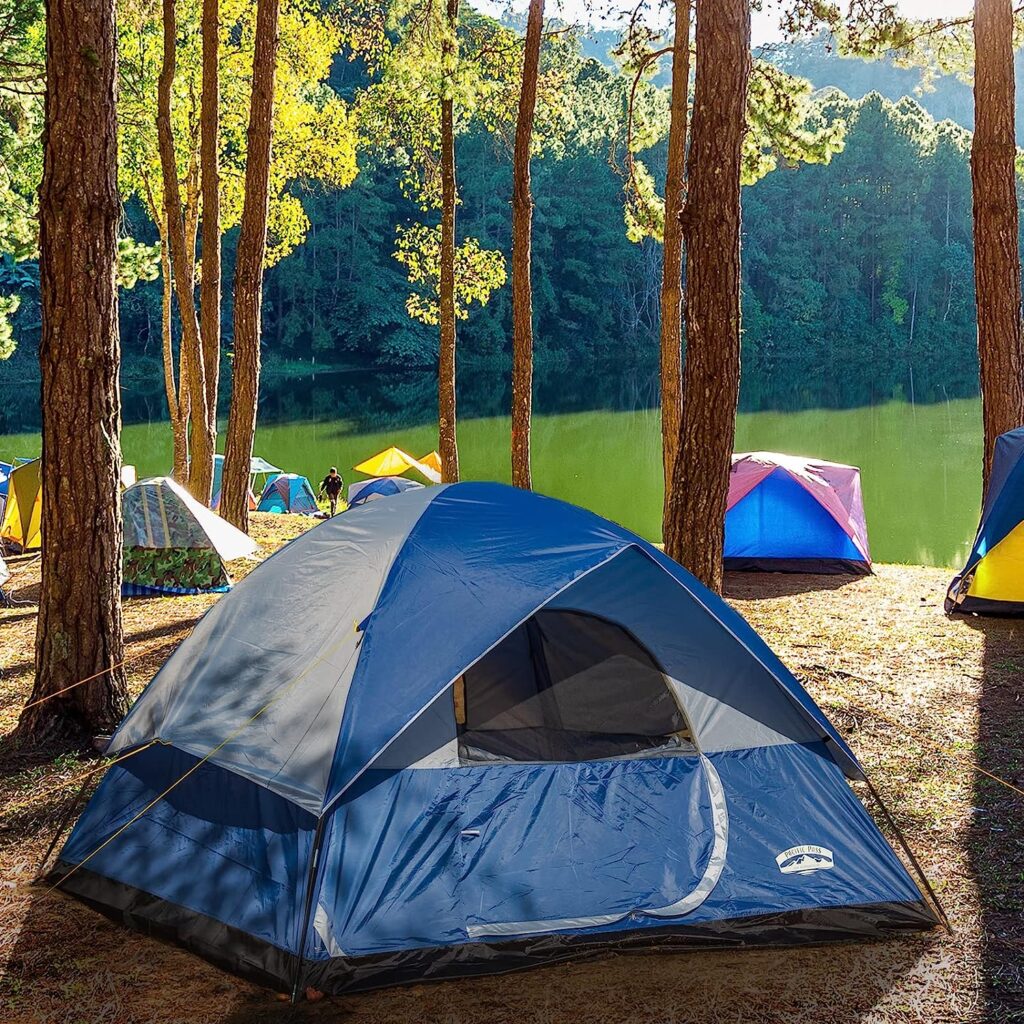 Order Pacific Pass Dome Tent with Removable Rain Fly
Convenient Features
When choosing a tent for a family outdoor adventure, convenience and functionality are key. The Pacific Pass 6 Person Family Dome Tent has several handy features that, in my humble opinion, make it stand out from the crowd. Let's dive into the nitty-gritty of these useful additions!
Mesh Storage Bags
You know that feeling when you can't find your favorite camping socks or that essential flashlight? Fear not, fellow campers! This tent comes equipped with not one, but two mesh storage bags that are perfect for keeping your belongings organized and accessible. Say goodbye to digging through a chaotic pile of stuff. Hooray for tidiness!
Net Bag on the Top
But wait, there's more! In addition to the mesh storage bags, there's a net bag situated at the top of the tent. This spacious bag is ideal for stashing important items you want to keep within reach (you know, like snacks). Plus, it helps free up precious floor space – which, let's face it, is always a welcome bonus when sharing a tent with your family.
Lantern Hook
Picture this: It's nighttime, the crickets are chirping, and you're ready to cozy up with a good book or catch up on some ghost stories with your crew. Naturally, you'll need some light. Enter the built-in lantern hook! This sturdy little feature will keep your light source safely elevated and well-positioned to illuminate your tent. Now you can leave those shadow puppet performances to the professionals.
E-Port for Power
Having easy access to electrical power is essential, especially when your family's array of gadgets threatens to run out of juice. This tent has thought of it all, featuring a clever E-Port that lets you easily connect to a power source while keeping the tent zipped and critter-free. Prefer staying off the grid? No problem – just think of it as your little backup plan if Mother Nature throws you a curveball.
In a nutshell, the Pacific Pass 6 Person Family Dome Tent has you covered (literally) with a host of convenient features designed to make your camping experience a breeze. Whether it's keeping your tent organized, well-lit, or powered, these handy additions truly put the "fun" in functional. Now, where did I put those marshmallows?
Click here to buy the Pacific Pass Outdoor Camping Tent
Easy Setup and Carry
2-3 Person Setup
I can honestly say that setting up the Pacific Pass 6 Person Family Dome Tent was a breeze – well, as breezy as it can get when you're battling with tent poles and stakes in the great outdoors. The instructions are sewn into the carry bag to make sure they never get lost (though it can be a tad annoying to access them), and you'll need to recruit a friend or two for the bigger size tents like the one I got.
When it comes to setup, I felt as if it was as simple as pie – in fact, it only took 2-3 people about 5 minutes to get it all set up and ready to go. Who said teamwork doesn't make the dream work?
8 Ropes and 11 Stakes
The camp tent comes equipped with 8 ropes and 11 stakes, ensuring that you have a safe and stable tent to enjoy throughout your trip. If you're expecting some not-so-perfect weather conditions, you might want to consider replacing the stakes with some higher-quality ones for an even more secure hold. But, for the average camping excursion with decent weather, the included stakes held up well.
One tip I'd like to offer is to watch out for the metal pieces on the tent poles, as there can sometimes be some manufacturing issues that make it a tad difficult to assemble. But don't sweat it – with a bit of patience and a solid workaround like a splint, you'll be back on track in no time.
Portable Carry Bag
When it's time to pack up and head home (boo!), the Pacific Pass tent is easily stored in its zippered carry bag. Weighing in at only 13.3 lbs, you won't be lugging around a heavy burden on your way back to reality. The lightweight and compact design makes it perfect for storing in your car without hogging up precious trunk space. Plus, it's versatile enough to be suitable for various outdoor activities such as hiking, traveling, fishing – you name it!
So, if you're on the hunt for a roomy, lightweight, and easy-to-setup tent that won't break the bank, the Pacific Pass 6 Person Family Dome Tent just might be right up your alley. Just remember, it's not built for extreme weather conditions, so check the forecast before setting out on your adventure!
Lightweight and Portable
When it comes to camping, hiking, fishing, or any other outdoor activities, the last thing I want is to lug around a giant, unwieldy tent that requires an engineering degree to set up. That's where the Pacific Pass 6 Person Family Dome Tent truly shines – it's lightweight, portable, and a cinch to set up, even for someone like me who's about as coordinated as a three-legged llama on roller skates.
Zippered carry bag
One of my favorite features of this tent is the zippered carry bag. After I've finished my thrilling adventures in the great outdoors (or my daughter's cozy retreat in the living room), I can simply pack up the tent and stuff it back into the carry bag without breaking a sweat or cursing like a sailor. Plus, the carry bag itself weighs a mere 13.3lbs, so I won't feel like I'm lugging around a small boulder on my next camping trip.
Ideal for outdoor activities
This tent has been designed with outdoor enthusiasts in mind. Its lightweight and portability make it perfect for activities such as camping, hiking, fishing, and more. I might not be the most adventurous person in the world, but even I can appreciate the convenience of a tent that's easy to transport and set up, offering me more time to enjoy the great outdoors and fewer headaches when it's time to call it a day.
Weight of tent
Weighing in at just 13.3lbs, this tent is a champion of lightweight design. I've had heavier backpacks in high school, and I can safely say that I'm more than happy to carry this tent on my back instead of having to heave around a tent that feels like I'm carrying a small car. The lightweight design makes this tent the ideal companion for those of us who love wandering the wildlands (or setting it up in the living room for a cozy retreat), without feeling weighed down by our gear.
So if you're looking for a tent that's lightweight, portable, and oh-so-convenient, look no further than the Pacific Pass 6 Person Family Dome Tent. Just make sure to give it a good once-over for any tiny holes or rips in the seams, and maybe invest in some Scotchguard for a little extra waterproofing. With this tent, you can conquer the great outdoors (or your own home) with ease, comfort, and enthusiasm. Happy camping!
Durability
When it comes to tents, durability is a major concern for any camper. Will the tent withstand various weather conditions, and can it endure the test of time? Let's dive into the Pacific Pass 6 Person Family Dome Tent's durability with the help of some customer reviews.
Quality Concerns
In the words of one satisfied customer, "This is a great tent for the price." However, they also noted that the tent had "small rips in 2 of the 4 corners" straight out of the box. Additionally, another camper mentioned that the zippers seemed like they could "break off if you had someone who was very heavy-handed with things." These points suggest that while the tent offers good value for the money, it may not be the strongest option on the market. But hey, you get what you pay for, right?
Tent Material
The tent's material is a key factor in determining its durability. The Pacific Pass 6 Person Family Dome Tent features a durable fabric on the outdoor tent body and rain fly, ensuring up to 1200MM of waterproof protection. One customer commented that the floor of the tent is "a bit on the thinner side," but this is common with tents at this price point. As for the rain fly, another user mentioned that after applying Scotchguard, the tent managed to stay dry during heavy rain, showing that the material does a decent job at keeping water out. So, while the tent material may not be the thickest or strongest available, it still gets the job done.
Potential for Rips
Nobody wants to find a big tear in their brand new tent, especially when they're out in the wild. While it should be noted that one customer mentioned finding small rips in their tent right out of the box, another happy camper reported using their tent for a total of ten days, including three separate trips and some rainy days, without any issues. The latter camper even went on to purchase the 6-person version of the tent, showing their confidence in the product. So, while it's possible to find some minor flaws in the Pacific Pass Family Dome Tent, it seems that the tent should hold up well for most users.
With these points in mind, it's safe to say that the Pacific Pass 6 Person Family Dome Tent is a durable option for campers on a budget. The tent may not be the most heavy-duty or high-quality product on the market, but it gets the job done and offers great value for the money. So, if you're looking for a reliable and roomy tent without breaking the bank, the Pacific Pass Family Dome Tent might just be the perfect choice for you!
Weather Resistance
Let me tell you, weathering the elements can be a doozy, but this Pacific Pass 6 Person Family Dome Tent sure knows how to put up a good fight. Let's dive into the details, shall we?
Rain Fly Performance
As someone who enjoys being as dry as a bone when I'm camping (who doesn't, am I right?), I was pretty pleased with the performance of this tent's rain fly. My trusty sidekick, my 15-year-old, agrees with me. We found the removable rain fly to be mighty useful during a light drizzle, ensuring that we remained snug as a bug in a water-resistant rug inside our humble abode.
Handling Rain and Wind
Let's face it, nobody likes waking up soaked in the middle of the night, especially when you're out in the great outdoors. Thanks to the durable fabric on the outdoor tent body and the rain fly, I can confidently say that this family tent can face light rain and wind without breaking a sweat (or letting the water in). It's true, it's not a full-on fortress, but with a 1200 MM waterproof rating, it held its ground.
Of course, it does help to tie down those ropes and stakes, which come included with the tent. Trust me, the last thing you want is a tent that gets carried away with the wind because you forgot to stake it down.
Not for Severe Weather
Now, as much as I'd love to tell you that this tent can take on anything Mother Nature throws at it, let's be real. Although we faced no issues during light rain, I have to admit that this tent might not be able to handle heavy downpour or a full-blown storm. So, if you're planning on going camping during a hurricane, this tent might not be your best bet.
In a nutshell, the Pacific Pass 6 Person Family Dome Tent offers some solid weather resistance for mild conditions, but won't be a suitable choice for extreme weather aficionados looking to test the limits of their camping gear. For us normies, however, it's pretty darn impressive!
Size Limitations
As a proud tent enthusiast and a committed lover of the great outdoors, I've tested my fair share of family-sized tents. So when I stumbled across the Pacific Pass 6 Person Family Dome Tent, I knew I had to share my honest and sometimes brutally candid feedback.
Realistic capacity
Let's start with the basics; the Pacific Pass tent claims to be a 6 person tent. While this may be true in terms of floor space, I'd take that capacity with a grain of salt. Realistically, you'll fit about 3-4 people in there comfortably, especially if you want to store your gear along with your human cargo.
Comfort with gear inside
During my testing of the tent, I found that it had ample room for a queen-sized air mattress, my trusty pup, and all the camping gear we needed. However, when it came to fitting more people, along with their belongings, the cozy quarters got a bit crammed. My advice? If you're planning on bringing the whole family (or an assortment of very close friends), consider upgrading to one of the larger options for additional space.
Recommended for smaller groups
Now, I wouldn't go so far as to say that the Pacific Pass 6 Person Family Dome Tent isn't suitable for larger camping parties. Still, I would recommend it more for smaller groups who prioritize affordability and functionality. Trust me, you'll appreciate the extra wiggle room when you're trying to maneuver around in the middle of the night!
In the end, it all boils down to your personal preferences and expectations. This tent is lightweight, portable, and easy to set up with a few helping hands, making it a great value-for-money option. So, if you're willing to compromise a little on space and weather resistance, this tent might just tick all your camping boxes.
Purchase the Pacific Pass 2/4/6 Person Tent
Price and Value
Affordability
Let me tell you, the Pacific Pass 6 Person Family Dome Tent is one affordable beast. Seriously, this tent is a total steal considering its size and features. I mean, it's not every day you find a spacious and well-designed tent that doesn't cost an arm and a leg! Whether you're a seasoned camper or just dipping your toes into the great outdoors, you'll appreciate the value this tent offers without breaking the bank.
Comparing to other tents
Now, I've had my fair share of camping experiences, and I can confidently say that this tent holds up quite well compared to pricier options. Sure, it may not be the most high-end or feature-rich tent out there, but it does its job and does it well. It's spacious, easy to set up, and darn comfortable (remember, we're talking about a whopping 74.8-inch center height here!). Plus, it's got some nifty add-ons like mesh storage bags, a hook for a lantern, and an E-port for easy electrical access. Not too shabby, right?
Of course, there are some trade-offs when it comes to the tent's build quality and materials. The waterproofing could be better, and it's not going to stand up to a full-on monsoon. But for the average camper who wants a reliable and decent tent without emptying their pockets, the Pacific Pass 6 Person Family Dome Tent is more than up for the challenge.
Upgrade options
Here's where things get even more interesting: you can upgrade to the 4-person or even 6-person version of this tent if you want more space or features. One reviewer even mentioned switching from the 2-person to the 4-person tent and being super happy with the improvements. So, the bottom line is, if you're loving what Pacific Pass has to offer but want a bit more wiggle room, you've got options!
The 6-person version of this tent offers additional space and improved features, which makes it ideal for families or groups of friends who need extra room. It can comfortably accommodate a queen-sized air mattress and still leave ample space for bags, gear, and even a couple of camping chairs! Talk about an upgrade that's worth every penny.
So, should you get it?
Look, if you're an adventurous soul who can't say no to a camping trip but don't want to spend a fortune on fancy tents, the Pacific Pass 6 Person Family Dome Tent is the way to go. It's affordable, roomy, and comes with some great features that make camping enjoyable and comfortable. No, it's not the most rugged or high-end tent on the market, but it delivers where it counts.
As long as you keep your expectations in check and don't plan on taking this baby into a raging storm, you'll be more than happy with your purchase. Now, grab that tent, hit the great outdoors, and have a blast! I know I did.
Pacific Pass 6 Person Family Tent Review
Let me tell you folks, if you're looking for a spacious, easy-to-set-up, and portable tent for your next family camping trip, then the Pacific Pass 6 Person Family Dome Tent is the one for you.
Is it suitable for harsh weather?
Now, I'm not saying it will withstand a tornado or a bear attack, but the 1200 MM waterproof rating and durable fabric on the tent body and rainfly will surely help keep you dry, even during a good ol' downpour. This bad boy is well-ventilated with mesh at the top, allowing you to watch the stars while keeping the pesky bugs at bay on those night when you choose to camp without the rain fly.
How many people can fit comfortably?
Well, this beauty is marketed as a 6 person tent, but let me tell you, unless you're as thin as string beans, I'd reckon it's more fitting for 4 people, or even just 2 if you like your space. Throw in a queen-sized air mattress, and you'll have a cozy, comfy abode for you and a partner to sprawl out in, with enough room left for your gear.
How do you set up the tent?
Fear not, my fellow camping enthusiasts! Setting up the Pacific Pass 6 Person Family Dome Tent is as easy as pie. It only takes about 5 minutes, and with just 2-3 people, you'll have it up and ready in no time. It comes with 8 ropes and 11 stakes, so you know it'll stand firm against those pesky winds that sneak up on ya.
What accessories does it come with?
Oh, buddy, this tent comes equipped with some handy-dandy little features! To keep the inside organized, you've got two mesh storage bags and a net bag up top. There's also a hook at the top for hanging a lantern (yup, no more fumbling around in the dark). And to top it off, there's an E-Port for bringing in electrical power if you're hooked into a campground's power source.
How durable is the tent?
Made from sturdy materials and built to last, this tent shouldn't give you any major issues. Sure, there might be a few tiny holes in the seams when you first get it, but nothing a little patching can't fix. Just be sure to lay a tarp underneath to protect the thin bottom layer, and you should be good to go.
Overall, if you're looking for a great tent without breaking the bank, the Pacific Pass 6 Person Family Dome Tent is a solid choice. Easy to set up, take down, and transport, it's perfect for outdoor, hiking, traveling, fishing, and of course, family camping! Give it a try, and you might just find yourself falling in love with the great outdoors all over again!