Design and Space
6 person capacity
The Columbia 6 Person FRP Dome Tent is a fantastic option for those who enjoy car camping, backpacking, and family outings. It can comfortably accommodate up to six campers, which is quite an impressive feat for a tent of this size. I found this tent to be extremely versatile, providing ample space for my wife and me during our car camping trips but also being lightweight enough for backpacking.
99 sq ft floor space
With 11 ft x 9 ft of floor space, there is a total of 99 sq ft of room inside the tent. This allows for plenty of space to place a queen-sized air mattress, with room to spare for storage and changing. I appreciate having the extra room to move around and store our belongings, making this tent feel more like a living space than just a place to sleep.
Increased headroom with angled poles
One of the standout features of this Columbia tent is the additional headroom created by the use of angled, fiberglass poles. This design not only provides extra comfort for taller campers but also makes it feel spacious and open. It's a welcome feature for those of us who don't enjoy crouching down while inside our tents.
Compact and lightweight
Being a 3-season tent, the Columbia 6 Person FRP Dome Tent is compact and lightweight enough for both car camping and backpacking adventures. It's not the lightest tent on the market, but the versatile design and sturdy construction make it a solid option for camping enthusiasts.
Key Features and Functionality
The Columbia tent comes with some useful features that make it a great choice for outdoor enthusiasts. The magnetic door closure is a nice touch, although only one magnet is used and placed on the lower corner of the doorway. It would have been great if more magnets were included, but this is something that can be easily fixed by adding your own.
Setting up the tent is relatively simple, and can be done in about 15 minutes with two people. The disassembling process is also not too challenging, making it easy to pack up and get back on the road quickly. The tent is built with advanced, water-resistant materials, ensuring a dry and comfortable camping experience. Reviews have mentioned that the tent remains bone dry even after 45 minutes of heavy rain, which is quite reassuring.
Ventilation in the tent is decent, although there is some noticeable humidity build-up on more humid nights. It's worth noting that using the rain fly might reduce the tent's ventilation, but it's still quite bearable.
As for durability, the tent is well-constructed for the most part. However, some reviewers have pointed out that the plastic snap-in holders for the rain fly may seem a bit flimsy. This is something to keep in mind while setting up and taking down the tent and might be an area for possible improvement in future versions.
Who This Tent is For
The Columbia 6 Person FRP Dome Tent is an excellent option for campers looking for a versatile and functional tent. For both car camping and backpacking excursions, this tent offers a solid balance of weight, space, and comfort. However, if you're a more experienced backpacker in need of a lightweight tent or plan on camping in more extreme conditions, you may want to explore other options. For the casual camper or the family looking for a durable and spacious tent at a reasonable price, this Columbia tent could be the perfect fit.
Material and Weather Resistance
Water resistant materials
One of the things that I really appreciate about the Columbia 6 Person FRP Dome Tent is its water resistant materials. Columbia tents are made with advanced materials that ensure you stay dry even when there's a sudden downpour. Nobody wants to wake up in a puddle, right? Luckily, this tent has got you covered there!
Columbia tents and rainfly
Not only are the tent materials water resistant, but the Columbia rainfly also provides excellent protection against the elements. In case of a heavy downpour, the rainfly will keep the water out, and you'll be comfortably dry inside your tent. The rainfly also has a sealed utility port and storage pocket, which are super convenient for charging devices, keeping a flashlight handy, or just organizing your camping gear.
Performance in rain and wind
I've read several reviews where users have experienced unexpected rainstorms, and their Columbia 6 Person Dome Tent kept them completely dry. That's a testament to the product's water resistance and overall performance in wet weather conditions.
However, not only is this tent great in the rain, it's also built to withstand strong winds. Remember, though, that the tent's plastic snap-in holders for the rainfly seem to be a bit on the flimsy side, so be gentle when handling them. Columbia may need to consider beefing them up in future versions.
I also found it interesting to read that one user mentioned how the tent kept them warm on chilly mountain nights. While it's not rated for winter camping, if you're in an area with cool summer nights and have a good sleeping bag, you should be pretty comfortable in this tent.
Overall, I'm quite impressed by the Columbia 6 Person FRP Dome Tent's weather resistance. It's perfect for those who want a reliable tent for camping in various conditions without breaking the bank. Plus, it gives you the peace of mind you need when venturing into the great outdoors with family and friends!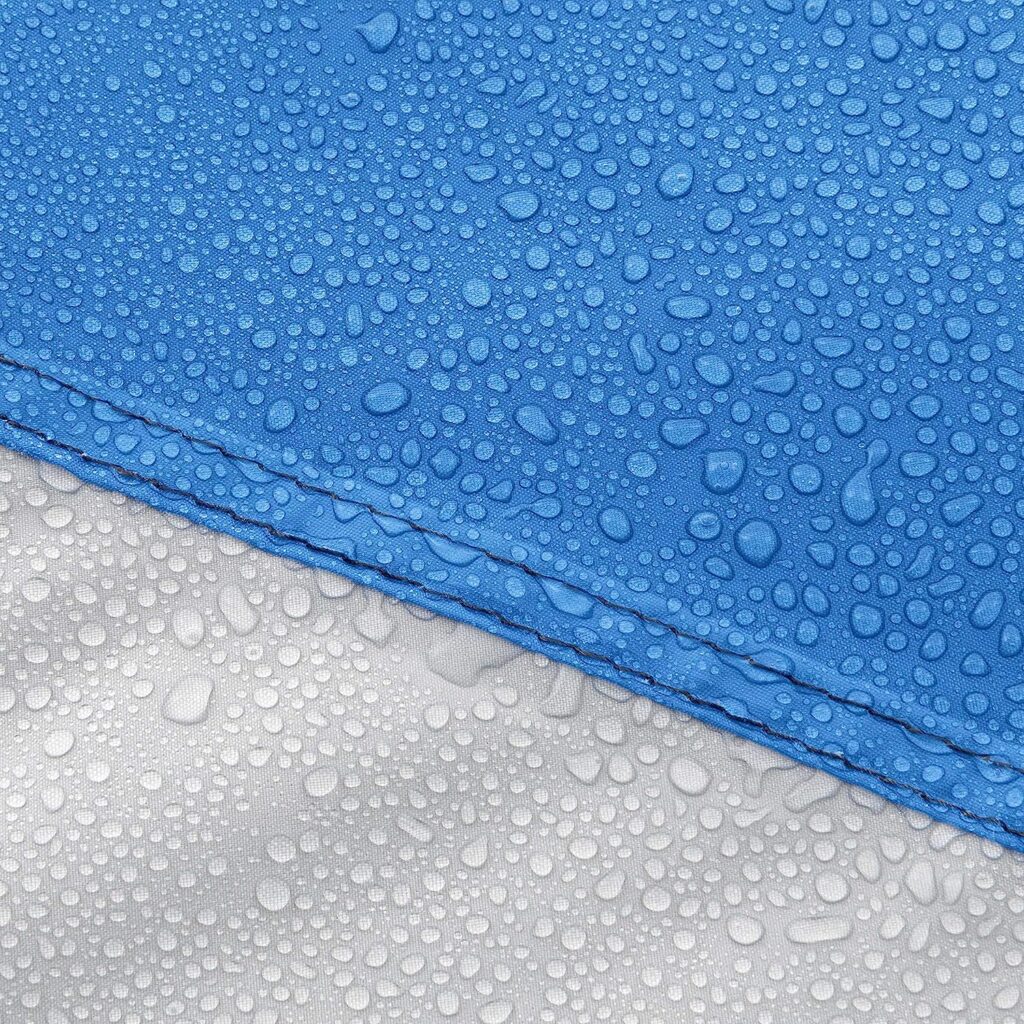 Columbia 6 Person FRP Dome Tent Review
After spending hours of research on Amazon and considering various tents under $300, I decided to purchase the Columbia 6 Person FRP Dome Tent, and I'm glad I did. With several camping trips already undertaken in this spacious tent, including enduring rain and chilly temperatures, I can confidently share various aspects of this great product. So let's dive into its features, functionality, and overall performance.
Magnetic Door Closure
One of the key features that caught my attention was the magnetic door closure system. While zippers are common in most tents, they can sometimes be finicky and annoying to use. The magnetic closure in this tent eliminates such issues and provides a hassle-free entry and exit. It's a game-changer for me, making the whole camping experience much more pleasant.
Sealed Utility Port
Another useful feature is the sealed utility port. It's convenient to have a dedicated and protected port for running power cables into the tent without compromising the tent's overall weatherproof design. This has allowed me to charge my devices, use a heater, and enjoy other comforts while camping without worrying about water getting in.
Storage Pocket for Camping Gear
This Columbia dome tent includes a handy storage pocket for stashing away headlamps, flashlights, and other essential camping gear. It keeps things organized and within easy reach, so I always know where to find my camping equipment when I need it.
The tent's extra headroom, thanks to the angled fiberglass poles, is another aspect I appreciate. Whether it's just me, my wife, or even our dog, being able to stand up inside the tent makes it feel like a roomier, more livable space. We fit a queen-size air mattress, a storage container, and our backpacks comfortably inside, making the tent feel spacious and cozy at the same time.
Assembling the tent is easy, even for a novice camper. However, I recommend investing in some heavy-duty tent spikes, as the ones included with the tent aren't the most durable and may not hold up to stronger winds or hard soil conditions.
When it comes to weather resistance, the Columbia 6 Person FRP Dome Tent doesn't disappoint. During camping trips, the tent endured both light wind and heavy rainfall without compromising our comfort or safety. Not only was the interior bone dry, but the tent also provided ample ventilation thanks to the well-designed rainfly.
However, nothing is perfect, and one minor drawback I noticed is the somewhat flimsy plastic snap holders for the rainfly. They could stand to be more durable, but since I'm the only one using the tent, I can treat them carefully to avoid potential damage.
Considering all of its features, performance, and overall user experience, I highly recommend the Columbia 6 Person FRP Dome Tent to any camping enthusiast looking for a spacious, comfortable, and weatherproof tent. Whether you're camping solo or with family, this tent is a fantastic choice for enjoying the great outdoors.
Ease of Set-Up and Assembly
Quick and simple setup process
One aspect of the Columbia 6 Person FRP Dome Tent that I absolutely love is the easy set-up process. Even though it's not an instant or pop-up tent, I've managed to set it up by myself within 30 minutes, and when my partner helped, it took us only 15 minutes. It's definitely a time-saver and makes the entire camping experience more enjoyable.
Fiberglass poles
The tent features angled fiberglass poles that allow for additional headroom, making it tall enough for most people to stand up inside. The roominess of this tent is a wonderful feature, as it can comfortably fit a queen-sized air mattress, storage containers, backpacks, and other camping essentials with room to spare.
I've used this tent on several trips already, and it has withstood various weather conditions – from light wind to heavy rain – and kept us completely dry and warm. It's important to note that I did take the extra step of applying a Scotch Guard treatment to the tent to help with water resistance.
The magnetic door closure, one of the main selling points of this tent, was slightly disappointing as there was only one magnet in the lower corner of the doorway. However, I remedied this by adding my own magnets around the rest of the door.
In terms of ventilation, the tent can get a bit humid inside on nights with high humidity, even with the rainfly on, which could make it uncomfortable to sleep. But considering the overall quality and price of the tent, I am satisfied with the purchase.
In conclusion, the Columbia 6 Person FRP Dome Tent is a fantastic choice for anyone looking for an affordable, easy-to-assemble, and spacious tent for their camping adventures. With its ability to withstand various weather conditions and roomy interior, it's perfect for a family or group of friends who want to enjoy the great outdoors together.
Buy the perfect Columbia Dome Tent for your adventures on Amazon
Columbia 6 Person FRP Dome Tent Review
A camping trip wouldn't be complete without a reliable tent, and the Columbia 6 Person FRP Dome Tent seems to fit the bill. Like many campers, I was on the look for a great quality, spacious, and easy-to-set-up tent for my family and me. From what I've gathered from the numerous reviews, this Columbia Tent had me intrigued. So, let's dive in and see if it truly lives up to the hype.
Design, Build Quality, and Materials
The Columbia 6 Person FRP Dome Tent is a compact and lightweight 3-season, 11 ft x 9 ft (99 sq ft) tent, with a pleasant design that is easy to carry around and set up during a camping trip. The tent provides additional headroom, thanks to its angled, fiberglass poles. Columbia tents and rainflys are made with advanced, water-resistant materials to keep you dry in wet conditions, offering reliability and protection against the elements.
Key Features and Functionality
Some notable features of this tent include a magnetic door closure, which makes entering and exiting the tent hassle-free, without the need for zippers. The tent also comes with a sealed utility port and a storage pocket for convenient storage of camping gear, such as headlamps, flashlights, and other essentials.
Moreover, this Columbia Tent is easy to set up, with strong poles that provide a stable structure. The tent has received positive feedback from users who have experienced heavy rain and winds, reporting that the inside remained completely dry and secure.
Tips and Tricks
To make the most of your Columbia 6 Person FRP Dome Tent, it's always a good idea to do a test set up in your backyard before heading out on a camping trip. Familiarize yourself with the tent and make sure all the parts and accessories are in good condition.
Scotch-guarding the tent is highly recommended, as one review mentioned doing it twice to ensure maximum weather resistance, particularly in heavy rain.
Drawbacks and Recommendations
One minor downside to this tent is that it does not come with a vestibule. However, considering its affordable price range, it's a small sacrifice to make. Also, some users have mentioned concerns about the plastic snap-in holders for the rainfly being flimsy, suggesting that Columbia could improve this aspect of the design.
This tent is well-suited for families and groups of up to 6 people who plan on going camping, hiking, or backpacking. The tent's excellent weather resistance, easy set-up, and convenient features make it an excellent choice for making your camping experience comfortable and enjoyable.
Frequently Asked Questions
Is the tent suitable for backpacking?
Yes, this tent's compact and lightweight design make it suitable for backpacking trips; however, it may be more convenient for car camping with a family or a group of friends.
How does the tent perform in cold weather?
The Columbia 6 Person FRP Dome Tent is designed for 3-season use, meaning it is not built specifically for severe cold weather. However, it should hold up well in mild to moderately cold temperatures.
Can the tent handle strong winds?
Many users have reported that the tent has held up well in windy conditions. The strong poles provide stability and the overall structure can handle gusts of wind reasonably well.
Is there a vestibule included?
No, the Columbia 6 Person FRP Dome Tent does not come with a vestibule. However, for the price range, this is a small compromise, and the tent's other features make up for it.
What is the warranty?
The Columbia 6 Person FRP Dome Tent comes with a limited lifetime warranty, ensuring your satisfaction and peace of mind when purchasing this tent.
Get the perfect Columbia Tent for your next adventure