Camping Gear Review – Queen Size Sleeping Bag Review
When I first looked at the queen size sleeping bag, I have to admit I started to ask myself who in their right mind would ever need to get a sleeping bag that large. I mean seriously do you need a sleeping bag that is the same size as your bed? However, I would find while I was working on the research for this sleeping bag that it really would change my mind. A sleeping bag this large is obviously not for everyone, but if you like the idea of only having to haul in one sleeping bag for you and your significant other, rather than two bags you need to keep on reading.
This is basically what is considered a double sleeping bag, which means they are larger than your typical sleeping bag. The size of these sleeping bags is a nice feature because it will help you save money on the sleeping bags but still have the chance to sleep right next to each other at night. A claim this sleeping bag makes it is it just a little bit smaller than a queen size bed – which you will notice while reading the review this is obviously a true statement as people have constantly raved about the size of the sleeping bag. This size is a true money saver when you think about the cost of the individual sleeping bags and having to buy two of them for everyone in your family to go out into the woods to camp, so I do invite you to keep on reading.
Features Of The Mammoth Queen Size
Large size
Climate rating that is meant for three seasons
Storage sack
Compression straps to make it smaller
Ability to fit multiple adults in the sleeping bag
Mummy style of the bag that helps to keep in the heat.
How Is It Used
Now you would think this is a sleeping bag, so it is pretty self-explanatory on how to use the item. However, I have found that I should never take any risks at all and this is why I have started to explain even how to use a sleeping bag. This is especially true when you are looking at a sleeping bag like this. The sleeping bag actually has three zippers that you need to use.
The zippers are situated on each of the sides of the bag, but it also has a third zipper on the bottom of the sleeping bag. This zipper on the bottom of the bag allows for ventilation or for the bag to be completely opened up. The zippers on the sides of the sleeping bag are completely separate from each other. This separated zipper allows for one person to get out of one side of the bag, without really bothering the other person. So you can imagine how convenient this is to guarantee you are able to get out of the sleeping bag separate.
With the zippers, you will find they do have a Velcro covering at the top that is going to help secure the zipper in place. This way you will not suffer from the pain of the zipper working its way down as you are trying to sleep at night.  I know this is a major issue that I have always had with a sleeping bag and then I start to wonder why I am getting cold.
Offset Seams
This may not seem like it is a feature that will impact you tremendously, but you need to realize this is a great feature. With this feature, you get the seams that will prevent the filling from sliding around in the sleeping bag. When you have the offset seams it is going to be easy for you to get the filling to stay in the same position all the time. When the filling is staying in the exact same space all the time, it will not produce any of the cold spaces you may have experienced in the past.
Materials Used In The Sleeping Bag
The inner lining of the Teton Mammoth is actually made from flannel. While the flannel will make most people automatically think of plaid, they need to realize when they are laying down, they want to have something warm and comfortable. This is exactly what they are going to get with the flannel lining. Not only is this warm, but flannel is very comfortable when you have it next to your skin, which is a great thing to have because I know flannel is very comfortable and often does not hold smells or other problematic issues that you would normally get.
The stuffing of the Teton Mammoth is something that is starting to become the norm as it holds heat better and that is the hollow core filling. This model comes with exactly eleven pounds of the SuperLoft Elite 4-channel hollow fiber. All of this is contained inside of the offset seams that was already mentioned earlier in the review. With the hollow core fibers, it allows you to have the heat-trapping features you want to have. You may want to note that some people for some reason have started to expect cotton as the filling, but these reports are not true and this is actually a polyester fill.
Taffeta outer shell is what the outer shell is made from. I actually had never heard of Taffeta before I started researching this sleeping bag. What I found out from Wikipedia is this is a plain-woven fabric that is made from silk or cuprammonium rayons. However, it is fairly obvious this is not made from silk, which is a good thing because I do not think silk could stand up in the woods. The good news is this type of material is what makes the outer shell resistant to water.
Carrying Bag With Compression Straps
Okay, lets face it you are not going to go camping all the time. However, you need to make sure you check out the fact the Mammoth comes with its own carrying bag. This is a great feature because this carrying bag is not one that you have to fold up the sleeping bag in a specific manner to store it. Instead, you just have to shove this into the storage bag, which is nice to have.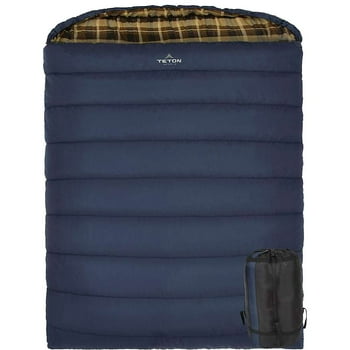 Comfortable Family Sleeping Bag: Soft poly-flannel lining Zipper and shoulder draft tubes keep the warm air in Unzips on each side and the bottom for easy access SuperLoft Elite fiber fill and double-layer construction work together to keep you warm Size does matter: Double sleeping bag is longer and wider than queen-sized mattress 94x62 inches (239x157 cm) Never Roll Your Sleeping Bag Again: TETON Sports provides a durable compression sack for stuffing your sleeping bag into No need to roll it up and fight to get it in the sack Simply start at the bottom and stuff the bag in Sleep Warm: Survival rated to +20F
Buy Now
Climate Rating For The Bag
Now, this is a great feature to see as well and that is the fact this sleeping bag has an actual climate rating. The climate rating is very nice to have and know that it is going to keep you warm as long as you are not below the climate rating. For this sleeping bag, it is rated down to zero degrees Fahrenheit, which makes this bag into one of the best three-season sleeping bags on the market.
 Dimensions 
Sleeping Bag Dimensions
Length – 94 inches
Width – 62 inches
Weight – 15 pounds
Bag Dimensions
Length – 28 inches
Width – 15.75 inches
Height – 15.75 inches
Weight – 1.5 pounds
Pros
Keeps people very warm
Great for more than one large person
Built in pockets
Unzips  into 2 completely different sleeping bags for washing ease.
Cons
Not meant for hiking
Difficult to put back into transporting sack
Hand wash only
Teton Sports Mammoth Queen Size Sleeping Bag Price
Very comfortable is the price of this sleeping bag.
If you have been shopping around for some time, you know this sleeping bag has quite a large following, which is nice.
I know that if you look on Amazon you will find two different models of this bag, one which is for the 20 degree rating, which does not keep you as warm, the other and the one that I am sharing here is the 0 degree rating.
Consumer Reviews And Ratings
Is this the hidden gem of a sleeping bag you are looking for? Well, I would have to say it is not really that hidden as you can tell by the number of reviews, but you will find the sleeping bag is getting mainly all positive reviews. Most of these reviews are bragging about the size of the sleeping bag and the warmth. The downside is most of the people who are talking about how warm the bag is, also mention they cannot zip up both sides all the way because they get to hot when they have it closed all the way.
The majority of the people who have purchased this sleeping bag are really happy with the value they are getting and the quality of the sleeping bag.
My Overall Review
As I started this review, I have to admit I was kind of worried that I would never understand why people wanted to use a queen sized sleeping bag. I have to admit, my mind has been completely changed as I started to look deeper into this sleeping bag. When I started to look at this, I understood more about why these bags are a great option and why so many people love them.
If you are planning on camping at a campground and do not mind taking a larger sleeping bag with you, then the Teton Mammoth Queen Sized sleeping bag is for you. You just have to make sure you look at the sleeping bag and know the features of it. However, with that being said, you will notice I said if you are going on a campground trip, it will be a good idea, that is because this is definitely not a hiking bag as it weighs quite a bit.
The ability to take this and make two separate sleeping bags, though, does provide you a potentially viable option for hiking. However, you need to make sure you keep this in mind as the sleeping bags can be rather interesting to use when you split them apart.
Taking time to evaluate all the different double sleeping bags is a good idea. However, if warmth and extra space is important for you, then you have found your match. You just need to make sure you know what you are getting into before you make the purchase and think you have made a mistake, because this is truly one of the best sleeping bags on the market.
[hor_bar id="354″ size="" comfort=4.5″ warmth="4.5″ weight="2.5″ overall_value="4″]