Learn About The Texsport Portable Outdoor Propane Heater
Perfect for camping, hunting, and cool weather outdoor activities, the Texsport Propane Heater adjusts up to 2,890 BTU's and is easy to transport and use. It works with 16.4 oz. or 14.1 oz. disposable propane fuel cylinders (not included) and safety features include an auto shut-off fuel valve if the flame goes out, large paddlefoot base for stability, and a safety grid. About Texsport With a tagline of "Authentic Adventure Gear," Texsport lives up to its name and its mission. The company has been creating top notch camping and outdoor recreational equipment for the past 40 years, and within its repertoire includes some of the finest hammocks and hammock stand sets you can find anywhere. With features like "no-see-um" cotton mesh netting, fire-retardant nylon material and more, rest assured you'll enjoy your Texsport product in whatever adventure you next find yourself. Durable stainless steel burner. Auto fuel shut-off valve if flame goes out. Large paddlefoot plastic base adds stability. Uses 16.4 oz. or 14.1 oz. disposable propane fuel cylinder (not included). Aluminum reflector with safety grid. Dimensions: 8.5L x 10W x 5.25H inches.
Camping in fall, winter, or early spring has the potential to be fun, but a problem you may have with camping during these seasons is the cold air that potentially comes at night. Sometimes the cold can be taken care of by bundling up, but other times even when you are sitting by the campfire it is not going to get warm enough for you to stay comfortable. When you experience this problem, it is good to have your own portable heater. That is why we decided it was time to go out and review the Texsport Outdoor Portable Propane Heater. By knowing about this heater you can finally have some warmth while camping, but also know you can finally go camping when you want to.
Features Of The Texsport Camping Heater
Propane heater uses a durable stainless steel burner.

To help prevent tipping the portable heater has a paddlefoot design to prevent tipping over.

Individual regulator on/off control knob adjusts burner up to 2,890 BTUs

Safety feature: Auto shut off valve will shut off fuel if flame goes out

Uses 16.4 oz or 14.1 oz disposable propane fuel cylinder (not included with purchase)

The heater comes with aluminum reflector with safety grid and carrying handle for easy transportation
How Long Do The Propane Tanks Last With The Propane Heater
This is really going to vary and depend on how long you plan on using the heater and what setting you have the temperature set at. Some of the reports have been showing that a one pound tank can last for several years, but it was from someone who was using the heater on a very conservative level. Other reports are saying the tank burns out really quickly. Remember the higher the heat setting you have the heater placed on the faster it will burn through the fuel, but if you have a smaller flame or setting then the heater will not go through as much propane..
Can This Portable Outdoor Propane Heater Be Used In A Tent? 
The answer to this is going to be touchy because you are going to need to have all the ventilation present in the tent and that can lead to your tent getting cold even with the heater. So our recommendation is not to use this in your tent because of the Carbon Monoxide. Their are people who have used this in the tent, but we do not recommend this because of the chance of catching your tent on fire, getting poisoned from the Carbon Monoxide, or simply getting some other problems with your tent not being ventilated properly. Our final answer is this is not a tent heater and should not be used as one.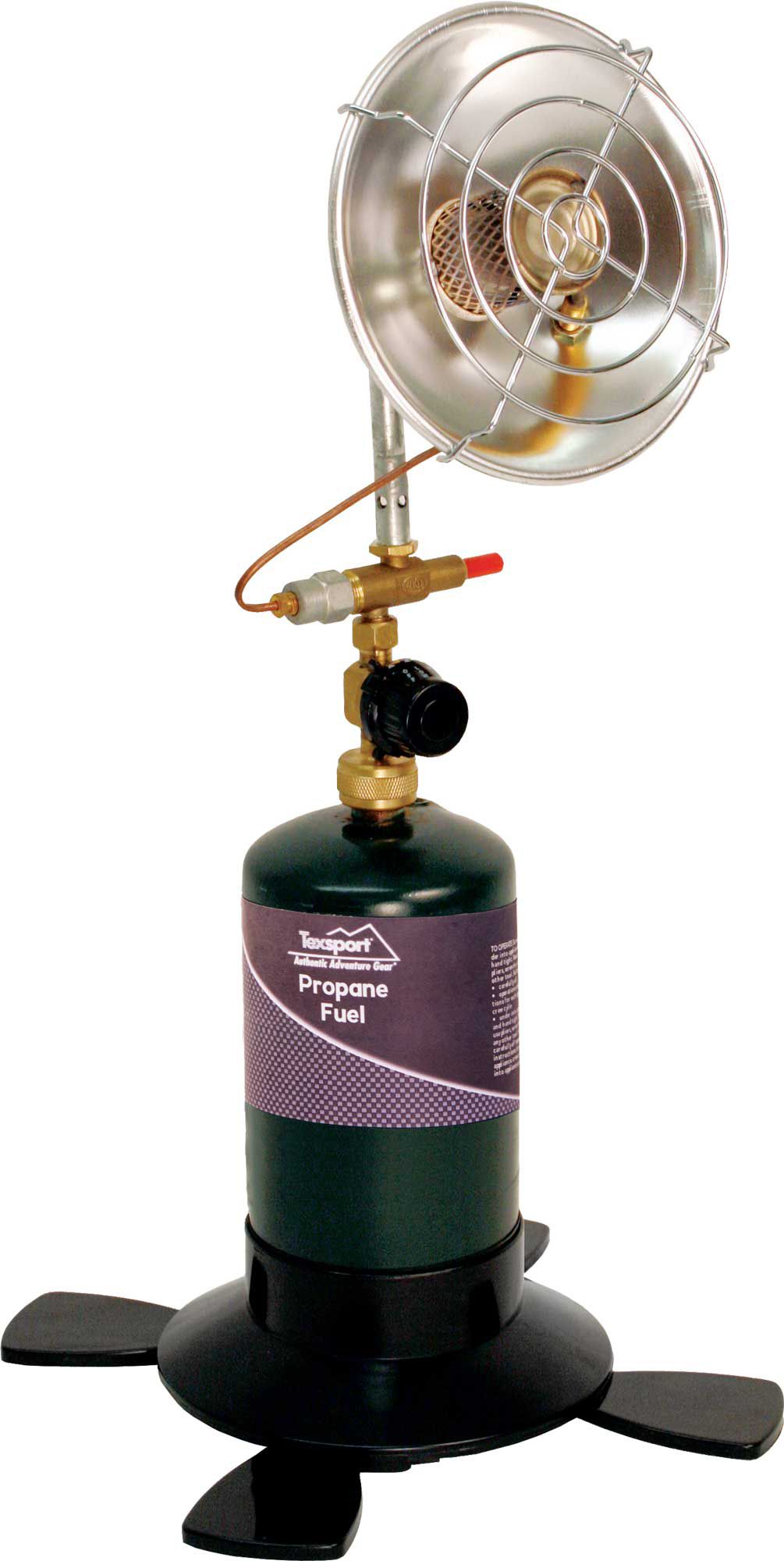 Keep warm on chilly days at the campsite with the Texsport Propane Heater. This heater is the perfect size to accompany you on any job or adventure. The individual regulator makes it easy to adjust the heat, powering the stainless steel burner with up to 2,890 BTU. For safety, the auto-shut off function cuts off the gas if the flame extinguishes. DESIGN Portable propane heater with carry handle Stainless steel burner heats up to 2,890 BTU Individual regulator with on/off control valve Aluminum reflector has safety grid Auto shut-off function if flame goes out Includes paddlefoot plastic base Additional Details Compatible with 16.4 oz. or 14.1 oz. disposable propane cylinder (not included) Style: 3381472
Is The Head On The Heater Fixed In Place
This is a problem that a lot of people are going to have is the head of the fan is at a fixed angle. The fixed setting of the head does make it a problem if your feet are cold and you want to direct the heater to them, but at the same time, the company did take time to research this topic and have the heater head angled at an acceptable level. However, this is a nice thing as well because it will help guarantee the heat will go up towards the head where people need to stay warm. Overall, this is going to help you in getting the warmth that you need while camping.
Our Final Thoughts On The Texsport Outdoor Portable Propane Heater
Staying warm is key when you are camping in the middle of winter or late fall to early spring. Doing this usually means getting a fire stoked up really high in the fire ring, but it is not always a great solution because their could be a burn ban or some other issue that you never thought of like lack of wood. To avoid those situations coming up for you, a great option is a portable camping heater, like the Texsport Outdoor Portable Propane Heater we just covered here. Overall, the heater is small, but mighty and will help keep you warm while you are camping in chilly temperatures.