For all the wilderness wanderers, thrill-seekers, and seasoned campers out there, I'm thrilled to be sharing my thoughts on THE NORTH FACE Trail Lite 3 Backpacking Tent. I'll tell you why it could be your new go-to choice for your outdoor adventures.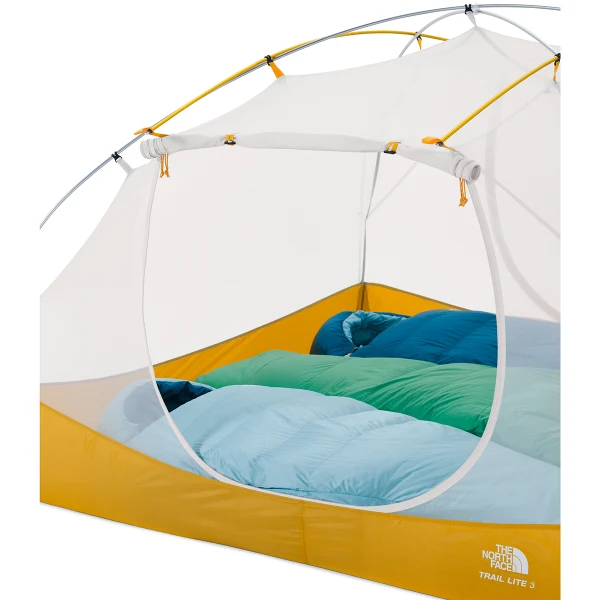 Table of Contents
Purpose and Key Features
The Trail Lite 3 is a three-person backpacking tent designed to be lightweight and durable while providing a comfortable space for rest during your excursions. This tent has been engineered without a flame-retardant coating, prioritizing safety for the user. It employs an easy-to-use X-tent design setup with symmetrical poles and user-friendly clips, making it a breeze to assemble even after a long day of trekking.
To enhance the living space within, it incorporates an ample peak height and a symmetrical design with pre-bent poles. This setup makes moving around inside easier, providing you with a more convenient and comfortable camping experience. Two oversized doors offer a panoramic view of the great outdoors and facilitate easy entry and exit.
Design and Quality
Upon first glance, one can tell that this tent was designed with the user in mind. It's the perfect blend of durability and lightweight design, striking a good balance between functionality and portability. Its poles are made of sturdy 9.5 mm aluminum, promising robustness against strong winds and harsh weather. The tent's fly and floor are coated with 1200 mm PU and 5000 mm PU, respectively, providing a durable water-repellent finish.
In addition to these practical features, the design also offers plenty of storage pockets and two spacious vestibules, accommodating backpacks and bulkier items. It even has ceiling pockets, an ideal spot to store your headlamps, lights, or tablets.
In-Depth Analysis: Benefits and Functionality
The design elements I mentioned above work in harmony to ensure an enjoyable camping experience, but it's worth delving into some specifics.
The X-tent design is not just simple; it's symmetrical, which maximizes the internal space, providing a more comfortable area to rest. The oversized doors don't just offer easy access, but also an excellent view of your surroundings, enhancing your overall camping experience.
The storage pockets and the two spacious vestibules are not just storage spaces, they are smart storage solutions. They help keep your essential items organized and handy, and your bulky items tucked safely inside the tent rather than exposed to the elements.
Comparison with Similar Products
When compared to similar products like the MSR Elixir 3 or the REI Half Dome 3 Plus, the Trail Lite 3 offers comparable durability and ease of setup. However, where it shines is in its storage options and optimized space utilization. The Trail Lite 3 also has a slight edge in weight, making it a better choice for those who prioritize a lighter pack over other considerations.
Pros and Cons
Every product has its strengths and weaknesses, and the Trail Lite 3 is no exception.
Plenty of pockets and compartments for organization.

Large, easy-to-access main compartment.

DWR finish provides excellent weatherproofing.

Comfortable to carry over long distances due to its lightweight design.
It might be a bit much for shorter hikes or solo campers.
Why It's Better
The Trail Lite 3 stands out in its class for a few key reasons. It prioritizes user convenience and comfort with its smart design, abundant storage solutions, and lightweight build. The robust build quality and weatherproofing make it suitable for diverse weather conditions, giving it an edge over many competitors.
User Experiences and Testimonials
Users of the Trail Lite 3 tent have been vocal about their experiences online. The majority of the reviews I've come across are glowing, emphasizing the tent's spacious interior, the ease of setup, and the intelligent storage solutions. Users rave about the ability to organize their gear effectively and appreciate the vestibules for keeping their backpacks and shoes safe from the weather.
Many users have noted the tent's performance in various weather conditions. From heavy rainfall to windy storms, the Trail Lite 3 appears to have held its ground, keeping its inhabitants dry and secure.
The lightweight aspect of this tent was a significant selling point for many, especially those who are into long-distance backpacking. However, a few users have mentioned that it might be a bit too much for shorter hikes or solo camping trips, aligning with our earlier analysis.
Find out for yourself about the tent, Buy Today!
Tips and Tricks
Here are a few tips and tricks to help you get the most out of the Trail Lite 3 Tent:
Practice setting up the tent at home before your first outing. Familiarizing yourself with the process can save you valuable time and energy at the campsite.
Utilize the storage pockets and vestibules to keep your gear organized. Not only does this make it easier to find items in a pinch, but it also maximizes available floor space for sleeping and relaxation.
While the tent has an excellent DWR finish, I'd recommend buying the footprint sold separately to provide an extra layer of protection to your tent floor.
Ensure the guylines on the rainfly align with the pole architecture for optimal resistance during heavy storms.
FAQ
Here are some frequently asked questions about the Trail Lite 3 Tent:
Is the tent easy to set up by one person?
Yes, many users have reported that one person can easily set up the tent thanks to its user-friendly design.
How does the tent perform in rainy conditions?
With its 1200 mm PU coated fly and 5000 mm PU coated floor, users have praised its performance in rainy conditions, keeping the interior dry.
Can it withstand strong winds?
Yes, the robust aluminum poles and guylines on the rainfly designed to align with the pole architecture help it withstand heavy storms and strong winds.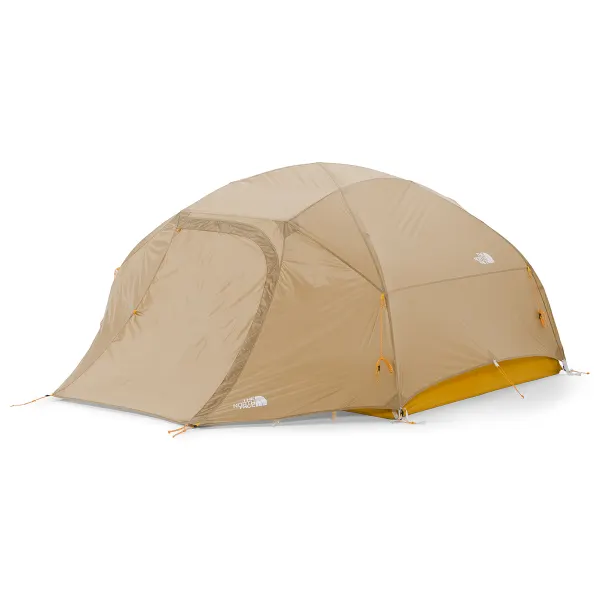 Conclusion: Who is it for?
To wrap up, the Trail Lite 3 Backpacking Tent is an excellent choice for groups of three or a couple desiring extra space on their backpacking trips. Its robust build quality, weather resistance, and storage solutions make it a worthy companion for extended trips in the great outdoors.
However, solo backpackers or those planning shorter hikes might find it slightly excessive for their needs. It might be better to consider a lighter, one-person tent for such trips.
In conclusion, if you prioritize space, organization, and resilience against the elements, then the Trail Lite 3 Tent may just be your new favorite piece of gear for wilderness adventures.