Imagine a portable palace where you and seven of your closest friends can comfortably reside while soaking up nature's beauty. That's precisely what The North Face Wawona 8 Tent offers. With its spacious interior, practical layout, and robust construction, it ensures that your camping experience is nothing short of extraordinary. In this review, I'll take you on an in-depth tour of this versatile and high-quality camping tent, discussing its design, functionality, and comparisons with similar products.
Table of Contents
Product Design and Quality
First off, the Wawona 8 tent is a beacon of thoughtful design and top-notch quality. Its generous interior, featuring a removable divider, provides an option to create two rooms for enhanced privacy. There are three doors, which means you don't have to scramble over your fellow campers for late-night bathroom runs.
The tent is constructed from durable 75-denier polyester with a 1,200 mm PU coating, and the floor is an even tougher 150-denier polyester, also with a 1,200 mm PU coating. The DAC MX poles are strong and sturdy, without adding unnecessary weight. These materials have been chosen for their durability and resistance to wear and tear, ensuring that the Wawona 8 Tent will serve you faithfully for many camping trips to come.
In-Depth Analysis of Key Features and Functionality
The North Face Wawona 8 is packed with features that enhance its functionality. The tent's massive interior space lets you stand comfortably and even accommodate chairs inside, making it a true camping palace for eight sleepers. The rainfly and waterproof fabric ensure you stay dry even in the harshest weather conditions.
With three doors offering multiple entry points and a gigantic vestibule offering an outdoor lounging area, the tent provides both convenience and luxury. The tent-wide window offers expansive views, excellent airflow, and breathability, enhancing your camping experience. The tent also comes with internal organization pockets, keeping your essentials within easy reach.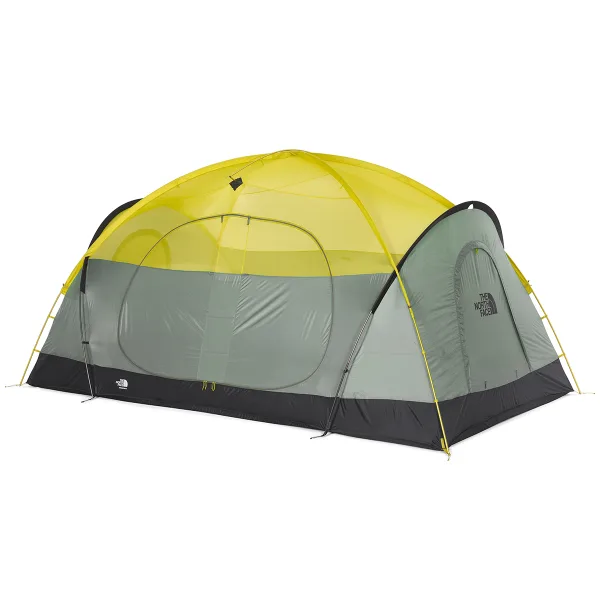 Setup is simple, thanks to the color-coded poles and trims. Extra security is offered in bad weather with the help of external guylines. The tent is also flame-retardant-free, making it a safer option for your camping adventures.
Comparison with Similar Products
Compared to similar products in the market, The North Face Wawona 8 Tent stands out because of its roomy interior, strong construction, and well-thought-out features. While many 8-person tents offer large spaces, they often lack the practical layout and robust quality seen in the Wawona 8. This tent combines convenience, comfort, and durability in a package that is both user-friendly and long-lasting.
Get Prepared For Camping Buy The Tent Today
Pros and Cons
Spacious Interior: Provides ample room for up to eight people to sleep comfortably.
Removable Divider: Allows the creation of two private spaces.
Quality Materials: Ensures durability and long-term use.
Multiple Doors: Provides easy access without disturbing other campers.
Excellent Weather Resistance: The waterproof fabric and rainfly keep you dry in all weather conditions.
Weight: At 24 lbs. 3 oz., it is slightly on the heavier side for backpacking but ideal for car camping.
No Footprint Included: A footprint can be purchased separately for extra protection.
Why This Product is Better Than Others
The North Face Wawona 8 stands out in its category due to several notable features that differentiate it from the competition.
Space and Comfort: Many tents can accommodate eight people, but the Wawona 8 does so while providing ample living space and headroom, making it feel more like a temporary home than a simple shelter. The tent's design maximizes interior space to ensure every camper has room to move, rest, and sleep comfortably.
Vestibule: A standout feature that sets this tent apart from others is the spacious front vestibule. This functional space serves as a mudroom to store gear, boots, or even a couple of camping chairs. It can also provide a dry, sheltered cooking area on wet days, a feature that is not common in many other camping tents.
Durability: The Wawona 8 shines in the aspect of durability. Its strong poles and sturdy construction materials ensure it can withstand diverse weather conditions, offering longevity and performance that surpass many other models in its category.
Ease of Set-Up: Despite its size, the Wawona 8 is surprisingly easy to erect. With its single-wall construction and color-coded poles, it provides a hassle-free setup experience that is often lacking in larger family tents.
Value for Money: While it offers top-tier features, the Wawona 8 still comes at a reasonable price point. Its durability, size, and comfort deliver exceptional value, making it a cost-effective option for families or groups who frequently camp together.
In conclusion, the North Face Wawona 8's blend of durability, space, practicality, and affordability make it a superior choice in the world of large camping tents.
Tips and Tricks to Get the Most Out of the Tent
As someone who's camped under the stars for the better part of a decade, I have a few tips for any camping novice or seasoned outdoorsman alike when using the Wawona 8.
Firstly, it's worth mentioning that the setup is made easy with the color-coded poles and trims. This little bit of foresight from the designers is a small touch that goes a long way when you're trying to set up the tent as the sun is setting. You'll save precious minutes and avoid unnecessary frustration.
For those planning to camp in areas with unpredictable weather, investing in additional stakes and guylines is a good idea. While the tent comes with external guylines for additional security in bad weather, having extras on hand allows you to reinforce your setup in case of strong winds or heavy rain.
And speaking of weather, don't be shy about using that gigantic vestibule! This covered area isn't just for storing gear – it can be a lifesaver during bad weather. Throw a couple of camping chairs in there, and you've got a nice little covered patio where you can watch the rain, read a book, or play some cards while staying dry.
Also, don't forget to take advantage of the removable divider. It can be used to create a private space or even as a changing room if needed. Remember, the interior is roomy enough to comfortably fit 8 people, and this divider gives you the flexibility to make the space your own.
Frequently Asked Questions (FAQ)
Is this tent good for all four seasons?
The North Face Wawona 8 is a 3-season tent, meaning it's designed for spring, summer, and fall. While it has excellent water resistance and can handle a bit of snow, it's not built to handle the heavy snowfall or high winds of harsh winter weather.
Does the tent come with a footprint?
The tent does not come with a footprint. However, one can be purchased separately. A footprint can add an extra layer of protection between the tent floor and the ground, helping to prolong the life of the tent.
Is this tent easy to carry?
With a minimum trail weight of 24 lbs. 3 oz., this tent is not designed to be carried for long distances. It's a car camping tent, meaning it's best suited to scenarios where you drive to your campsite and set up close to your vehicle.
Can this tent withstand high winds?
The tent is made with DAC MX poles, which are stronger than previous versions without adding extra weight. However, as with any tent, it's always best to stake it out properly and seek out natural windbreaks where possible.
Conclusion
Wrapping up, The North Face Wawona 8 is a fantastic option for families and large groups who need plenty of space in their outdoor home away from home. It shines when it comes to roominess, comfort, and ease of setup, and the thoughtful design features set it apart from the crowd. The cons? It's not meant for backpacking, and you'll want to be cautious in high winds. But for car camping trips and other outdoor adventures where weight isn't a concern, this tent is a gem.
Based on user testimonials, my personal experiences, and comprehensive research, the Wawona 8 scores highly on practicality, comfort, and value for money. I strongly believe that it can turn your camping trip into a delightful outdoor experience. Whether you're going camping with your family or embarking on an adventurous getaway with friends, the North Face Wawona 8 offers a fantastic blend of space, comfort, and durability.
With the ability to withstand a variety of weather conditions and offer ample room for a group of campers, this tent is set to meet and surpass your camping expectations. However, don't forget to take into account its size and weight when planning your camping journey, as it's a spacious structure designed for car camping, not backcountry hiking.
In conclusion, the North Face Wawona 8 is a great choice for those seeking outdoor comfort in a large, easy-to-set-up design. For its size, the tent is surprisingly easy to erect, and it offers a unique blend of durability, practicality, and affordability. The extra large vestibule is a wonderful bonus that sets this tent apart, providing versatile outdoor space that can be utilized in a multitude of ways. Remember to reinforce your setup with extra stakes and guylines if you're camping in an area with unpredictable weather, and you're all set for a memorable camping experience.
Happy camping!