Ohio's Diverse Camping Landscape
As outdoor enthusiasts, we know that finding the perfect campground can make or break a trip. That's why we've put together this list of top 10 Ohio campgrounds, so you can find the perfect spot for your next adventure. With everything from state parks and national forests to privately-owned campgrounds, Ohio offers a wide range of options for every type of camper.
State Parks in Ohio
For many of us, state parks offer the perfect mix of natural beauty, recreational activities, and camping amenities. Luckily, Ohio is home to over 70 state parks, each unique and ready to be explored. Here are some of our favorites:
Hocking Hills State Park: No list of Ohio campgrounds would be complete without Hocking Hills State Park. With miles of trails showcasing waterfalls, rock formations, and caves, there's never a dull moment. The campground offers electric sites, cabins, and even a group camp area.
Mohican State Park: In the heart of the Mohican-Memorial State Forest, this park features the Clear Fork Gorge, hemlock-filled groves, and picturesque covered bridges. The campground has electric and non-electric sites, cabins, and group camping options.
Kelleys Island State Park: Located on the shores of Lake Erie, this park offers stunning water views and island charm. The campground has electric and non-electric sites, as well as a yurt for a unique camping experience.
National Forest Camping in Ohio
If you're looking to get off the beaten path and immerse yourself in nature, you can't beat a trip to a national forest campground. Ohio's Wayne National Forest offers several options for campers, including:
Ironton Ranger District Campgrounds: Located in southeastern Ohio, this district has multiple recreational opportunities such as hiking, biking, and ATV riding. The campground options include Lake Vesuvius Recreation Area, which has electric and non-electric sites, and Timbre Ridge Lake Campground, a more rustic option.
Oak Hill Campground: With easy access to the Symmes Creek and the North Country Scenic Trail, this campground is perfect for hikers and paddlers. The non-electric sites and peaceful setting make for a truly back-to-nature experience.
Privately-owned Campgrounds in Ohio
If you're looking for something a bit different, Ohio's privately-owned campgrounds offer unique experiences and amenities tailored to a diverse range of camping preferences. Here are some top picks:
Lazy River at Granville: This family-friendly campground offers a swimming pool, mini-golf, and a splash pad – perfect for keeping the kids entertained. The campground offers everything from tent sites and RV hookups to cabins and even a unique treehouse rental.
Wooly Pig Farm Brewery: Yes, you read that right – a brewery with a campground! In addition to enjoying their craft brews, you can explore the nearby woodlands or simply relax by the campfire. The campground offers RV and tent sites.
Kymers Kampers: Located just outside Cuyahoga Valley National Park, this campground is the perfect base camp for exploring Ohio's only national park. With tent sites, RV hookups, and cabins, there's an option for every type of camper.
Whether you prefer state parks, national forests, or privately-owned campgrounds, Ohio has a wealth of options for every outdoor enthusiast. So pack your gear, grab your hiking boots, and get ready to explore all that the Buckeye State has to offer!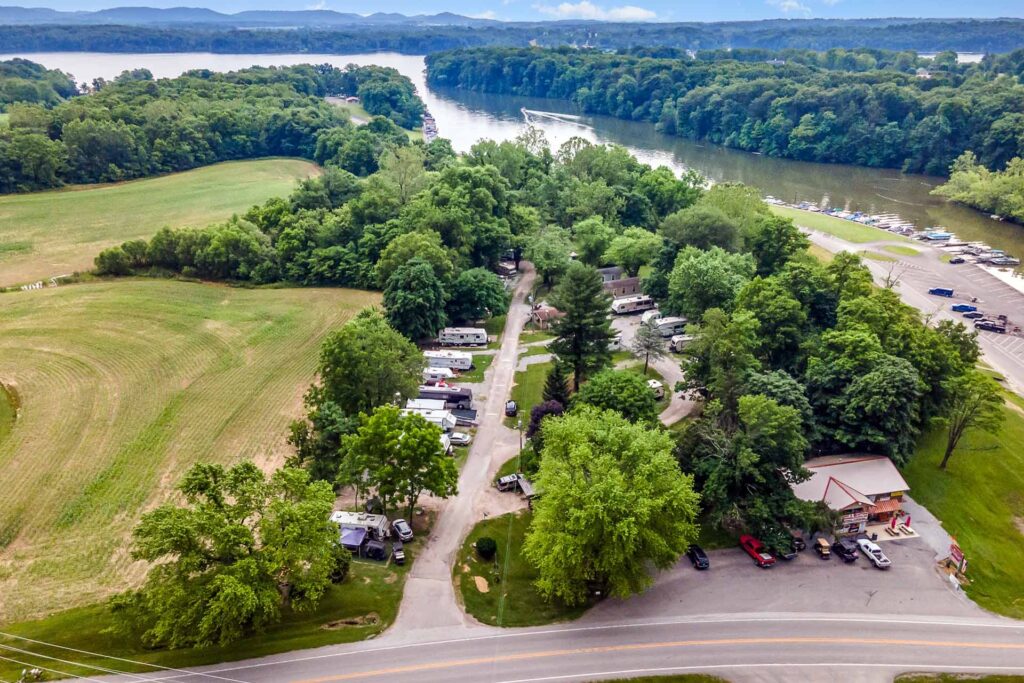 How to Choose the Right Campground
When it comes to exploring the great outdoors, nothing quite compares to camping in beautiful Ohio. With a vast range of campgrounds to choose from, how do you know which one will suit your needs best? Let us walk you through some important factors to consider when choosing your perfect Ohio campground.
Types of Camping: RVs, Tents, Cabins
First, let's talk about the three main types of camping accommodations: RVs, tents, and cabins. If you own an RV, you'll want to look for campgrounds with spacious RV sites, electric/water hook-ups, and a dump station. On the other hand, if you prefer a more "traditional" camping experience, tent camping is the way to go. Look for campgrounds that offer flat, well-maintained tent sites with fire rings and picnic tables.
For those who love the outdoors but aren't too keen on sleeping in a tent, we recommend looking for campgrounds that offer cabin rentals. Cabins can range from basic one-room structures to more luxurious accommodations with modern amenities, like kitchens and bathrooms. The choice is yours, depending on how "off the grid" you want to be.
Amenities and Activities Offered
The amenities and activities offered by a campground should be a significant factor in your decision-making process. After all, you're going to spend most of your time enjoying these on-site perks! When searching for the perfect campground, consider your favorite outdoor activities and prioritize campgrounds that cater to your interests. Some examples of campground amenities and activities include:
Hiking trails
Fishing areas
Swimming pools
Canoe/kayak rentals
Playground and sports facilities
Campfire programs and workshops
Of course, we can't forget about the importance of restroom facilities, especially when tent camping or roughing it in an RV without a bathroom! You'll want to find campgrounds that offer clean restrooms with hot showers—trust us, nothing feels better after a long day of hiking!
Accessibility and Seasonal Availability
Lastly, be sure to consider a campground's accessibility and seasonal availability when planning your trip. Some Ohio campgrounds are open year-round, while others are only open during specific seasons, like the warmer summer months.
Additionally, think about how easy it will be to access the campgrounds you're interested in. If you're traveling with an RV, check if the roads leading to the campground are suitable for large vehicles. Similarly, consider the terrain if you're planning to bring along grandma, grandpa, or anyone with mobility concerns.
Once you've taken all these factors into account, you're well on your way to finding the perfect Ohio campground for an unforgettable outdoor adventure! Now all you have left to do is pack up the s'mores, dig out your hiking boots, and hit the road! Happy camping, fellow outdoor enthusiasts!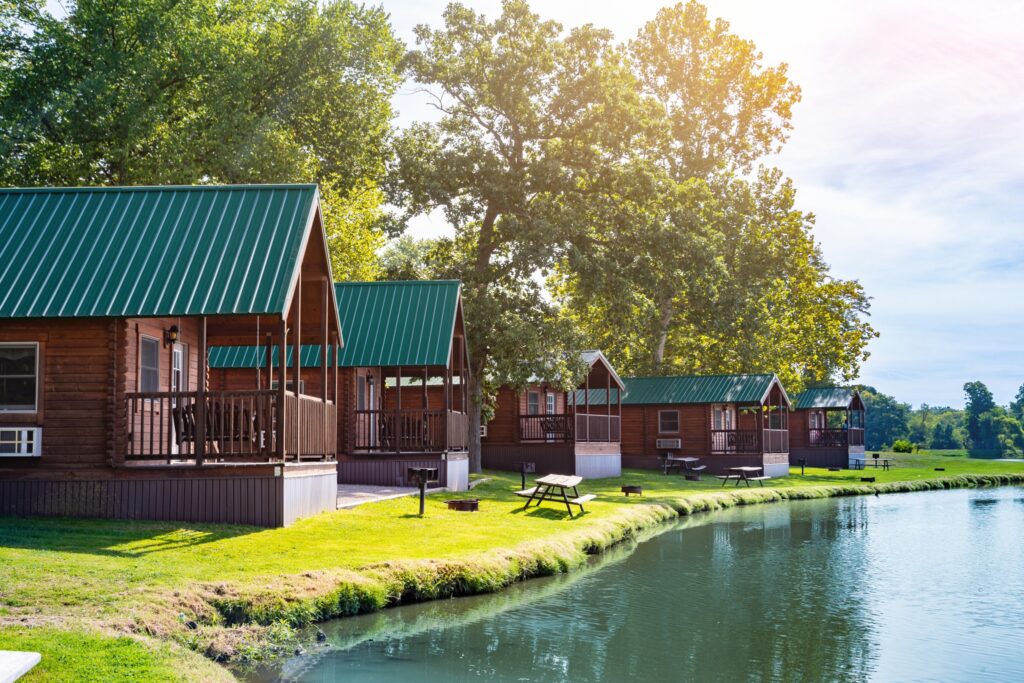 Top Ohio Campgrounds for RV Camping
Ohio has plenty of stunning campgrounds that cater to outdoor enthusiasts and their RVs. Whether you're seeking a weekend escape or a long road trip adventure, the Buckeye State is full of natural wonders worth discovering. In this post, we've narrowed down our top three picks for Ohio campgrounds perfect for RV camping. So, buckle up and let's dive right in!
Discovering John Bryan State Park
If you're a nature lover who enjoys scenic views and plentiful recreational activities, John Bryan State Park should be at the top of your list. Located in western Ohio near the charming village of Yellow Springs, the park offers more than 65 scenic campsites, most of which are equipped with electric hookups. You can enjoy relaxing strolls or thrilling mountain bike adventures amidst the park's stunning limestone gorges, which border the picturesque Little Miami River.
While you're here, don't forget to check out Glen Helen Nature Preserve and Clifton Gorge State Nature Preserve for additional hiking and sightseeing opportunities. And if you're looking for a little more excitement, head to the nearby city of Dayton for a taste of the urban experience. With so much to do and see, it's no wonder John Bryan State Park is a favorite among Ohio RV campers.
Exploring Alum Creek State Park
Located near the city of Columbus, Alum Creek State Park is another must-visit campground for those who appreciate the outdoors. With over 280 electric-equipped sites, this campground offers plenty of space for you and your RV. Not only can you unwind in the well-maintained camping area, but you can also venture out to explore the park's 3,000-acre lake – perfect for boating, fishing or just relaxing on the beach.
For the adventurous spirit, Alum Creek State Park provides more than 40 miles of hiking, biking and horseback riding trails, giving you the chance to immerse yourself in Ohio's natural beauty. And for a more educational experience, head over to the Delaware County Historical Society to learn about the area's rich history. Whether you're looking for an active adventure or a tranquil escape, Alum Creek State Park is packed with possibilities.
Visiting Hocking Hills State Park
Last but certainly not least is Hocking Hills State Park. Nestled in southeast Ohio, this ever-popular destination is hailed as one of the most scenic parks in the state. Boasting a well-equipped campground, there are more than 150 campsites, most offering electric hookups and some even featuring "full hookup" services such as water and sewage.
The real highlight of Hocking Hills, though, lies in its awe-inspiring landscapes. Make sure to check out Ash Cave, Cedar Falls, and Old Man's Cave, which offer breathtaking panoramas of rock formations, waterfalls and forests. There are plenty of trails suited for hikers of all skill levels, so you can soak in the park's beauty at your own pace. To top it off, there's even a popular zipline and canopy tour for those seeking an adrenaline-pumping adventure!
In conclusion, Ohio is a haven for RV-camping outdoor enthusiasts, offering a range of activities, landscapes, and experiences to suit everyone. So, what are you waiting for? Load up your RV and check out John Bryan State Park, Alum Creek State Park, and Hocking Hills State Park – you won't be disappointed!
Top Ohio Campgrounds for Tent Camping
As outdoor enthusiasts, we know the value of finding the perfect camping spot to pitch a tent, relax, and enjoy nature. Some of us may prefer to tuck ourselves away among the trees, while others might set up camp near pristine lakes or rolling rivers. Whatever your taste, we've got good news: Ohio is filled with fantastic campgrounds for tent camping. In this post, we'll focus on three of our favorites – East Harbor State Park, Lake Hope State Park, and Mohican State Park.
Experiencing East Harbor State Park
Nestled along the shores of Lake Erie, East Harbor State Park is a haven for anyone looking to set up their tent near a beautiful body of water. With its vibrant mix of lush forests, spectacular dunes, and a massive beach, it's no surprise this park is a popular destination for campers.
East Harbor State Park offers something for everyone. There's a variety of campsites to choose from, accommodating both tents and RVs, and many come with a splendid lake view. As we hit the trails, we can marvel at the diverse flora and fauna in the region, or spend our days fishing, boating, and swimming. And on warm summer nights, nothing beats a stroll along the beach as the sun sets over the water. All in all, it's hard not to fall in love with this Ohio gem.
Unwinding at Lake Hope State Park
Located within the stunning Zaleski State Forest in southeast Ohio, Lake Hope State Park is a true paradise for tent campers seeking a serene, natural escape. This beautiful park is surrounded by dense woodlands, dotted with secluded campsites that allow us to enjoy the privacy and tranquility of the forest.
One of our favorite aspects of Lake Hope is how it allows us to deeply connect with Ohio's rich history. While camping, we might find ourselves stumbling upon historical sites like the Hope Furnace, a testament to the area's rich past in the iron industry. But if you're more into nature and wilderness, fear not – Lake Hope has plenty to offer. Hiking, mountain biking, and boating are all popular activities that let us fully immerse ourselves in this captivating landscape. And don't forget about the picturesque lake, perfect for a refreshing swim after a long day of exploring.
Venturing through Mohican State Park
Whether you're a seasoned camper or new to the world of tent camping, Mohican State Park is a top choice for anyone seeking an adventure in Ohio's great outdoors. Located in the heart of Ohio's forests, Mohican offers both modern and primitive campsites, ensuring that every camper can find their ideal setting.
What truly sets Mohican apart is its array of exhilarating outdoor activities. From hiking and mountain biking on the 75 miles of scenic trails, to canoeing and kayaking down the winding Mohican River, there's something to invigorate every outdoor enthusiast. And if you're in for a real adrenaline rush, try your hand at the park's zipline canopy tour – you won't regret it!
The Clear Fork Gorge, a breathtaking natural formation created by the retreating glaciers, is yet another reason to visit Mohican. Trust us, you're going to want to have your camera ready for this one. And if wildlife watching is your thing, grab your binoculars and keep an eye out for the various birds and deer that roam the area.
In the end, these are just a few examples of the fantastic camping opportunities that await within Ohio's borders. Whether you prefer to camp near lakes, forests, or rivers, you'll find your perfect spot at one of these top Ohio campgrounds for tent camping. We hope you enjoy these places as much as we do! Happy camping!
Top Ohio Campgrounds for Cabins and Yurts
As much as we love tent camping, sometimes it's nice to experience the great outdoors with a bit more comfort and style. That's why we've chosen three of the top Ohio campgrounds that offer cozy cabins or unique yurts for your next outdoor adventure. Let's dive into these fantastic options!
Staying at Kelleys Island State Park
Ah, Kelleys Island State Park! This one has it all! Located on the picturesque and fun-filled Kelleys Island on Lake Erie, campers can enjoy stunning landscapes and plenty of activities. But what really sets it apart is the option to stay in a charming yurt. What's a yurt, you ask? It's a circular, tent-like structure with all the comforts of home, like heating/air conditioning, a comfy bed, and a mini kitchen. They even have their own outdoor deck to sit and enjoy the breeze from the lake. And with plenty of hiking trails, fishing spots, and sandy beaches, there's no shortage of things to do. So why not try something a little different and stay in a yurt during your next camping trip?
Getting Cozy at Salt Fork State Park
Nestled in southeastern Ohio, Salt Fork State Park is the perfect destination for nature lovers who enjoy a mix of forest, hills, and sparkling waters. The park offers a delightful selection of cabins, ranging from small and simple to larger, family-sized options. Some of our favorite cabins even come with hot tubs – how's that for a luxurious camping experience? And when you're not kicking back in your cozy cabin, there's plenty to do around the park. From hiking and horseback riding to fishing, swimming, and golfing, there's truly something for everyone.
Relishing Geneva State Park
Located along the shores of Lake Erie, Geneva State Park provides a delightful escape from the hustle and bustle of city life. Here, you'll find beautiful, modern cabins, all of which boast full kitchens, fireplaces, and screened-in porches that make it the perfect spot for a relaxing getaway. As for activities, the park offers eight miles of hiking trails, a sandy beach for sunbathing and swimming, and even a marina for boating enthusiasts. Not to mention, you'll be just a stone's throw away from several fantastic wineries, making it an ideal spot for wine lovers. So, don't hesitate! Grab your friends or family and enjoy a weekend at Geneva State Park.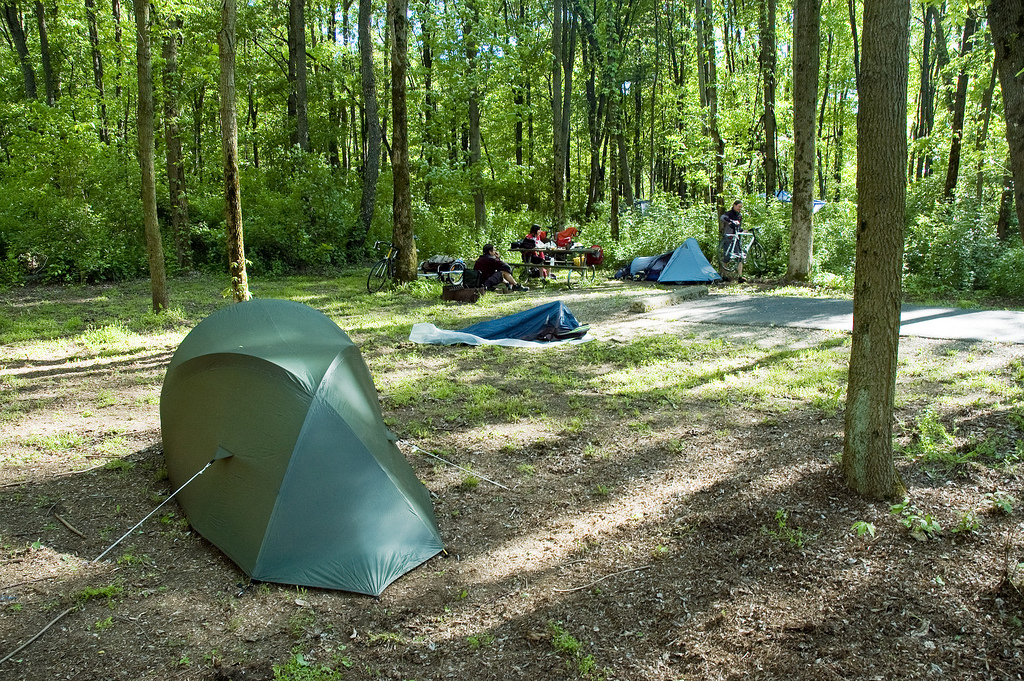 Activities and Adventure Opportunities
Ohio offers an abundance of natural beauty, making it an ideal destination for camping and outdoor recreation. In this post, we'll dive into the top 10 Ohio campgrounds for outdoor enthusiasts and highlight some of the exciting activities and adventure opportunities that await you.
Boating and Fishing at Ohio Campgrounds
For those looking to hit the water, many of Ohio's campgrounds offer beautiful lakes and rivers perfect for boating, canoeing, and fishing. Whether you've got your heart set on kayaking through quiet coves or dropping a line with hopes of snagging a trophy fish, you're sure to find the perfect spot to set up camp. Grab those paddles and fishing rods, and let's get exploring!
Some of our favorite campgrounds for water-centric adventures include Alum Creek State Park, which offers a marina, boat rentals, and prime fishing spots, and Indian Lake State Park, known for its excellent boating, fishing, and even sailing opportunities. Don't forget East Harbor State Park, with its tranquil waters and beautiful sandy beaches, perfect for canoeing or just laying out in the sun.
Hiking and Mountain Biking Trails
If you're looking to immerse yourself in nature and get your heart pumping with some physical activity, Ohio's campgrounds boast an array of hiking and mountain biking trails to satisfy even the most avid outdoor enthusiasts. Lace up those hiking boots or hop on a mountain bike, and let's conquer some trails!
Hocking Hills State Park is an outstanding option, offering miles of rugged, challenging trails that traverse through beautiful sandstone cliffs, caves, and waterfalls. Scioto Trail State Park is another gem, with 12.4 miles of hiking trails that meander through lush forests, perfect for all skill levels. For bikers, secure your helmet and head to Mohican State Park, where you'll find miles of adrenaline-pumping, singletrack mountain biking trails suitable for both beginners and advanced riders alike.
Wildlife Watching and Nature Study
Finally, let's not forget the wildlife, for Ohio is simply brimming with stunning flora and fauna. Birdwatchers and nature enthusiasts will rejoice at the variety of species found throughout the various campgrounds in Ohio, so grab those binoculars and prepare to be amazed.
Magee Marsh Wildlife Area in northwest Ohio is an absolute haven for birding enthusiasts, as is the neighboring Ottawa National Wildlife Refuge, where migrating birds can be observed in abundance each spring and fall. For a truly immersive wildlife experience, visit Shawnee State Park, known as the "Little Smokies" of Ohio due to its resemblance to the Great Smoky Mountains, offering an array of wildlife species and picturesque, rolling hills.
No matter which of these amazing campgrounds you choose to visit, Ohio's natural beauty is sure to captivate and inspire, providing a memorable outdoor escape. Happy camping!
Ohio's Amazing Natural Wonders
When it comes to camping and connecting with the great outdoors, few states offer the diverse and breathtaking landscapes that Ohio does. From the rolling hills and stunning waterfalls of the Hocking Hills Region to the lush greenery of Cuyahoga Valley National Park, and the historical cities along the Great Miami Riverway, there's something in Ohio for every kind of outdoor enthusiast. So grab your gear, and let's dive into our top 10 Ohio campgrounds for adventure and relaxation in the heart of Mother Nature.
Hocking Hills Region
Ohio's best-kept secret is the Hocking Hills Region, with its stunning sandstone cliffs, pristine forests, and breathtaking waterfalls. There are several top-notch campgrounds to choose from in this area, but two stand out as the most popular and highly-rated.
Hocking Hills State Park Campground: This campground is nestled right in the heart of the park, providing easy access to popular attractions like Old Man's Cave, Cedar Falls, and Ash Cave. The campground offers electric or full-hookup sites, as well as pet-friendly accommodations and WiFi access.

Top O' The Caves Campground: Tucked away in a private corner of Hocking Hills, this family-oriented campground offers the perfect escape from the hustle and bustle of daily life. With swimming pools, playgrounds, pony rides, and more, this campground is perfect for families looking to connect with nature while still enjoying modern amenities.
Cuyahoga Valley National Park
Cuyahoga Valley National Park is a lush, green gem in the crown of Ohio, with its serene scenery and diverse wildlife. This national treasure offers miles of hiking and biking trails, along with opportunities for boating and birdwatching. With only one campground within the park itself, you'll want to book your trip early to secure your spot!
Stanford House: Located in the heart of the Cuyahoga Valley National Park, this historic farmhouse offers nine well-appointed guest rooms and a shared kitchen. Prefer to sleep under the stars? The Stanford House also has three primitive tent sites in their backyard, perfect for true camping enthusiasts.
Great Miami Riverway
The Great Miami Riverway is steeped in history and full of vibrant cities, all nestled along the 99-mile stretch of scenic river. For campers who crave the perfect mix of outdoor adventure and city life, this area is a must-visit. Check out our top picks for campgrounds along the Great Miami Riverway.
Big Bull Run: Located right on the Great Miami River, Big Bull Run offers a tranquil slice of nature just a stone's throw away from the city of Troy. This campground offers electric and primitive sites and is perfect for those who want to get back to basics while still being close to the action.

Taylorsville MetroPark Campground: Surrounded by lush woodlands and home to the Great Miami Riverway, this is the perfect campground for those looking to hike, bike, or simply soak in the natural beauty of Ohio's riverlands. With 20 campsites, picnic areas, and a playground, you'll have everything you need right at your fingertips.
Whatever your camping preferences may be – from roughing it in the great outdoors to enjoying modern amenities – Ohio's picturesque landscapes have got you covered. So what are you waiting for? Pack up your gear, hit the road, and explore everything these top 10 Ohio campgrounds have to offer. Happy camping!
Camper Tips and Etiquette
Before we dive into the world of Ohio campgrounds, let's brush up on some camper tips and etiquette. Having a blast outdoors is undoubtedly exciting, but we must remember to be conscious of others and the environment around us. To ensure that our time at the campgrounds is memorable, let us share a few tips on making reservations, campground safety and rules, and the Leave No Trace Principles.
How to Make a Reservation
The first step in embarking on your great Ohio camping adventure is making a reservation. Most campgrounds will have an online reservation system where you can check availability, browse through site options, and select your desired camping spot. Typically, you'll find that different campground sites offer options such as tent sites, RV sites, and maybe even cabins or yurts. Pick the one that suits your preference!
Remember that popular campgrounds tend to book up quickly, especially during peak seasons or holidays. Reserving your spot as early as possible is always a wise decision. Additionally, always read the fine print regarding cancellation policies, check-in and check-out times, and any other pertinent information.
Campground Safety and Rules
To ensure that everyone's camping experience is enjoyable and safe, always follow campground safety rules. For starters, familiarize yourself with the campsite layout and potential hazards, such as bodies of water or steep cliffs. Keep an eye on children and pets to ensure their safety, and use caution when exploring the natural surroundings.
Campfires are a quintessential part of camping, but it is crucial to follow proper fire safety guidelines. Only start fires in designated fire rings or grills, and always supervise your fire. Before leaving your site, make sure your fire is entirely extinguished. It's also a smart move to have a fire extinguisher on hand just in case.
Respect the quiet hours established by the campground, as well as your fellow campers' personal space. Additional rules, such as speed limits and trash disposal, may vary from campground to campground. Familiarize yourself with the area's specific regulations upon arrival.
Leave No Trace Principles
We all love the great outdoors, and it is our responsibility to leave it as pristine as when we found it. The Leave No Trace Principles are guidelines designed to help campers maintain healthy and clean outdoor spaces. These principles include:
Planning Ahead and Preparing: Do your research before setting out on your camping trip. This includes knowing the local regulations, potential hazards, and being adequately prepared for weather conditions.

Travel and Camp on Durable Surfaces: Stick to established trails and campsites, and avoid disrupting the natural landscape.

Dispose of Waste Properly: Pack out all trash and leftover food. Never throw trash in fire rings or leave it at your campsite.

Leave What You Find: Leave plants, rocks, and other natural features undisturbed. Resist the urge to take "souvenirs" from your campsite.

Minimize Campfire Impact: Use established fire rings or grills, and keep your fires small. Do not harvest firewood from live trees.

Respect Wildlife: Keep your distance from wildlife and avoid feeding them. Secure your food and trash from curious animals.

Be Considerate of Other Visitors: Respect the rights of others by keeping noise levels down and maintaining a safe distance from other campsites.
By following these simple guidelines, we'll help preserve Ohio's campgrounds and natural spaces for future generations of outdoor enthusiasts to enjoy. Now that we're all up to speed on camper tips and etiquette, it's time to dive into the top 10 Ohio campgrounds for outdoor enthusiasts!
Resources for Planning Your Ohio Camping Trip
Before you start packing your bags and planning your s'mores menu, you'll want to explore the various resources at your disposal for finding the perfect Ohio campground. From directories to adventure clubs and local events, here are some tips and tricks to help you discover your ideal camping destination.
Ohio Campground Directory
An obvious starting point for planning your trip is a comprehensive list of campgrounds in Ohio. Visit the Ohio Department of Natural Resources website for an extensive collection of campsites, amenities, and activities throughout the state. You can filter your search by location, facilities, and more to find the perfect campground that meets your specific needs.
Another option is the Campendium Ohio directory, which not only provides a list of campgrounds but also features user reviews, photos, and the always helpful cell coverage reports. It's a fantastic tool to gather first-hand experiences from other avid campers.
Outdoor Adventure Clubs and Activities
Joining an outdoor enthusiast club can help you discover unique destinations, connect with fellow campers, and get the most out of your camping trips in Ohio. Check out local clubs like the Buckeye Trail Association, the Appalachian Outfitters Camping Club, or the Ohio Adventure Club for meetups, group outings, and valuable knowledge from seasoned campers.
Beyond camping, there are various clubs and organizations focusing on specific outdoor activities like hiking, biking, horseback riding, and bird-watching. Doing a bit of research on these groups will lead you to the best campgrounds and trails for your desired activity.
Annual Events and Festivals
One of the great aspects of camping in Ohio is the abundance of annual events and festivals taking place across the state. From music and food to arts and crafts, these events often offer campground accommodations, making it easy to combine a weekend of entertainment with your outdoor adventure.
For balloon enthusiasts, the Ashland Balloonfest held in July offers camping at the beautiful Freer Field. Music lovers can look forward to September's Jammin' Walnut Bluegrass Festival in Wellington, which offers on-site camping during the festivities. Foodies will enjoy camping at the Apple Butter Stirrin' Festival in October, where they'll get to sample delicious apple butter and other homemade treats.
By checking out these resources and staying informed about what's happening in Ohio's great outdoors, you'll be well-prepared to embark on an epic camping adventure. So grab your favorite camping gear and get ready to explore the top 10 campgrounds in the Buckeye State!
Ohio Campgrounds Frequently Asked Questions
Before you start packing up your camping gear, it's essential to familiarize yourself with some frequently asked questions about Ohio campgrounds. After all, we want you to have a smooth and enjoyable camping experience in the Buckeye State. So, let's dive into some of the most common inquiries and explore the answers you need to know.
What is the Best Time to Camp in Ohio?
Although you can find campgrounds open year-round, the best time to camp in Ohio is during the late spring to early fall, generally between May and October. The mild and consistent weather during these months allows for a comfortable camping experience. However, keep in mind that the most popular campgrounds tend to be more crowded during peak season, so if you're looking for a quieter experience, consider planning a trip during the shoulder seasons of late April or early November.
In the summer, you'll enjoy long, sunny days with temperatures in the 70s to 80s, perfect for swimming, hiking, and other outdoor activities. Fall brings breathtaking foliage, cool temperatures, and fewer bugs, making it a fantastic time to cozy up around the campfire. Regardless of the season, it's always a good idea to check the weather forecast before heading out to ensure you're prepared for any sudden changes.
Are Pets Allowed at Ohio Campgrounds?
Good news for all you pet lovers out there! Most Ohio campgrounds welcome well-behaved, leashed pets. However, it's always essential to double-check the specific rules and regulations of each campground before you set off on your adventure.
Many campgrounds will have designated pet-friendly areas and may even offer amenities such as dog-walking trails and pet waste disposal stations. However, don't forget to pack a portable water bowl, leash, and waste bags for your furry friend. Additionally, ensure your pet has up-to-date identification tags and vaccinations. It's always better to be safe than sorry!
What are the Camping Fees and Types of Payment Accepted?
Camping fees vary depending on the campground, its facilities, and location within the state. Generally, you can expect to pay between $20 and $40 per night for a basic tent site, while RV sites with hookups will run you a bit more. Premium sites with extra amenities may come with a higher price tag, so consider your desired level of comfort when booking.
Many Ohio campgrounds accept reservations online or over the phone, and you'll likely be able to pay using a credit card. For walk-in campers, payment methods may vary, so it's a good idea to call ahead or check the campground's website for specific payment options. It's always wise to have some cash on hand, just in case.
Now that we've covered some common questions, it's time to start planning your epic Ohio camping getaway. So go ahead, grab your gear, and get ready to explore what these top 10 campgrounds have to offer!