Types of Ohio Campgrounds and RV Parks
When planning our next outdoor adventure in Ohio, it's important to know the different types of campgrounds and RV parks available to us throughout the state. In this guide, we'll discuss various categories, including state park camping, privately owned campgrounds, national park camping, RV-only campgrounds, tent-only campgrounds, and pet-friendly campgrounds. So, let's dive in!
State Park Camping in Ohio
Ohio boasts a wealth of beautiful state parks, each offering unique camping experiences for both RVers and tent campers. With over 70 state parks to choose from, we're sure to find the perfect spot to set up camp. Most state park campgrounds offer amenities such as electric hookups, restrooms, and showers, though it's always a good idea to check specific park information for details.
A few popular state park campgrounds include Hocking Hills State Park, Maumee Bay State Park, and Mohican State Park. To reserve a campsite, we can use the Ohio State Parks Reservation System or call the individual park offices.
Privately Owned Campgrounds and RV Parks
For those of us who prefer amenities and services not typically available in public parks, privately-owned campgrounds and RV parks can be an excellent option. These establishments often offer additional features such as swimming pools, playgrounds, and on-site convenience stores.
Some popular privately-owned Ohio campgrounds and RV parks are the Good Sam-affiliated parks like Cross Creek Camping Resort and Indian Creek Camping Resort. KOA also has several locations throughout the state.
National Park Camping in Ohio
Although Ohio is home to only one national park, the beautiful Cuyahoga Valley National Park, it's worth considering for our camping trip. Offering both tent and RV camping, the park's two campgrounds are managed by the National Park Service. The Stanford House and the Countryside Campground welcome campers to enjoy the stunning landscapes of the Cuyahoga Valley. It's important to reserve our campsites in advance, as the park is a popular destination.
RV-Only Campgrounds in Ohio
If we're traveling in an RV and prefer a more exclusive experience, we can opt for RV-only campgrounds. These parks often cater specifically to RV campers and provide additional amenities like full-hookups, WiFi, and laundry facilities.
Examples of RV-only campgrounds in Ohio include Cutty's Sunset Camping Resort and Evergreen Park RV Resort. As with other campgrounds, it's best to research and make reservations ahead of time.
Tent-Only Campgrounds in Ohio
For those of us who seek a more traditional camping experience, tent-only campgrounds might just be our cup of tea. These campgrounds cater specifically to tent campers, meaning we won't have to contend with the hustle and bustle of RVs.
One option for tent-only camping in Ohio is Kelleys Island State Park, which has a separate tent-only area. Be sure to do some research on tent-only campgrounds, as they may have limited facilities compared to mixed campgrounds.
Pet-Friendly Campgrounds in Ohio
Taking our furry friends along for the camping journey can be a great experience, but not all campgrounds accommodate pets. Fortunately, many Ohio campgrounds and RV parks are pet-friendly, so long as we follow the rules and regulations.
Some examples of pet-friendly campgrounds in Ohio include Lazy R Campground, Country Acres Campground, and Twin Creek RV Resort. Just make sure we check the pet policies of each campground and remember to be respectful of other campers.
In conclusion, Ohio offers a diverse range of camping options to suit every camper's needs, from serene state parks to amenity-packed privately-owned campgrounds. Happy camping!
Top Camping Destinations in Ohio
Discover the beauty and adventure of Ohio by exploring its best campgrounds and RV parks. From stunning state parks to thrilling amusement parks, we've got you covered with a comprehensive guide to Ohio's top camping destinations. So, let's dive right in!
Hocking Hills State Park
Nestled in the picturesque Appalachian region, Hocking Hills State Park is a must-visit destination for campers and nature enthusiasts alike. With over 200 campsites and a wide range of amenities, it's the perfect spot to set up base and explore the park's numerous waterfalls, caves, and hiking trails. Don't miss the stunning Ash Cave, Cedar Falls, and Old Man's Cave, some of the park's most popular attractions. For those adventure-seekers, how about ziplining through the treetops or horseback riding along scenic trails?
Cedar Point Amusement Park
Get ready for a thrilling adventure at Cedar Point Amusement Park, dubbed "The Roller Coaster Capital of the World." Home to over 70 rides and attractions, this 364-acre park is sure to keep the entire family entertained. What's more, you can bring your RV or pitch a tent at one of the park's campgrounds – Lighthouse Point, Camper Village, or Express Hotel. Not only can you enjoy the park's adrenaline-pumping roller coasters, but you'll also get exclusive early entry to beat the crowds. So buckle up and get ready for an unforgettable camping experience!
Put-in-Bay and South Bass Island
As Ohio's premier vacation spot on Lake Erie, Put-in-Bay and South Bass Island boast a ton of activities for campers of all ages. Hop on a ferry and head over to South Bass Island State Park where you can enjoy sweeping views of the lake, along with a myriad of recreational activities such as fishing, boating, and swimming. Set up camp at the park's family-friendly campground, and make sure to visit the nearby Perry's Victory and International Peace Memorial for a dose of history. At the end of the day, unwind with a cool beverage at one of Put-in-Bay's lively bars or restaurants.
Cuyahoga Valley National Park
Escape the hustle and bustle of urban life and immerse yourself in the tranquility of Cuyahoga Valley National Park. Offering over 125 miles of hiking trails and an array of recreational activities, there's no shortage of things to do in this beautiful park. While it doesn't have a campground within its boundaries, there are several great camping options nearby, such as Streetsboro/Cleveland SE KOA and Woodside Lake Park. Don't forget to hop on Cuyahoga Valley Scenic Railroad for a memorable ride through the heart of this magnificent park or pay a visit to the iconic Brandywine Falls.
Mohican State Park
Adventure awaits you at Mohican State Park, a sprawling outdoor paradise with exciting activities and breathtaking scenery. Whether you prefer to hike through lush forests, kayak down the pristine Mohican River, or mountain bike on challenging trails, there's something for everyone at this beloved park. Choose from over 100 electric campsites or rent a cozy cabin for your stay. While you're there, be sure to pay a visit to the striking Clear Fork Gorge and snap some memorable photos.
There you have it – a comprehensive guide to some of the best camping destinations in Ohio. We hope this has inspired you to pack your bags, load up your RV or tent, and start planning your next camping adventure in the beautiful Buckeye State!
Planning Your Camping Trip to Ohio
Ohio is a state known for its rich history, diverse landscape, and an abundance of outdoor activities for campers to choose from. Whether you're an avid outdoors enthusiast or just looking for a peaceful retreat to unwind, Ohio campgrounds and RV parks offer something for everyone. In this comprehensive guide, we will help you plan the perfect camping trip in Ohio, giving you insight into the state's weather, camping checklist, campsite etiquette, and fishing and hunting licenses.
Ohio Weather and Best Season for Camping
Ohio experiences all four seasons, with cold winters, warm summers, and moderate temperatures in spring and fall. The state experiences unpredictable weather patterns and can have sudden weather changes throughout the year. If you're looking to avoid extreme temperatures, the best time to go camping in Ohio is during spring (May to June) and fall (September to October). These seasons generally offer mild temperatures, perfect for outdoor activities such as hiking, fishing, and boating.
However, if you're an ice-fishing enthusiast or love snow sports, winter camping (December to February) is also an option. In general, Ohio campgrounds and RV parks are busiest during the summer months (June to August), so be prepared for larger crowds if you choose to go camping during this season.
Ohio Camping Checklist
When planning a camping trip, it's essential to ensure you have all necessary equipment and supplies to make your experience enjoyable and comfortable. Here's a checklist of essential items we recommend for your Ohio camping adventure:
Tent, RV, or camper
Sleeping bags and pads
Camping chairs or portable seating options
Clothes appropriate for the season (including rain gear and extra layers)
Cooking and eating utensils and portable stove or grill
Non-perishable food and snacks
Cooler with ice or ice packs and perishable food
Hiking shoes or boots
Insect repellent and sunscreen
Map or GPS system
First-aid kit
Lanterns, flashlights, or headlamps with extra batteries
Camera or smartphone to capture memories
Outdoor recreation gear (fishing poles, bikes, kayaks, etc.)
Of course, don't forget your personal toiletries, medications, and belongings. Moreover, always check the specific campground or park rules and regulations to ensure compliance and to avoid any surprises.
Campsite Etiquette and Safety Tips
Being mindful of campsite etiquette and safety is vital for a relaxing and enjoyable camping experience. Here are some tips to follow during your Ohio camping trip:
Respect campground quiet hours, which usually start around 10 p.m. and last until 6 or 7 a.m.
Keep your campsite clean and free of litter.
Dispose of waste properly in designated trash receptacles or pack it out with you.
Don't feed wildlife or leave food/trash unattended. Use bear-resistant containers when camping in bear country.
Maintain a safe distance from wild animals and never approach or harass them.
Keep noise levels down and be mindful of neighbors.
Follow fire safety regulations and extinguish campfires when leaving the site or going to bed.
Stay on designated trails when hiking or biking to reduce the impact on the environment.
Ohio Fishing and Hunting Licenses
If you plan on fishing or hunting during your camping trip, remember to obtain a proper license. Ohio offers various options, including one-day, three-day, annual, and lifetime fishing licenses, as well as resident and non-resident hunting licenses. Licenses can be purchased at most sporting goods stores, Walmart, or online through the Ohio Department of Natural Resources' website.
Please keep in mind that hunting and fishing regulations may vary between various public lands and waterways. Always check current regulations for your specific location to ensure compliance with size, catch limits, and allowed methods.
With this comprehensive guide, you're now ready to embark on an unforgettable camping adventure in Ohio. So pack up your gear, gather your friends and family, and discover the natural beauty Ohio has to offer.
Ohio State Park Camping Facilities and Amenities
Ohio is blessed with an abundance of beautiful state parks, each offering unique natural attractions and recreational opportunities. In this section, we'll introduce you to the various camping facilities and amenities available at Ohio's state park campgrounds. Whether you prefer a basic tent site or a fully-equipped RV park, you're sure to find the perfect spot for your next camping adventure.
Campgrounds with Electric and Water Hookups
For those of us who enjoy camping in an RV, having access to electric and water hookups is essential. Fortunately, many Ohio state park campgrounds offer sites with both electric (20/30/50 amp) and water hookups. Some popular parks with these amenities include Alum Creek State Park, East Harbor State Park, and Hocking Hills State Park. Keep in mind that not all sites at these campgrounds have full hookups, so be sure to check the park's website or give them a call for specific site information.
Campgrounds with Shower and Restroom Facilities
While some campers love the rustic experience of camping without modern facilities, others prefer the convenience of hot showers and flush toilets. If you're in the latter camp (no pun intended), you'll be happy to know that most Ohio state park campgrounds offer shower and restroom facilities. For example, Caesar Creek State Park, Mohican State Park, and Punderson State Park all provide campers with access to clean and well-maintained bathhouses.
Campgrounds with Accessible Accommodations
We believe that everyone should be able to enjoy the beauty of Ohio's state parks, which is why we're pleased to highlight campgrounds with accessible accommodations. Many state parks offer campsites with accessible picnic tables, fire rings, and restrooms. Additionally, parks like John Bryan State Park and Wolf Run State Park have accessible cabins available for reservation. Be sure to check the specific park's website or contact them directly for more information on accessible accommodations.
Campgrounds with Dump Stations
Let's face it – one of the less glamorous aspects of RV camping is dealing with waste disposal. Luckily, most Ohio state park campgrounds with RV sites offer dump stations for your convenience. This makes it easy to dispose of gray and black water safely and responsibly during your stay. Some campgrounds with dump stations include Dillon State Park, Maumee Bay State Park, and Scioto Trail State Park.
Reservation and Pricing Information
Now that you know about the great amenities available at Ohio's state park campgrounds, you're probably eager to book your next camping trip. Most state parks allow reservations up to six months in advance, and we recommend booking early – especially for popular locations or during prime camping season.
To make reservations, you can use the Ohio State Parks Reservation System online or call the park directly. Pricing for campsites varies depending on factors such as the park, time of year, and site amenities. In general, you can expect to pay between $20 to $40 per night for a campsite with electric and water hookups, and around $10 to $25 per night for a non-electric site.
We hope this guide helps you find the perfect campground for your next adventure in Ohio's incredible state parks. With a wide range of amenities and accommodations, there's truly something for everyone when it comes to camping in the Buckeye State. So pack your gear, load up the camper, and we'll see you out under the stars!
Ohio Camping Activities and Attractions
Ohio is a dream destination for campers and RV enthusiasts, offering a wide variety of recreational activities and attractions. In this section, we'll highlight some of the best camping activities and points of interest you won't want to miss on your next camping trip to Ohio.
Hiking and Biking Trails
You can't talk about Ohio campgrounds and RV parks without mentioning the numerous hiking and biking trails available for outdoor enthusiasts. From the scenic Appalachian Mountains to the lush forests and rolling hills, Ohio offers some of the most beautiful and diverse landscapes for hikers and cyclists.
One of our favorite hiking destinations is Hocking Hills State Park, which features over 25 miles of stunning trails. These trails will lead you through recess caves, picturesque waterfalls, and other breathtaking geological formations. For biking enthusiasts, the Little Miami Scenic Trail is a must-visit. This paved, 78-mile trail provides beautiful views of the Little Miami River and runs through several charming small towns.
Water Activities: Canoeing, Kayaking, and Fishing
Ohio's abundance of rivers, lakes, and reservoirs makes it an ideal destination for those who love water activities. Canoeing and kayaking are popular pastimes, with the Hocking River, Mohican River, and Little Miami River offering excellent opportunities for paddling adventures.
Fishing is another favorite activity for Ohio campers. With over 50 state parks with fishing zones, there's no shortage of spots to cast your line. Some of the top fishing destinations include Lake Erie, Grand Lake St. Marys, and Pymatuning State Park.
Birdwatching and Wildlife Viewing
For nature lovers, Ohio boasts an incredible array of bird species and wildlife. The Buckeye State is home to more than 400 bird species, making it a popular destination for birdwatching enthusiasts. Places like Magee Marsh Wildlife Area and Ottawa National Wildlife Refuge are hotspots for spotting migrating birds, especially during the spring and fall migration seasons.
In addition to birdwatching, Ohio's diverse landscapes also provide ample opportunities for wildlife viewing. Cuyahoga Valley National Park and Wayne National Forest are among the best destinations to spot white-tailed deer, wild turkey, and even black bears.
Ohio History and Cultural Sites
Last but not least, Ohio's rich history and cultural heritage make it an ideal destination for those interested in exploring historical sites and landmarks. The Buckeye State is home to several Native American earthworks, including the Serpent Mound and Newark Earthworks, which are both truly awe-inspiring to witness.
Moreover, Ohio has played a significant role in American history, with sites like the National Underground Railroad Freedom Center and the First Ladies National Historic Site providing a fascinating glimpse into the past.
Finally, the state's booming arts and cultural scene offers a variety of attractions for all tastes. Pay a visit to the world-renowned Rock and Roll Hall of Fame in Cleveland or check out the vibrant Short North Arts District in Columbus for a unique Ohio experience.
RV Camping in Ohio: Tips and Tricks
Where to Rent an RV in Ohio
If you're looking to explore the beautiful campgrounds and RV parks of Ohio, but don't have an RV of your own, don't worry! There are plenty of places to rent an RV. Before you can hit the open road and cruise to your chosen camping destination, you'll need to find the perfect temporary mobile abode. To make things a bit easier for you, we've compiled a list of some reputable RV rental companies in Ohio.
Cruise America: With multiple locations throughout Ohio, Cruise America offers a variety of RVs for you to choose from, ranging from compact and standard to large and luxurious. Check their website for current pricing and availability.

R-Vision Camping World RV Rentals: Located in Fairfield, Ohio, R-Vision Camping World offers a wide range of RV rentals, from travel trailers to fifth wheels to motorhomes. Swing by their lot to get a personal tour of available RVs and discuss pricing.

Ohio Motorhome Rental: Based in Cincinnati, Ohio Motorhome Rental provides RVs for rent, including Class A, Class B, and Class C motorhomes, as well as travel trailers. Check out their website for detailed descriptions of RV models along with rates and rental information.
Driving and Parking RV in Ohio
Navigating the roads and parking an RV might seem a bit daunting, especially if you're new to RVing. But don't let that intimidate you! With a little practice and a few helpful tips, you'll be driving and parking like a pro in no time.
Check the weather: Before hitting the road, always check the local weather along your route. Be prepared for any sudden changes and adjust your travel plans accordingly.

Know your RV dimensions: Familiarize yourself with your RV's height, width, and length to avoid driving on roads with low clearances or tight turns. It's also a good idea to keep those measurements handy on a notecard or in your phone for reference.

Take your time: When driving an RV, remember that it's larger and heavier than a typical car. This means you'll need to brake earlier and take turns more slowly. Don't be afraid to take your time in order to stay safe and avoid accidents.

Utilize rest stops and truck stops for parking: Often, rest stops and truck stops along highways offer designated RV parking spots. Not only do these stops provide a safe place to park your RV, but they also have facilities such as bathrooms, gas stations, and shopping.

Plan ahead with campground reservations: Before heading to a new campground, be sure to call ahead and make a reservation, especially during peak camping season. This prevents any unwelcome surprises if you arrive at a full campground with no available sites for your RV.
Maintaining and Servicing Your RV
Proper maintenance and care of your RV ensures it remains in tip-top shape for all of your camping adventures. Here are some important maintenance tips to keep in mind:
Regularly inspect your RV: Before every trip, do a thorough walk-around and inspection of your RV. Make sure to check the tires, lights, roofs, and any seams or seals for potential issues.

Monitor and manage your RV's fluids: Check the oil, coolant, and other fluids regularly, just like you would with your car. Additionally, know the location of your RV's wastewater tanks and how to empty and clean them after trips.

Keep your RV clean: Regularly clean the interior and exterior of your RV to prevent mold, mildew, and potential damage from dirt and debris. Pay special attention to your awning, roof, and undercarriage.

Schedule regular professional maintenance: RVs require routine maintenance just like any vehicle. Be sure to follow your manufacturer's recommendations for things like oil changes, roof inspections, and appliance maintenance. If you're renting an RV, ask the rental company about their maintenance schedule to ensure you don't run into any unexpected issues during your trip.
So there you have it, folks! Some useful tips and tricks to help you navigate the world of RV camping in Ohio. Now you're equipped with the knowledge needed to embark on your next great adventure with confidence. Happy camping!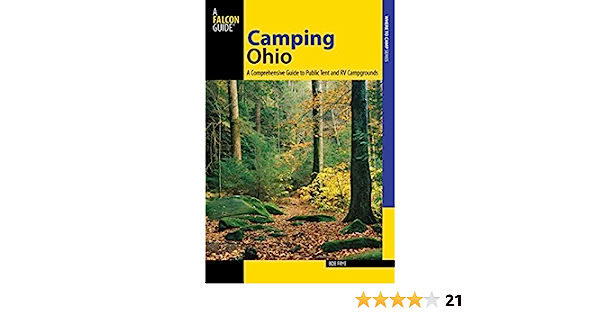 Tent Camping Essentials for Ohio Campgrounds
As you prepare for your exciting Ohio camping adventure, it's essential to know what to take with you and how to set up your campsite. We'll cover some key tent camping basics, such as selecting the right tent, proper setup techniques, and safety tips to ensure you have a comfortable and memorable experience at one of Ohio's beautiful campgrounds or RV parks.
Selecting the Right Tent for Your Ohio Camping Trip
The right tent will largely depend on the specific needs of your camping group, the season of your trip, and the diverse Ohio weather. Here are some factors to keep in mind while choosing a tent:
Size: Consider the number of people who will be sleeping in the tent as well as the extra space you'll need for gear and personal belongings. Generally, a tent should have at least 30 square feet of floor space per person.

Weather Resistance: Opt for a durable tent that can withstand Ohio's varied weather, including rain, humidity, and chilly nights. Make sure the tent has a sturdy rainfly to provide additional protection against the elements.

Ventilation: Look for tents with mesh window and door panels to maximize airflow and minimize condensation.

Weight: If you're backpacking your way to the campsite, opt for lighter tents, but keep in mind these may sacrifice durability and protection.

Setup Complexity: Simple, freestanding tents with color-coded poles make setting up camp a breeze. However, if you're an experienced camper, you may be comfortable with more robust and complex tents that provide extra stability and features.
Proper Tent Setup Techniques
Setting up your tent properly will not only ensure a comfortable night's sleep but also prevent damage. Follow these guidelines for a hassle-free setup:
Choose the right site: Look for flat, level ground that is clear of rocks, roots, and other debris. Avoid low-lying areas or depressions to steer clear of pooling water in case of rain.

Lay out the tent: Unfold the tent and lay it on the ground, aligning the door with the desired direction. As Ohio weather can change quickly, it's best to point the entrance away from prevailing winds to minimize drafts.

Stake the corners: Securely stake all four corners of the tent, pulling each corner tight and at a 45-degree angle. Check that the tent floor is taut.

Assemble the poles: Connect the tent poles and attach them to the tent body, typically using clips or sleeves. Depending on your tent model, you might have to connect the poles to the tent corners or use extra poles for stability.

Attach the rainfly: Drape the rainfly over the tent and secure it to the tent body or poles, following the manufacturer's instructions. Ensure the rainfly is taut to prevent water from pooling during rain showers.

Add guylines: If your tent includes guylines, attach them to the rainfly for extra stability and protection against wind and rain. Staking them out away from the tent at a 45-degree angle will provide the best support.
Tent Camping Safety
Follow these tent camping safety guidelines for a worry-free Ohio getaway:
Fire safety: Keep all fires at least 15 feet away from your tent and never use a fuel-burning appliance inside the tent, as it poses a fire hazard and can release toxic fumes.

Wildlife: Store food in airtight containers and hang it from a tree or place it in a bear box if available. This will help keep unwanted wildlife away from your campsite.

Lightning: In the event of a thunderstorm, avoid taking refuge inside your tent. Instead, head to your car or a park building for safety until the storm passes.

Neighbors: Respect your fellow campers and observe quiet hours, typically between 10 p.m. and 6 a.m.

Leave no trace: Upon departure, ensure your campsite is clean and free of debris. This includes packing out all trash and making sure campfires are completely extinguished.
We hope these tent camping essentials help you make the most of your upcoming Ohio campgrounds and RV parks experience. Happy camping!
Ohio Campgrounds for Families with Kids
Camping with kids can feel like a daunting task, but fear not! Ohio offers an array of top-notch campgrounds and RV parks specifically designed to cater to families with children. These campgrounds not only provide safe and enjoyable experiences but also offer countless opportunities for kids and parents to bond, relax, and create lifelong memories. We've gathered the essential information you need to know about Ohio's family-friendly campgrounds, including the offered amenities and activities along with tips for planning your perfect camping trip with kids.
Kid-Friendly Amenities and Activities
When visiting Ohio campgrounds with kids, it's important to select one that offers a variety of amenities and activities tailored to the whole family. Many campgrounds provide kid-friendly options such as playgrounds, swimming pools, splash pads, game rooms, and outdoor sports facilities. Some even offer organized activities like scavenger hunts, movie nights, hayrides, and nature hikes to keep the kids entertained for hours.
One example of a family-friendly campground in Ohio is Hocking Hills Jellystone Park, where Yogi Bear™ and friends make frequent appearances throughout the camping season. This campground provides an assortment of outdoor and indoor entertainment options that appeal to kids, including mini-golf, interactive water play, and an arcade. In addition, themed weekends and holiday celebrations offer a perfect opportunity for families to bond and create lasting memories.
Another great option is Mohican Adventures, which offers a wide range of outdoor activities to engage the whole family. Here, you can find canoeing, kayaking, tubing, mini-golf, and an aerial adventure park, providing just the right balance of adventure and relaxation for families with kids of all ages.
Tips for Camping with Kids in Ohio
While camping with kids is an excellent opportunity for family bonding, it can also present challenges. Follow these helpful tips to ensure a memorable and stress-free camping experience with your little ones.
Plan ahead: Find out about the campground's check-in and check-out times, reservation policies, and the availability of specific amenities for kids before embarking on your trip.

Be prepared: Pack essentials such as first aid supplies, bug spray, sunscreen, and extra clothing for all weather conditions. Don't forget special kid-friendly items like glow sticks, marshmallow roasting sticks, and easy-to-carry snacks.

Set up camp with kids in mind: Choose a campsite with plenty of shade, close proximity to restrooms, and other child-friendly features. Encourage your children to participate in setting up the campsite, teaching them valuable skills and helping them feel included.

Establish a routine: Maintain a regular bedtime schedule, even during the excitement of camping, to give your kids a sense of stability. Don't forget to schedule downtime after active periods for rest and relaxation.

Safety first: Teach your kids about campground safety, including proper interactions with wildlife, the importance of staying on trails, and always having a buddy when exploring the campground.

Keep them engaged: Encourage your kids to explore their surroundings by incorporating nature-based activities such as birdwatching, stargazing, bug hunting, or keeping a nature journal.
In conclusion, Ohio offers plenty of options for family-friendly campgrounds and RV parks that cater to the needs of families with children. From exciting outdoor activities to unique on-site amenities, these campgrounds create the perfect environment for your next family camping adventure. So pack up the kids, and head out to one of Ohio's fantastic family-friendly campgrounds for an unforgettable experience that will create cherished memories for years to come.
Campgrounds near Ohio's Major Cities
Looking to camp close to Ohio's major cities and still want to enjoy a nature-based experience? Look no further! We'll give you the lowdown on campgrounds and RV parks near Columbus, Cleveland, Cincinnati, Toledo, and Akron. So buckle up, and let's dive right in!
Camping near Columbus
Just because you're staying close to Ohio's capital city doesn't mean you have to sacrifice a true camping experience. Check out the Alum Creek State Park, located just a short drive from downtown Columbus. This park offers a complete outdoor experience with over 280 campsites, many with full electric hookups for your RV or trailer. Feeling adventurous? Test your skills at the outdoor archery range, or cast a line in the well-stocked Alum Creek Lake for a fantastic day of fishing. And if you're a fan of water sports, you're in luck – Jet Ski rentals are also available here!
Camping near Cleveland
When camping near the bustling city of Cleveland, you can't go wrong with a stay at the Cuyahoga Valley National Park. With its impressive waterfalls, beautiful forests, and tons of hiking and biking trails, it's perfect for nature lovers! While you won't find traditional campsites here, the park offers five group campsites – think about teaming up with fellow campers for a fun group getaway. Alternatively, give the West Branch State Park a try! Just an hour away from Cleveland, this park boasts over 150 campsites with amenities like fire rings, picnic tables, and electric hookups to accommodate all types of campers.
Camping near Cincinnati
If you want to camp near Cincinnati while still enjoying the great outdoors, don't miss out on the East Fork State Park. This park has a little bit of everything with more than 400 campsites, many of which are equipped with electric hookups. East Fork State Park also provides campers with easy access to paddling, fishing, and hiking opportunities. And hey, did we mention they have an on-site camp store for all your last-minute needs? How's that for convenience!
Camping near Toledo
Maumee Bay State Park is a fantastic choice for campers seeking to stay close to Toledo. This waterfront campground offers more than 200 campsites and many are able to accommodate larger RVs. Not only can you enjoy the beautiful Lake Erie at the park, but it also features an 18-hole golf course, nature center, and numerous hiking and biking trails! Prefer river views instead? Try the Mary Jane Thurston State Park, where you can pitch a tent or park your RV along the beautiful Maumee River. You'll find gorgeous riverfront campsites, fishing spots, and a beautiful nature preserve here.
Camping near Akron
Last but definitely not least, we'll explore the campgrounds and RV parks near Akron. Portage Lakes State Park is a top choice for campers in the area. Situated on the shores of several interconnected lakes, this park provides over 70 cozy and serene campsites – many with electric hookups. For a more secluded camping experience near Akron, consider the Nimisila Reservoir Metro Park. This campground offers 29 primitive sites for tents only, making it the perfect spot to unplug and connect with nature. Just because you're camping near the city doesn't mean you won't find peace and quiet in the great outdoors!
No matter which Ohio city you're visiting, there are plenty of fantastic camping options close by. So go ahead, pack the car (or RV), grab your camping gear, and experience the best that Ohio's campgrounds and RV parks have to offer!
Camping for Groups and Organizations in Ohio
If you're planning a camping trip for a large group or organization in Ohio, you're in luck! The Buckeye State offers numerous opportunities for group camping, surrounded by beautiful nature and a wide range of activities. In this section, we'll go over some options for group campgrounds in Ohio State Parks and offer some tips for organizing a successful group camping trip.
Group Campgrounds in Ohio State Parks
Ohio State Parks boast a wide array of group campgrounds that cater to various group sizes and preferences. These campgrounds are a perfect choice for scout groups, family reunions, or any other large gathering that wants to escape into nature. Here are some of our favorite group campgrounds in Ohio State Parks:
Hocking Hills State Park: Located near Logan, Hocking Hills offers group camping in the heart of one of Ohio's most popular state parks. With several group campsites available, you and your gang can explore the wonders of Old Man's Cave, Ash Cave, and Cedar Falls.

Mohican State Park: Home to the beautiful Clear Fork Gorge and the Lyons Falls, Mohican State Park's group campgrounds are perfect for those seeking a mix of adventure and relaxation. Located near Loudonville, this park offers group camping with amenities like picnic tables and restrooms nearby.

East Harbor State Park: If you're planning a group camping trip on the shores of Lake Erie, East Harbor State Park should be at the top of your list. Located near Marblehead, this park offers group campsites with stunning views of the lake and easy access to boating and fishing opportunities.

Salt Fork State Park: As Ohio's largest state park, Salt Fork boasts thousands of acres of untouched wilderness and plenty of space for larger groups. The park, situated near Cambridge, offers group campgrounds nestled among the rolling hills and woodlands.
Organizing a Group Camping Trip
Now that we've given you an idea of available group campgrounds, let's get down to brass tacks and discuss how to plan and execute a successful group camping trip.
1. Selecting the right campground: Consider the interests and needs of your group while choosing a campground. Do you need RV hookups? Are you looking for a more primitive group camping experience? Would you prefer a park with a lake, hiking trails, or other outdoor activities? Take these factors into account when making your choice.
2. Booking in advance: Group campgrounds in Ohio State Parks can fill up quickly, especially during the peak camping season. Make sure to book your desired campground well in advance to ensure your group's spot.
3. Establish clear expectations: Communicate with your group members beforehand to set clear expectations for the camping trip. Consider discussing etiquette, safety rules, responsibilities, and any planned activities.
4. Plan group activities: Group camping trips are a great time to bond over shared experiences. Plan activities like group hikes, campfire storytelling, and games to keep everyone engaged and entertained.
5. Organize meals: Meals are an essential aspect of any camping trip, and group outings are no exception. Determine whether you'll be cooking together as a large group or if each individual or smaller group is responsible for their own meals. Make sure to pack enough food, cookware, and utensils to accommodate everyone.
6. Prepare for emergencies: Accidents can happen, so plan ahead and be prepared. Make sure your first aid kit is stocked, and inform your group members of the nearest hospital or emergency contact information.
With these tips in mind, you're well on your way to planning and enjoying the perfect group camping trip in Ohio. Happy camping!
Ohio Campgrounds FAQs
Before heading out on your Ohio camping adventure, you might have a few questions about what to expect. In this section, we've answered some frequently asked questions about Ohio campgrounds and RV parks so you can be well prepared for your trip.
Are reservations required for Ohio campgrounds?
While not all campgrounds and RV parks in Ohio require reservations, we highly recommend making them, especially during peak season (usually from May to October), on weekends, or during holidays. Many popular campgrounds fill up quickly, so making a reservation ensures you'll have a spot to pitch your tent or park your RV. Booking can usually be done online or by phone, and it's always a good idea to check with the specific campground for their reservation policy.
What is the cost of camping at Ohio state parks?
The cost of camping at Ohio state parks varies depending on the amenities and location. Generally, tent sites and bare-bones RV spots will cost around $20-$30 per night, while RV sites with full hookups can range from $30-$50 per night. Some campgrounds also offer rentals like cabins and yurts, which can cost anywhere from $60-$200 per night. Be sure to check the specific park you're visiting for accurate pricing information.
Are campfires allowed at the campgrounds?
Yes, campfires are allowed at most Ohio campgrounds, as they add to the traditional camping experience! However, regulations vary by campground, so be sure to follow posted rules about fire safety and only use designated fire rings or grills. During times of high fire risk, some campgrounds may enforce temporary fire bans or restrictions. It's always a good idea to check with the campground or park management before starting a fire.
What are quiet hours at the campgrounds?
Quiet hours at Ohio campgrounds typically run from 10 p.m. to 6 a.m., although these can vary slightly depending on the campground. During these hours, campers are expected to minimize noise and respect their fellow campers' right to a peaceful night's sleep. Some campgrounds may have additional rules about generator use during quiet hours. If you're unsure about a campground's specific rules, it's best to ask management or consult their website before arrival.
Are pets allowed at Ohio campgrounds?
Pets are allowed at most Ohio campgrounds, including state parks, but regulations can vary by campground. Typically, pets must be kept on a leash no longer than six feet and under the owner's control at all times. Additionally, pets are not allowed in certain areas like beaches, swimming areas, playgrounds, and buildings. Always clean up after your pet and keep them from barking excessively to maintain a pleasant environment for all campers. Be sure to check with each campground's specific pet policy before bringing your furry friends along.