Keep your tent cool, comfortable and well-lit with the Coleman Cool Zephyr Ceiling Fan with Light. The Cool Zephyr Ceiling Fan easily attaches to any tent with the included magnetic plates. The Fan features an adjustable two-speed airflow control, while the separately-controlled light includes four white LEDs and one amber LED. Operates on 4 D batteries (not included).
Introduction The Coleman Cool Zephyr
As we have mentioned in some of the other Coleman lights and fans that we have reviewed, we are going to talk about another one of the Coleman fan and light combinations. With this model, it is going to be one of the better models that we have talked about lately, but it is going to be something that is a challenge because the Coleman Cool Zephyr can be disappointing at the same time as it is not fully compatible with the tents. Without any further ado, lets just jump right into the review of this product to make it easier for you to get the right fan for your camping trip.
Features Of The Zephyr
With this fan it is one that is going to allow you to have a couple of options to attach it to your tent and keep it working properly.
Two different light options is going to make it easier for you to find a light that is going to work for your tent, instead of being stuck with what could be a blinding LED in the middle of the night.
Foam fan blades are going to make it easier for you to avoid having any injuries to children who may get anxious and reach into the fan blades.
Pros Of The Coleman Cool
The included magnets that are with the Coleman are going to be a couple of the strongest that you can find to make it easier to keep it attached to your tent.
For a 2 person tent it is going to make it very easy for the fan to work and keep the tent cool enough to survive a long humid night in the middle of summer.
The run time on this fan with the fan set on high is 24 hours and when it is on low it is going to be up to 48 hours.
[review_bar id='337′]
Cons With The Coleman Zephyr
It has been reported that when these fans are being used constantly the motor can start to have issues and in some cases completely die off.
While the foam blades are a great concept and one that is going to help keep kids safe, it has been the experience of myself and others that it is going to be nearly impossible to have the right amount of air moved with foam blades.
Once this has been set up and put in place, it is rather difficult to find the switches and get them to function in the way that you want to have them moving in.
Price Options
We looked high and low for a price that can compete with Amazon on this fan as Amazon wants a touch over the twenty dollar mark at this time. We finally found one that beats the price, but it is in an eBay auction and we all know how quickly they can go up and down in the listings and prices. Outside of the eBay auctions, we did not find any other prices that were able to compete with Amazon. So make sure you click on the link below to find the lowest price.
Our Final Thoughts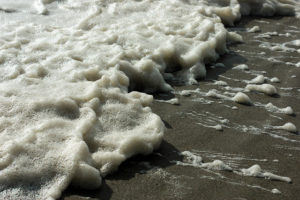 Camping in the middle of summer is often the only way to get to the campgrounds without freezing yourself in the middle of the night. The only major problem that I have found with camping in the middle of the summer months is the fact that it tends to get extremely hot and at night it can cool off some, but generally not cool enough for you to enjoy your trip. With that being said you will need to have a fan that is battery powered. The Coleman Cool Zephyr is one of those fan and light combinations. Hopefully the review that we did here will help you make a choice, but with the foam blades you may want to consider something that has more durable blades, in my opinion.
[hor_bar id="307″ air_movement="2.5″ battery_life="3.5″ ease_of_use="3.5″ packing="3″ overall_value="3″]