Best Choice Double Sleeping Bag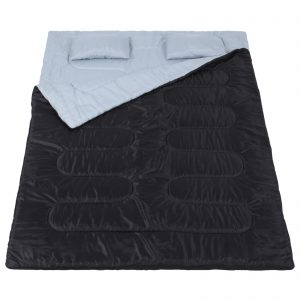 A double sleeping bag is not the cheapest piece of camping gear, which is why I tend to shy away from ones that are less than what it cost to get a single bag. However, I know that some people are on a budget and that often means you have to find the best sleeping bag for your budget. That is why I found the Best Choice double sleeping bag to review. I will admit for the price it is a decent bag, but obviously, it is not the best one that you can purchase. When you are on a budget, though, this is a bag that will match your budget and make it very easy for you to enjoy camping as a family and know you have a large enough bag to fit two people.
Features Of The Best Choice Double Sleeping Bag
Size is large enough for two people
Waterproof
Comes with a storage sack
Includes two small pillows for you to use
How Is It Used
This is a good question because each of the sleeping bags that we have covered so far do not work the exact same way. With this sleeping bag, it is going to keep the heat the same way as the others by zipping yourself up into the bag. However, unlike the Teton Sports or the Ozzie and Harriet model sleeping bags, this is the envelope style sleeping bag. Now, this is completely different because it means if the person on the inside wants to get out they either have to wake up the other person or climb over them and hope they do not get hit.

When it is time to move the sleeping bag, you can roll the bag up, which is more of a challenge than what you would imagine. When you roll the bag up, you will find it does have a Velcro strap that helps to hold it closed for you. Then you are able to take the sleeping bag and just shove it into the carrying bag to make it easier for you to get on the road again.

< a href="https://fave.co/2MA6VA2" >
Room To Spare
This is always a common question when you are looking at the double sleeping bags. However, while researching this product, we noticed everyone is bragging about how much room they have to spare. This means the larger individuals can finally go camping and not have to be concerned about their feet being curled up to their chest to stay comfortable. This great feature allows for a companion in the sleeping bag as well without either one of you feeling cramped in the sleeping bag.
Weatherstrip Around The Bag
Now, this is a first for me, which is why I brought it up here. The description of this product is stating it has a weatherstrip around the outside of the bag to keep it warmer. Personally, I am not sure how well this would react to some of the cold that I have in my area. However, in my personal experience, I have used weatherstripping for other things and have found that it does eliminate almost all the drafts if used correctly.

< a href="https://fave.co/2MA6VA2" >
Waterproof
Camping often happens when the weather is nicer, but sometimes people have booked a specific area at a campground for years in advance. However, then the inevitable happens and it starts to pour rain. With this sleeping bag, you do not really have to be concerned about the rain ruining your trip. The reason for this is the bag is waterproof. By being waterproof it makes it easy to camp in wet weather and know your sleeping area will stay nice and dry.
Materials Used
This bag uses quite a few different items to make it work for you. The outer shell of this sleeping bag actually is made from 210T Polyester. As you can tell this is an artificial item, which will make it a little bit more durable but also introduces chemicals to your camping trip.
For the fill material, this bag has managed to get only 300G of M2 hollow fiber. As you can see this is actually quite a bit less than the other sleeping bags we have mentioned so far on this site.  So this could allow this to be a great sleeping bag to take on your hikes with you. Just make sure you are going out when it is slightly warmer as this does not have as much insulation material.
Carry Bag 
Now, this is a nice feature of the Best Choice Products double sleeping bag and that is the fact that it will get small enough to fold into its own carrying bag. The challenge is getting the sleeping bag small enough to fit into the carrying bag. Once the bag is inside the carry bag, though, it is very easy for you to get the bag moved around and stored inside of your tent or RV.
Climate Rating
This is an interesting point as I have found a variety of information on this topic. The company has the sleeping bag as rated to 23 degrees. However, according to some of the reports in the question and answer section of Amazon, one of the answers says the rating is down to 23, but they would not recommend anything lower than 45.
Dimensions
Sleeping Bag
Length – 84 inches
Width – 55 inches
Pillows
16″ x 10″
Pros
Waterproof
Full length zipper
Carry sack
Comes with 2 pillows
Cons
Climate rating is not as low as what you would expect
Have to wake the other person to get out.
Bag is rather lightweight which does not have the same amount of insulation.
Best Choice Double Sleeping Bag Price
The price is rather low for a double sleeping bag. However, you need to realize the price is not as high as what you could be paying.
The downside with the low price is the fact this bag is not as heavy-duty. However, in all of my research, I could not find a single price lower than the one at Amazon.
Consumer Reviews And Ratings
When I was reading all the reviews at Amazon on the Best Choice double sleeping bag, I started to notice a theme that was repeating itself. The main theme was the bag was good for the money, if you did not want to use it while it was cold. In fact, one of the review posters commented on it and complained that the insulation was completely lacking and it felt like the temperature was not going to warm up and they had to get fully dressed on a 60 degree night.
These reviews were posted on Amazon and for the most part were very favorable of the sleeping bag. So you will need to consider this, but you should also take into account the fact that a lot of people complained about the bag not providing enough insulation. So you need to make sure you look at this aspect of the sleeping bag.
My Final Thoughts
So you can see that I have talked quite a bit about this sleeping bag. However, I know that when I was looking at this sleeping bag I found quite a bit of information on it that I was not sure about.
The main thing that I do not really like is the fact this is a double sleeping bag, but the weight is super light. Now, this lightweight is a good thing for hiking, but you need to realize if you are hiking with this bag their is a change you could get cold.  Overall for the price and for the middle of summer camping, this sleeping bag looks like it would be a great option.
[hor_bar id="354″ size="4.5″ comfort="1.5″ warmth="2″ weight="4″ overall_value="2.5″]