Buying a tent for your entire family to use can often be seen as a big expense. I mean if you want a good quality tent you can expect to pay at a minimum a hundred bucks for a small tent. However, those tents may not hold your entire family or cost you a fortune over time. Well, to avoid that we have decided to check out the Columbia Mammoth Creek 6 person cabin tent in our review here.
Features Of The Cabin Tent
The tent has a water resistant coating on the outside.
The larger tent is able to sleep 6 people in the tent or hold one queen sized bed.
A room divider is available to separate the tent into different rooms.
The windows are a pull out style which makes it easier to keep yourself dry while camping in the rain.
Pick Up The Columbia Mammoth Creek Tent
Go camping in style today.
Dimensions Of The Columbia Mammoth Creek 6 Person Cabin Tent
Knowing the footprint of your tent is invaluable to make sure you have enough cleared space that is level, but also to make sure you have enough room for yourself and your gear. While it may seem like a 6 person cabin tent would be huge on the inside, this is not always the case. In fact, the tent is only 10'x9'. The height at the center of the tent comes in at 72 inches, which is tall enough for most people, but not everyone to stand upright. As a side note the floor space is large enough for 6 people, but it can also fit a single queen sized mattress.
It is important to note that the height maxes out in the center of the tent. This means that are you are coming into the tent and going to the middle the fabric is not at the peak level. Now, the other thing to remember is that you do have to get enough space on the outside of the tent to allow for the tent to have proper space when spaced out.
Dimensions: 10'x9'.
Peak Height: 72"
How Does The Mesh Measure Up
The mesh is used in the windows for the tent and it is definitely a major plus. Now, unlike some of the tents that we have looked at before, this is a mesh system that is actually darker in color. This darker color makes it harder for people to see through the mesh, which increases your privacy. At the same time, it helps to keep a lot of the insects out of the tent when you are trying to sleep at night.
The other aspect that the mesh in a tent can be used for is that of the storage pockets in a tent. Which, the Columbia Mammoth Creek tent does have a couple of mesh pockets for storing items. Now, these pockets are not huge, but can be a great way to store your phone, wallet, or other things that you may have that are smaller. Now, I can tell you that you may be tempted to store your keys in the mesh pockets, but just look at your own keys and how often they get snagged in your pockets or purse and you may rethink putting your keys in the storage pockets.
Air Flow Is Not A Major Issue
A major issue that I have found with tents and even some of the campers that I have looked at before is air flow. Yes, you want to have air flow inside of a tent or the air gets stagnant or in some cases smells like body odor. Well, the tent here is going to make it easier for you to have the proper ventilation with larger windows to use and the wind to blow in and out.
Now, as an interesting note this is a tent that does have an additional feature to allow for venting. That is it has an adjustable no-see-um mesh ground vent. This vent makes it easier for you to get air flow from underneath as well and anyone who has been outside or have a basement knows the ground is fairly stable in temperatures.
Do Not Miss Out
Own One Today
Is Weather An Issue In The Tent
Weather is always a question mark when you are camping. However, even if the weather forecast calls for sunny weather it may not always end up that way. Well, in some tents that would quickly become a major issue and one that you would have to cope with. The tent here is treated with the Omni-Shield fabric coating. This is a coating that works great at repelling the water, but also once it has been wet it dries 3-5 times faster than a fabric that has not been protected properly.
Another issue that I have seen with a lot of tents is the fact that when it starts to rain you have to close all the mesh windows or risk getting water in your tent. Well, this is a team that does not really have the issue with the windows having to be closed. The reason for that stems from the fact that the tent has windows that go out with a cover to help prevent water from getting into the tent.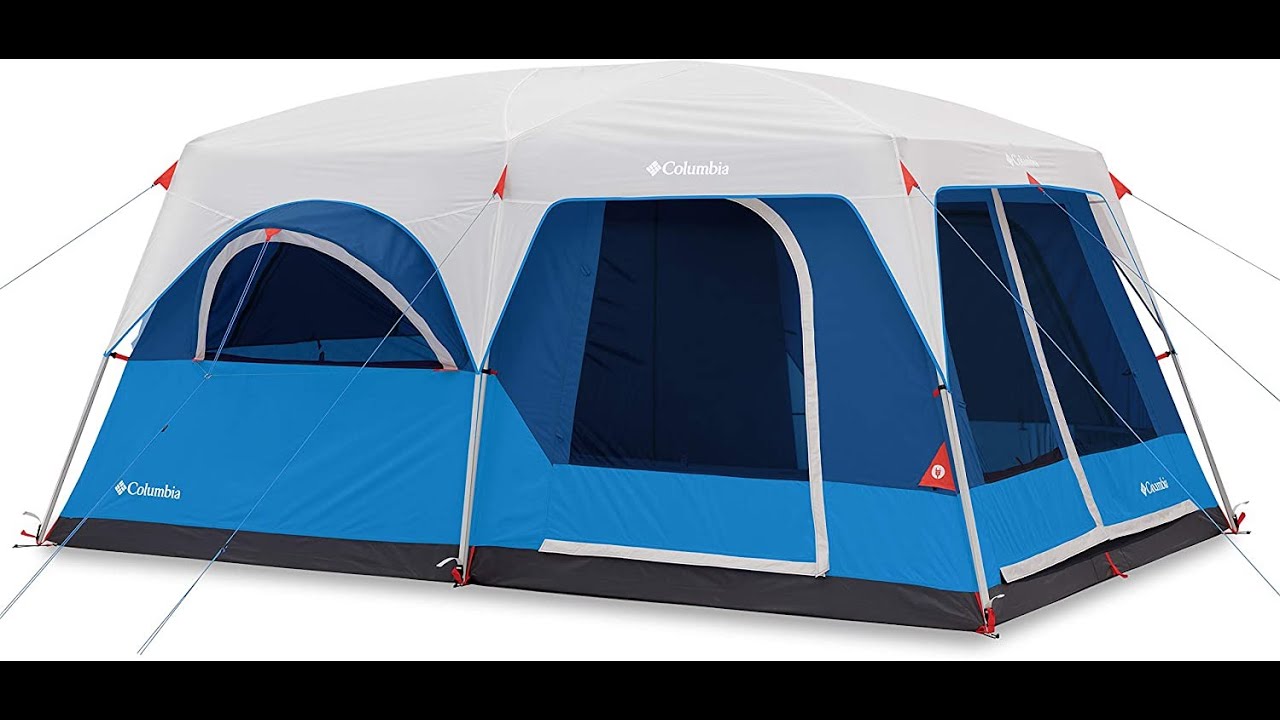 How Easy Is Setup Of The Cabin Tent
As with any tent the setup will vary depending on several factors. The factors include how familiar you are with the tent, the size of the tent, and the types of poles used in the tent. However, overall, the Columbia Mammoth Creek 6 person cabin tent is fairly easy to set up.
The poles are made from fiberglass, which does make it a little bit easier to have the poles bent to where you need. However, at the same time you have to make sure you keep them out of the hands of your kids if they are like mine who decide to use them as swords.
One thing that you do have to make sure of when setting up the tent is where the utility port is located. You want to make sure it is located where it is easy to access. The other thing to be mindful of is the cabin style means the walls are going to be straighter and for some this in itself presents issues as it is not a tent style that is commonly used for some people when they are younger.
What Are the Pull Out Windows
The pull out windows are a feature that I have not really seen on a lot of tents. However, on the Columbia Mammoth it does have pull out windows. While it is very easy to think about these as a window that comes out of the tent that is not really the case. I view it more like a shade that you can have around the windows. This makes it easier for you to keep the windows open when you are camping and it starts to rain. At the same time, though, this is a great way for you to get a tent that can stay ventilated when the weather starts to take a turn for the worse.
What Others Are Saying
As with most of the reviews we do here at Today's Camping Gear we are going to share a couple of snippets of reviews from other sites. Here is some of the best reviews that we did find.
Jennifer L. from Amazon had this to say, "resulting water intrusion caused numerous problems". This is talking about how the weight of the rain water on a fly caused it to fail and led to quite a bit of water cascading down the tent and going into the sides of the tent.
Jake, another reviewer from Amazon had this to say about the tent and is talking about the setup for the tent. "this tent is easy to set up and even easier to put away". This makes perfect sense and definitely helps lend credence to what we mentioned earlier that the tent is easy to set up.
Pros And Cons
Crunch free polyester floors are water resistant and nice to step on.

The windows that open out make it easier to keep your tent ventilated without having to worry about rain as much as normal tents.

The easy set up and take down will encourage you to get out and go camping.
The tent is large in size and only sleeps 6 people or a queen sized tent.
Our Final Thoughts On The Columbia Mammoth Creek 6 Person Cabin Tent
Camping can be very rewarding, but it can be a challenge to find the right tent at times. Now, I know that the main thing that you are going to want to know about is an entire family tent to enjoy. Overall, I have to say the Columbia Mammoth Creek 6 person cabin tent definitely is one that you should consider if you want a tent that can fit your entire family in a single tent and enjoy your trip.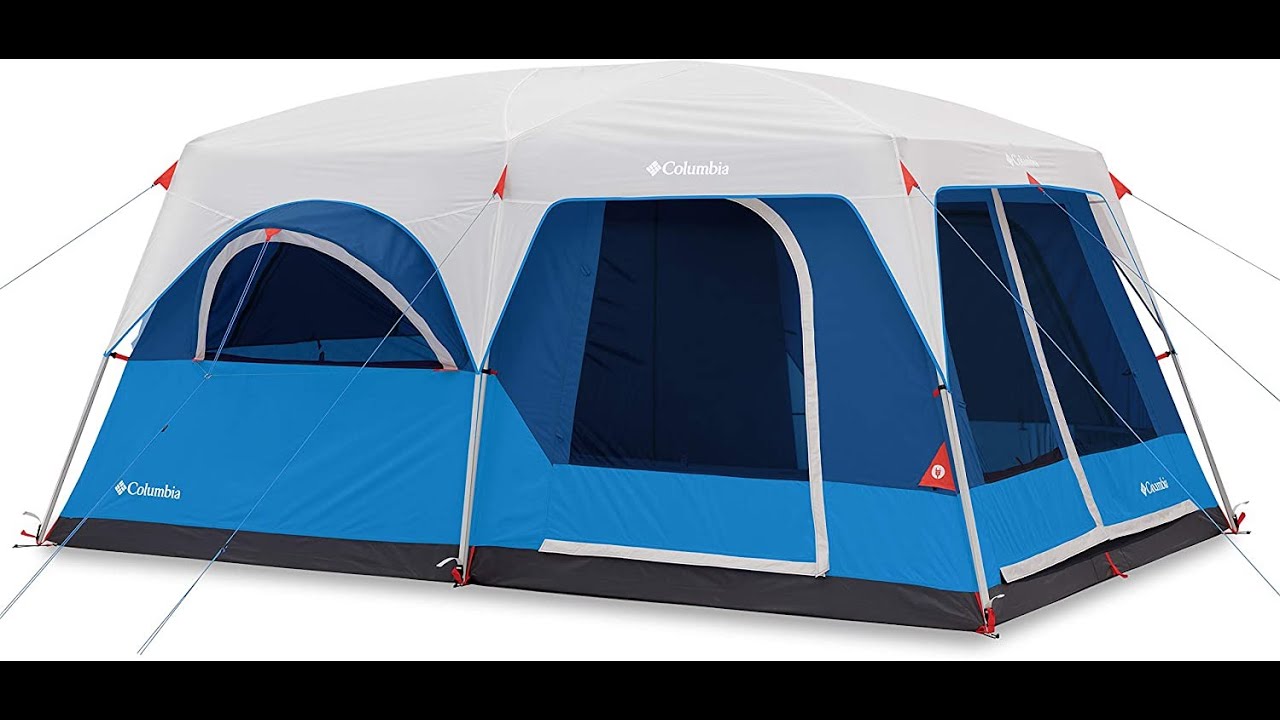 The price can vary click the link to find out more
The Columbia Mammoth Creek 6 person cabin tent is a great tent and one that provides a lot of comfort for an entire family.