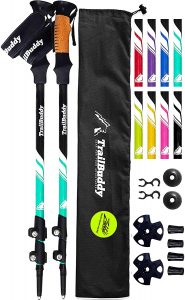 Hiking is definitely a great way to stay fit, but also allows you to go out and enjoy nature. Now, if you plan on walking for a long period of time, then you need hiking sticks or walking sticks. I can tell you that a lot of different walking sticks are on the market and it makes it hard to pick the best one to buy. Well, I for one get lost in all the selection on the market. That is why I decided to review the Trail Buddy Walking Sticks in this review and let you know more about it. Remember if you want more information on walking sticks for seniors check out the 5 best walking sticks for seniors.
Features Of The TrailBuddy Walking Sticks
Utilizes the aircraft grade aluminum.
The walking sticks are able to absorb the impact better than what the typical carbon fiber poles are able to do.
Cork handles fit better to your hands and are balanced for the weather conditions.
Twist lock is going to make it easier to adjust the walking sticks.
The Trail Buddy walking sticks can be adjusted from 25.5 to 54 inches.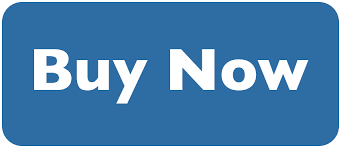 Why Is A Cork Grip Better
I know from my own experience using a walking stick my hand always gets sore holding onto the plastic or harder handles. I mean seriously if I walked for a long time my hand would start to cramp and get stiff. So what makes a cork grip set off from the other grips that are on the market? That is a key question to answer here.
For me the cork grips are more form fitting to my hand. Now, this not only provides a nicer fit to my hand, but it does help with the temperature changes as well. Cork from what I have found is not going to get as cold as the plastic handles get nor as warm during the summer months.
With the cork handles I did find it helps to absorb moisture from my hands as well. Yes, you read that right when you hike a lot and it is in the summer your hands sweat. The sweating is nasty and if you are not using a gripping handle or gloves it is impossible to hold onto the walking stick, which is what sets the walking sticks off here with the cork absorbing the moisture.
Uses Aviation Grade Aluminum
One recurring theme that I have seen coming up for walking sticks like, TheFItLife Nordic Walking Sticks, is the use of aircraft grade aluminum. Now, this is a marked change compared to just a few years ago when the walking sticks were made from carbon fiber or steel. Not to mention wood. So why are they using the aircraft grade aluminum so much?
The main reason is the lighter weight of the aluminum without sacrificing the strength of the walking sticks. I mean if you think about it you get on an airplane and all it is made from is high quality aluminum for the most part. So if they are light enough to allow flight it definitely makes it easier to see that the flight is able to be light enough to use while hiking.
If you are like me, though, you may start to call into question how durable the aluminum is. Well, that really made me think about the stresses the aircraft undergo when they are flying in the air. Just thinking about that really made it easier to see that the durability is high and keeps the walking sticks in good condition instead of being all torn up or buckling under the weight.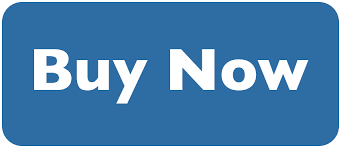 Adjustable Height Makes The Difference In TrailBuddy Trekking Sticks
I know that I mentioned the adjustable height up above, but the height being adjustable does make a difference in how versatile the walking stick is. Now, this does not mean that I go out and adjust my walking stick depending on what is going on. No, I tend to look at it more as a versatile trekking pole set based off of who can use it.
The high quality trekking poles can be adjusted from 25.5 inches all the way up to 54 inches. This makes it easier for me to adjust the hiking poles to the height that is suited best for my kids, my husband, or myself. This means if I am not using the poles and my kids or husband need to use one they can use one very easily.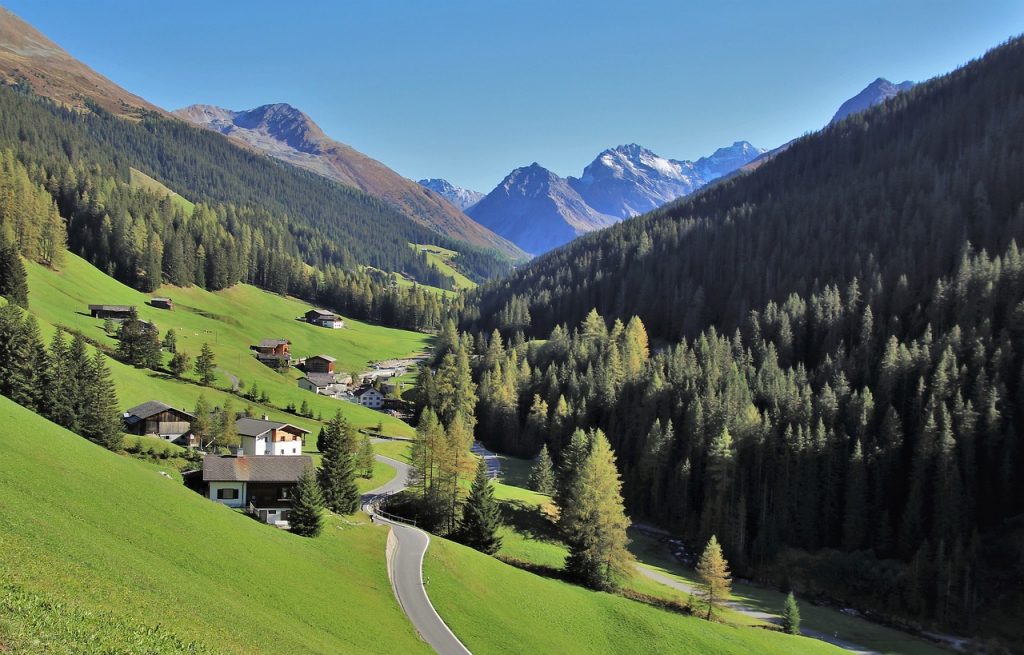 As I mention the adjustable height it is important to note to make sure you lock the trekking poles down securely. By doing this it makes it easier for you to get the poles locked in place and know the poles will not collapse while you use them. Now, what I would recommend is getting a walking stick for everyone, but I know this is not feasible for a lot of people and with that being the case the adjustable height is the best option.
How Do You Set The Height For Your Trekking Pole
I know this is one question that I get asked quite a bit. Well, the key thing that I have found is to not really follow guidelines. I tend to adjust the height to what I feel is comfortable. Typically it is a height that allows me to walk comfortable and have it ready to be leaned on if I need it.
Usually I would try to get the handle grip adjusted to the height that I can have my elbow bent and comfortable. I do not want to have it hanging so low that I cannot get a hold on the walking stick comfortable. At the same time, I want it at a height that I can use the trekking pole or hiking stick to push off with if the terrain is uneven or rocky.
Now, as far as leaning on the walking stick I try to keep it at a height that is going to allow me to lean on it when I am stopped as well. This means either having the walking stick at the height that fits my hand to lean on or leaning over to reach the walking stick. While you do have multiple guides that tell you how to set the walking stick height, but in my own opinion and experience I set the height to what is comfortable for me.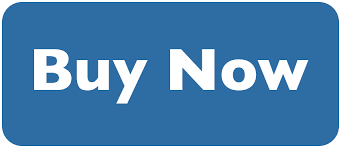 Locking System For TrailBuddy Trekking Pole Is Twist Lock System
With some of the hiking sticks that I have seen before and even the trekking poles they like to rely on the twist locks. Well, that is all well and good if you are not walking on any terrain that is rough or hard. However, if you do reach a terrain that is even remotely rough, then you are going to have some issues with a twist lock coming undone.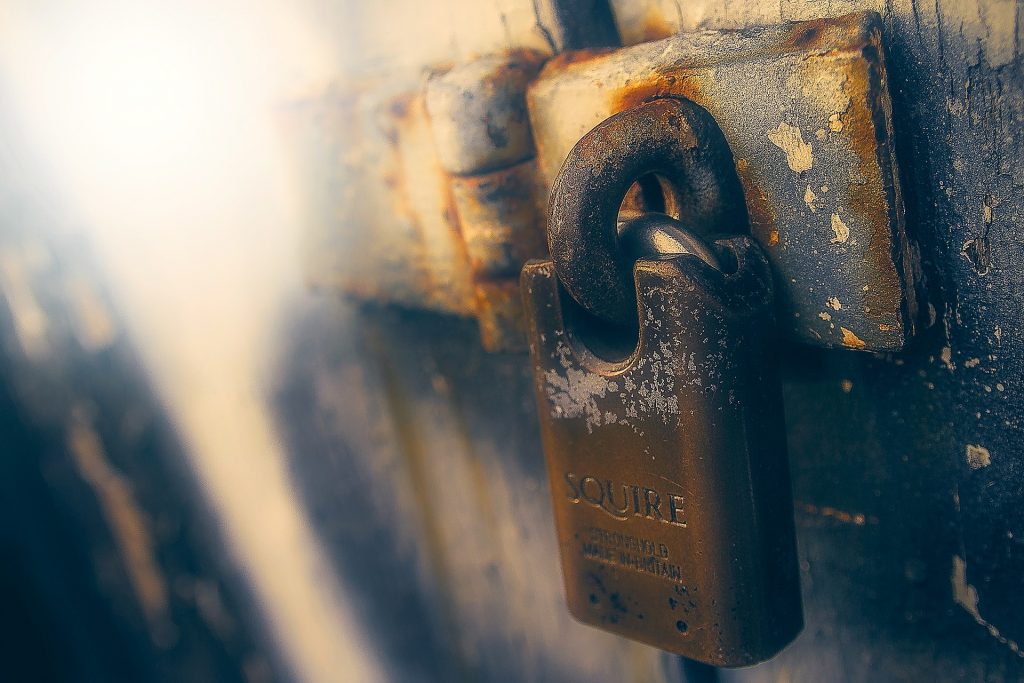 Well, the TrailBuddy Walking Sticks use a locking system that is similar to some of the other ones that I have covered before. That is the lever lock system. This type of locking system is one that you push a thumb type of lever. This lever is going to lock in place and keep the poles from slipping. At the same time it allows you to have the poles in rougher terrain and not have to be overly concerned about them untightening when hiking.
What Does The TrailBuddy Walking Sticks Include
Two high quality hiking poles.
Carrying bag for the poles.
2 pairs of rubber tips
1 pair of connectors
Mud baskets
Snow baskets
My Final Thoughts On The TrailBuddy Walking Sticks
I have to say these are very familiar and look like most of the walking sticks on the market. However, the big difference is the amount of adjustment in the size that's available here makes a difference as it can work for kids and adults alike from heights from 4 foot to 6'4". Now, one major factor that I do like with the TrailBuddy over the other walking sticks I have looked at before this is one is the cork handle. I simply love the cork handle and the comfort it gives my hand when I am hiking. Overall, the TrailBuddy is a great hiking stick and one that does provide you comfort and the ability to hike longer without tiring out.